Stewed eggplant that is fresh or preserved from summer creates a delicious side or lunch served over toasted bread.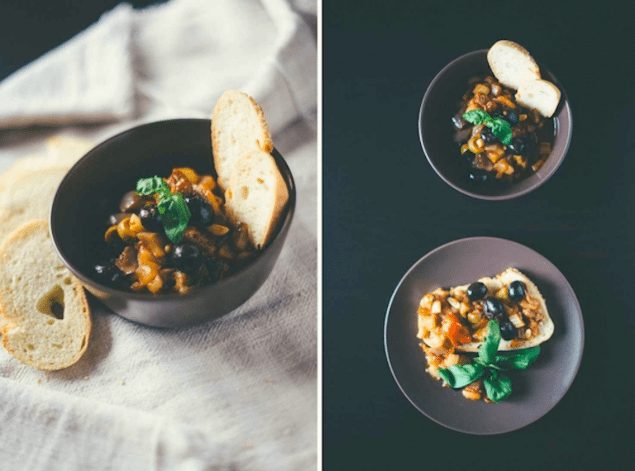 I love the Italian caponata and I totally love eggplants! Too bad their season is just summer, I could eat them again and again and… again!
You can however compensate for their winter lack by preserving them in oil, vinegar, dried or … in jars of caponata!
It's a simple way to treasure the smell of the sun on cold winter evenings, don't you think so?
The original Sicilian recipe is naturally vegan: it involves deep-fried eggplants, capers, raisins, celery, pine nuts, olives and the characteristic sweet-and-sour flavour.
My version is lightened: I haven't add the bittersweet at all and I decided to stew the eggplants, instead of frying them.
Daniela Asprone
Ingredients
2

large round eggplants

from light purple colour and delicate flavour

4

cloves

of garlic

4

peeled tomatoes

2

stalks of celery

½

red onion

from Tropea

100

grams

3.5 ounces of pitted green olives

100

grams

3.5 ounces of pitted black olives

2

tablespoons

of capers

150

grams

5.3 ounces of raisins

50

grams

1.7 ounces of pine nuts

10

beautiful basil leaves

oregano

to taste

8

tablespoons

extra virgin olive oil

salt and pepper
Instructions
Wash the eggplants under running water and cut them into cubes. In my opinion, this variety of eggplant is sweet and does not need resting in salt to remove the bitter taste.

In case of doubts, put them in a large colander and sprinkle with salt, leaving them to drain for at least 2 hours, then rinse, squeeze and pat them dry with a clean cloth.

At this point, the eggplant should be fried. As I said before, I preferred to stew them in extra olive oil, making them dry as much as possible and trying to leave them hard-cooked.

When cooked, put them aside.

Now take a large, thick-bottomed saucepan, use the remaining extra virgin olive oil and fry over low heat the diced celery, the finely chopped onion, the garlic cloves, the peeled tomatoes, the raisins, the pine nuts, the capers and the black and green cut olives.

When you see that celery becomes soft, add the eggplants that you had kept aside, oregano and the basil leaves. Cook for about 15 minutes, in order to mix all the flavors. Add water, if necessary. Season with salt and pepper and let cool before serving.
Pepe Azzurro
Daniela and Sandra are two close friends, passionated about cats and nice stuff. They live and love Italy and they adore traveling, to discover new moods and flavors. Daniela is an architect and Sandra is a photographer, and they created Pepe Azzurro to share some life's impressions of two crazy cat-ladies and the world they like to be in, one day.