A light flavored summer salad with plenty of shrimp to keep you full. Cooked with allspice and citrus, they are bursting with zest.
By Taylor Mathis and Sally James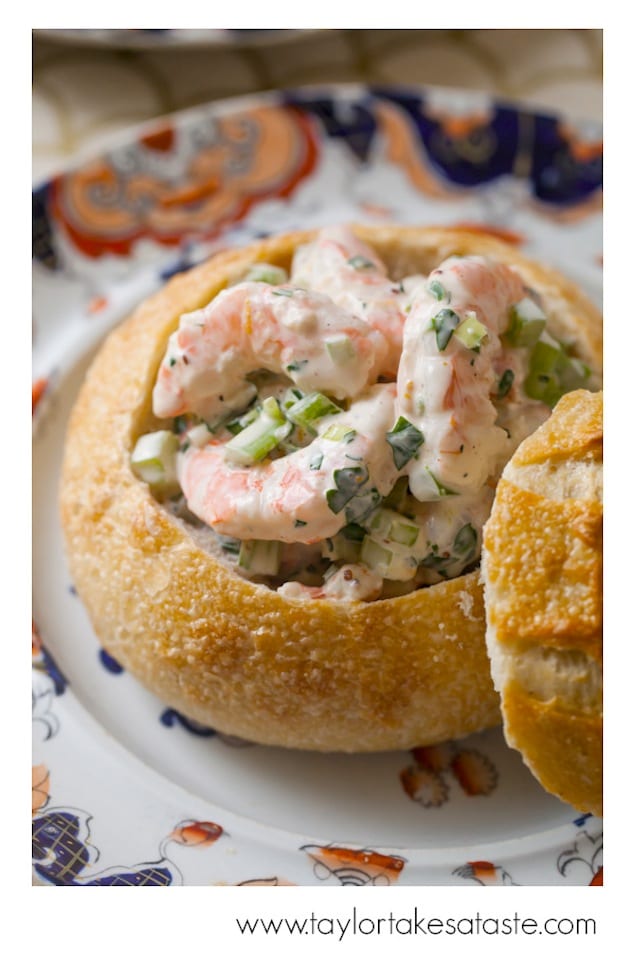 Memorial Day has come and gone. School is out and Summer is here. The seafood vendors have returned to the Farmer's market. (Yes!) Their large, white ice chests were filled with beautiful, fresh shrimp. I called Taylor and announced I was making shrimp salad. Immediately…
Light, yet filling, this salad is just the boost you need to combat a warm weather wilt! Large, in the shell shrimp are just cooked in a salted, citrus and allspice water. After a rest in an ice bath, the shrimp are peeled and mixed with crunchy celery and cooling green pepper and tossed in a creamy, citrus and parsley flecked dressing.
Serve shrimp salad in a bread bowl along side chunks of ice cold watermelon.You will be good to go for another round in the heat or ready to kick up your feet and enjoy the air conditioning!

Shrimp Salad
A light flavored summer salad with plenty of shrimp to keep you full. Cooked with allspice and citrus, they are bursting with zest.
Author:
Taylor Mathis and Sally James
Recipe Type:
Side or Appetizer
Ingredients
3 pounds large (16-20) shrimp in the shell
1½ gallons water
1 orange cut into 8 slices
2 lemons cut into quarters
3 Tablespoons kosher salt
1 Tablespoon whole allspice
1½ cups small diced celery
1 cup mayonnaise
½ cup small diced green bell pepper
¼ cup finely chopped scallions
¼ cup chopped parsley
1 Tablespoon fresh squeezed orange juice
1 Tablespoon ketchup
2 teaspoons apple cider vinegar
1 teaspoon minced, seeded jalapeno pepper
½ teaspoon creole mustard
½ teaspoon salt
¼ teaspoon black pepper
¼ teaspoon fresh grated orange zest
Instructions
In a very large pot, add the water, orange slices, lemon quarters, kosher salt and allspice. Bring the liquid to a bowl. While waiting for the cooking liquid to come to a boil, fill your sink or a very large bowl with ice water. When the water boils, add the shrimp. Stir. Cook the shrimp, stirring frequently, for 3 to 3½ minutes or until the shrimp are just done. Quickly remove the shrimp from the cooking liquid with a spider or slotted spoon and put them into the ice water. When the shrimp have cooled, remove them from the ice water.
Peel and devein the shrimp. Set shrimp aside.
In a large bowl, add the celery, mayonnaise,green pepper, scallions and parsley. Stir the mixture to blend. Add the orange juice, ketchup, vinegar, jalapeno, mustard, salt, pepper and orange zest. Stir until the dressing is well mixed.
Add the shrimp and toss in the dressing.
Chill the salad in the refrigerator for at least 30 minutes.
Serve shrimp salad chilled in bread bowls, as a sandwich or over your favorite salad greens.
Taylor Mathis and Sally James
Sally James and Taylor Mathis are a mother and son duo from Charlotte, NC. Sally, a professional recipe developer, and Taylor, a professional Food and Lifestyle photographer, work together to create beautiful and delicious recipes designed to be eaten anywhere! Together they are the creators and authors of the food Blog Taylor Takes A Taste and worked together on The Southern Tailgating Cookbook.