In addition to being tasty, these were also pretty simple to make.
By Taylor Kadlec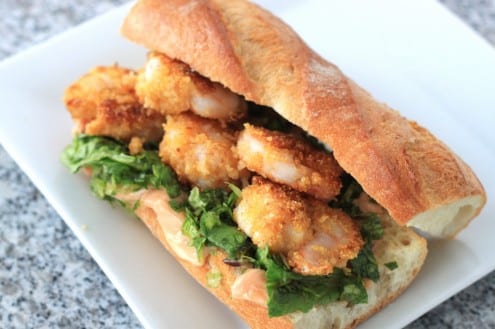 In addition to being tasty, these were also pretty simple to make. The remoulade just involves some measuring and stirring, and the shrimp cooks up within minutes. I also recommend using a nice soft but crusty French baguette. I always think that the bread can make or break a sandwich, and the French baguette we used definitely made this sandwich.
Shrimp Po'Boys
In addition to being tasty, these were also pretty simple to make.
Ingredients
for the remoulade:
¼ cup mayonnaise
¼ cup plain yogurt
1 tbsp ketchup
1 shallot, minced
1 clove garlic, minced
1 tsp fresh lemon juice
1 tsp Worcestershire sauce
½ tsp Dijon mustard
¼ tsp hot pepper sauce (like Tabasco)
for the shrimp:
1 lb medium shrimp, peeled and deveined
1 tbsp flour
1 tbsp Creole seasoning
1 egg white
¼ cup cornmeal
½ cup breadcrumbs
2 tbsp olive oil
for the po'boys:
4 hoagies or slices of French bread, split and toasted
shredded lettuce
Instructions
To make the remoulade, combine mayonnaise, yogurt, ketchup, shallot, garlic, lemon juice, Worcestershire, Dijon, and hot pepper sauce, mixing well.
To make the shrimp, combine flour and Creole seasoning and toss with shrimp.
Add egg white and mix to combine with shrimp.
Place cornmeal and breadcrumbs in large zip-top plastic bag and shake to combine.
Add shrimp to baggie and shake to evenly distribute mixture over shrimp.
In large skillet, heat olive oil over medium-high heat.
Add shrimp and cook about 3 minutes on each side, or until golden brown and cooked through. You will know the shrimp is cooked through when it is opaque.
To prepare the Po'Boys, spread remoulade on bottom of bun, then shredded lettuce, then top one fourth of the shrimp. Spread top of bun with remoulade sauce, to your liking.
Enjoy!
Taylor Kadlec
Taylor Kadlec is a lover of all things food including baking, cooking, and of course, eating. She is a self-taught baker and cook, and she shares her kitchen adventures on her blog Greens & Chocolate, where healthy cooking meets sinful indulgence.