Tired of the stress of trying to plan a vacation with all the changing variables such as where to go, what to do, where to eat? The release of the cruise line ship Celebrity EDGE takes away those variable by providing the ultimate desired experience for the five senses.
SIGHT: Each space of the cruise ship takes you on a visual sensory experience. Whether you are mesmerized by the interior décor and architecture. Transferring to clean chic with a touch of spice to a Modern jungle as you enter Eden.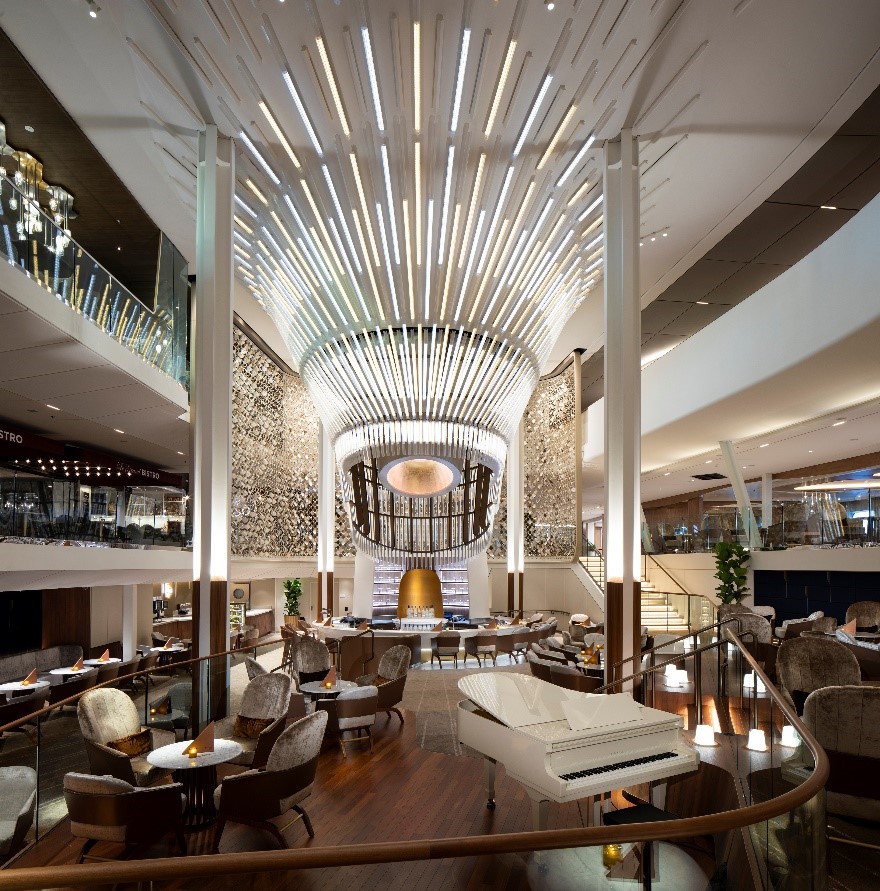 SOUND: Eden music vibes creating sensory relaxing as it makes you feel as if you are truly in the Garden of Eden. The ringing of bells and triangle dings made me feel replenished every beat displayed. The Theater show takes a new on modern songs by creating funky extravagant remixes and incorporate new technological innovative themes that allow your senses to be amazed.
TASTE: Celebrity edge offers a culinary experience showcasing extraordinary food and beverages where the flavor comes first to shock the taste buds in an awe-inspiring story. The Edge takes each opportunity with each dish and cocktail presented to put on a display show and memorize your sense of taste by infusing unpredictable flavor. Therefore, combining marvelous food and design, one is bound to have an extraordinary time at the Eden or Le Petite that when the night comes to an end… you never want to leave.
TOUCH: The wellness sanctuary spa takes you on an experience into another world where you escape reality to become one with yourself as you dive deep into your therapeutic experience. With many rooms that capture the sense of touch from salt cave to crystal rooms, I wouldn't want to divulge the secrets that lie ahead. Also on an expansive Resort Deck, one of the popular spaces on any Celebrity ship for adults-only is the Solarium pool deck. Celebrity Edge continues the tradition of offering a covered pool area where adults can unwind in modern luxury style as the sun kisses one's skin in a private oasis dedicate to YOU.
SMELL: At Celebrity Edge they simply let the ingredients talk for themselves. The flavors they display at Celebrity Edge can be described at bright, light and explosive, but that is just my option, one needs to experience the diversity themselves or it would be an extraordinary opportunity missed. As you walk past each restaurant you are hit with fumes from different cultural cuisine's that make your tummy rumble and call your attention at every turn.
The 2,918-passenger ship Celebrity EDGE is calling your name, so get ready to set to sail on a whimsical life-altering experience as you book Celebrity EDGE today! Awaken your senses with a transformative experience on the Celebrity Edge, start packing your bags, as you are about to embark on a journey that will change your views on travel forever!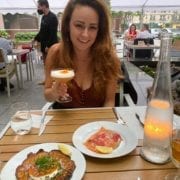 Izabela Jay
Izabela is passionate in the beauty and grace in the simple things in life. Graduating from John Jay College and two study aboards under her belt, she can't get enough out of life and traveling. After completing a Masters Program in Art Therapy, Izabela continues to have a passion for searching for the next food trend and trying the next unique next pairing for ingredients & flavors. She hopes you will join her on her journey to explore cultures and intensify the wanderlust that the palate hungers for.