Preparing the muffin batter takes no time but cooking quinoa will take about 15 minutes or so.
By Kankana Saxena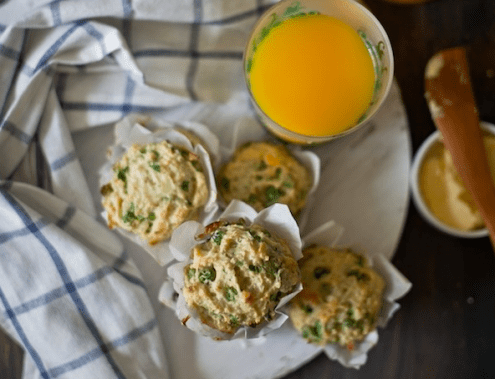 Savory Quinoa Breakfast Muffins
Preparing the muffin batter takes no time but cooking quinoa will take about 15 minutes or so.
Ingredients
1-cup quinoa
1 egg
¼ cup oil
¼ cup milk
2 cups all-purpose flour
1½-teaspoon baking powder
1-teaspoon salt
½ cup peas
½ cup spinach, roughly chopped
1 zucchini, grated
Instructions
In a pan, mix quinoa with 1½ cup water. Bring it to a boil and then let it simmer until the water is completely absorbed. This should take about 15 minutes. Once done, take it off heat, cover the pan and let it rest for 5 minutes. After 5 minutes, fluff it with a fork and let it cool to room temperature before you mix it to the muffin batter.
Pre heat the oven to 350F and line the muffin pan with parchment paper or cupcake liners.
In a bowl, whisk eggs. Then add oil, milk and whisk again.
In a separate bowl, whisk flour with baking powder, salt and mix the cooled cooked quinoa to it.
Now, pour flour mixture to the egg mixture and mix using a wooden spoon. Do not whisk or over mix. Add peas, spinach, zucchini, and feta and give it a mix.
Spoon the batter to prepared muffin pan. Bake it for 25 minutes or until a toothpick comes out clean when poked right in the center.
Notes
Do not over mix the batter. It will make the muffins rough and dry. The muffins will stay good for at least a week in an airtight jar. Just heat them in a microwave when you are ready to eat.
Kankana Saxena
Kankana Saxena shares culinary journey, travel stories and passion for photography in her blog 'Playful Cooking'. Her cooking style is mostly nutritional with little bit of indulgence here and there. She believes in the mantra 'homemade is happiness'! She is a native of India but currently resides in Santa Clara, California with her husband.