Inspired by the savory Focaccia, Fugazza is a hearty bread topped with roasted onions, herbs and sometimes mozzarella.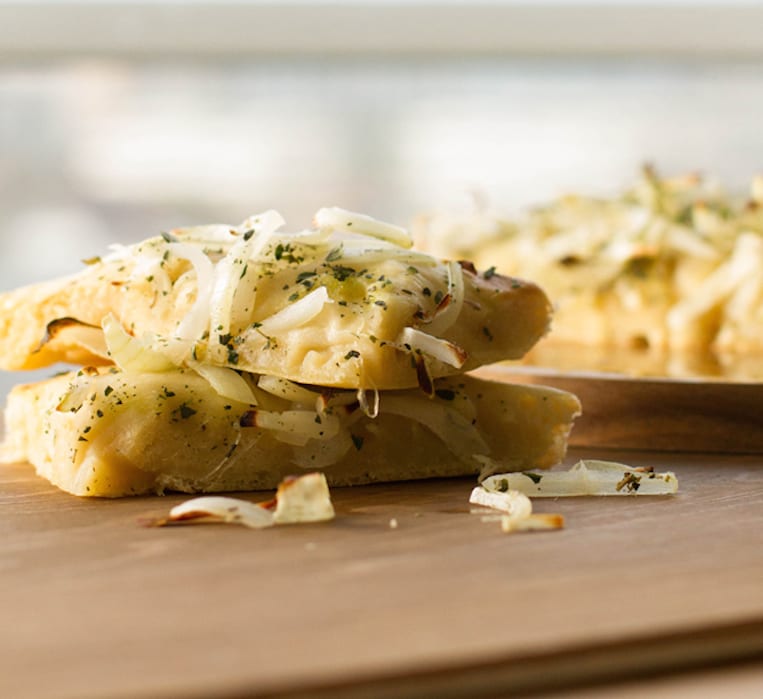 Recipe originally made for the Daring Bakers Challenge.
The word "fugazza" is an Argentinian derivation of the Italian word "focaccia" – indicative of the prominent Italian population in that South American country and of the influence of Italian cuisine there. Very similar to a focaccia, it's usually cooked in a cast iron skillet and is generally thicker than its Italian counterpart. There is also a version called fugazzeta, which is the same but stuffed with mozzarella.
Recipe adapted from here.
Print
Author:

Rachael Hooper

Yield:

16

slices

1

x
Category:

Pane
350 g

2 3/4 cups, spooned and scraped bread flour

150

ml 10 tablespoons olive oil, divided

2 teaspoons

kosher or sea salt

2 teaspoons

instant dry or active dry yeast

1 teaspoon

sugar

240

ml 1 cup warm water

1

large white onion

2 teaspoons

dried oregano
grated Parmesan (optional)
thinly sliced mozzarella (optional)
Instructions
If using active dry yeast: Pour the warm water (100-105° F/38-40°C) into a small bowl. Stir in the sugar and yeast. Set aside for 5-10 minutes, until frothy. If using instant dry yeast: Add the yeast and the sugar with the flour.
Whisk together the flour and salt in a large mixing bowl or the bowl of a stand mixer, add 5 tablespoons of olive oil and mix together briefly using a spoon or the dough hook.
Add the yeast and water mixture and begin to knead. The mixture should come together as a soft, stretchy dough, pulling away from the sides of the bowl. Add a bit more flour if mixture is too wet, or a bit more water if mixture seems dry or too firm. Knead for 5-10 minutes, until dough is smooth, soft and elastic.
Transfer the dough to a large, clean, oiled bowl. Cover with plastic wrap and let dough rise until doubled in size, about 1 hour.
While the dough is rising, peel, halve and slice the onion lengthwise into very thin strips. Submerge the sliced onion in a bowl of cold, salted water and soak for 30 minutes. Drain onions well and dry with paper towels.
Preheat oven to 230°C (450°F) with a rack in the middle.
Once it has risen, punch down the dough and shape into a smooth ball. Pour 3 tablespoons of olive oil into a large cast iron skillet or medium sized pizza pan with at least 1"/2.5cm sides. Place the ball of dough in the middle of the pan and press out gently with your fingers. Let dough relax for about 10 minutes.
Continue to press dough out into the pan, letting it relax for a few minutes each time as necessary, until dough covers the bottom of the pan. It should take 3 – 5 repetitions, depending on the size of the pan.
Sprinkle the onions over the top of the dough. Drizzle a tablespoon of olive oil over the onions, and sprinkle with the dried oregano, rubbing it between your fingertips while doing so to bring out the flavour.
Place the fugazza in the centre of the oven and bake for about 20 minutes, until the edges start to turn golden brown. If desired, remove fugazza from oven after 15 minutes and top with thin slices of mozzarella and sprinkle with grated Parmesan then return to oven and bake until the fugazza is golden brown and crispy around the edges. Brown the onions under the oven grill or broiler for the last 2 – 3 minutes of cooking, if desired.
Remove from the oven, allow to cool enough to handle and cut into wedges or squares to serve.
Rachael Hooper
I live in Geneva, Switzerland, where I moved with my family from Australia in 2001. I have a husband whom I adore, two adult sons and a delightful daughter-in-law, I'm an EFL teacher, I love to travel and I spend as much time as possible in the kitchen. Cooking, for me, is all about sharing delicious, healthy and sometimes wickedly indulgent food - either literally, at the table, or metaphorically, via the internet. I have a burning passion for Italian food, I also dabble in Middle Eastern, French and Asian cooking, as well as trying my hand at cakes, desserts and breads. In fact, baking has become a bit of an obsession! I'm always ready for a challenge and I have developed a "never-say-die" attitude in the kitchen.