This recipe is very high in healthy lycopene and vitamin C. It has lots of bright, fresh veggies. It's light but full of Italian flavor.
By Jill Nammar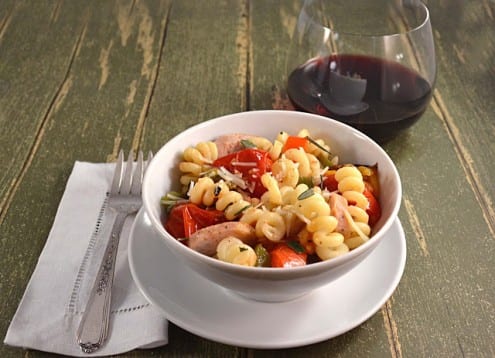 Sitting down to a cozy bowl of pasta and a glass of red wine is one way to enjoy life's simple pleasures. Sunday dinner with my husband will always be a small, good comfort when it's needed most.
Sausage and Pepper Pasta Bowl
This recipe is very high in healthy lycopene and vitamin C. It has lots of bright, fresh veggies. It's light but full of Italian flavor.
Ingredients
1 16 ounce package of Italian chicken or turkey sausage
3 bell peppers, your choice of colors. I used green, red and yellow. Cut them in half and seed them and place them cut side down on a foil-lined baking tray.
3-4 garlic cloves, minced with a garlic press or a microplane zester.
extra virgin olive oil for cooking, I used unfiltered.
2 12.5 ounce containers of cherry tomatoes or grape tomatoes, halved or quartered, depending on their size.
fresh rosemary to taste. Use it sparingly because it's strong. You can also use dried rosemary instead.
sea salt or kosher salt to taste
fresh cracked pepper or red chili flakes to taste
Parmesan cheese and rosemary flat bread(recipe below) for serving
1 16 oz package of pasta, cooked according to the package directions. I used an imported Italian fusilli.
Instructions
Cook the pasta according to the package directions.
Preheat the broiler on high. Place peppers cut side down on a tin foil lined baking tray and broil them, close to the flame, until their skins are blistered and blackened in most places. Put the peppers in a bowl and cover tightly with tin foil or cling wrap to let them steam. Their skins will come off easier this way.
Preheat the oven to 375. Cook sausage in the oven, in an oven safe baking pan, for about 20-25 minutes or until done. Be careful not to overcook or they'll be dry. Set aside, covered with foil.
Meanwhile, coat the bottom of a large nonstick saute pan with a little olive oil. Add minced garlic and warm the garlic, over medium-low heat, so it infuses the oil. Do not let the garlic burn or brown. It should be warmed through, but not fully cooked. Add the tomatoes almost immediately after you've warmed the garlic with a pinch of salt and pepper. Gently cook the tomatoes until they start to release some of their juices, creating a light sauce. This should take about 4-5 minutes on medium heat. Keep the tomatoes and garlic warm, on a very low flame, while you peel the skins off the roasted peppers and chop them into small pieces. Add the peeled and chopped roasted peppers to the pan with the tomatoes. Add a pinch more salt and pepper. Once the sausages are done, slice them into thin rounds and stir into the pan with the tomatoes and peppers. Sprinkle with a little fresh rosemary and cook to warm everything through. Toss the sausage and peppers mixture with cooked pasta. Add a drizzle more olive oil. Pass the Parmesan cheese and red chili flakes at the table. Serve with my easy rosemary flat bread and enjoy!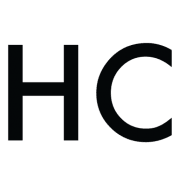 Jill Nammar
Jill has been cooking and serving meals for most of her life. As she was growing up, he parents owned a restaurant and an ice cream parlor where she became immersed in food. The kitchen is truly her comfort zone. Jill's recipes are influenced by France, the Mediterranean and Morocco, and often the bright flavors of Southeast Asian cuisine, too. She cooks to inspire others to whip up flavorful food in their own kitchens. Each recipe has a notes section with helpful tips, techniques and secret ingredients to follow. Taste and see how easy it is to create delicious meals.