Honest Cooking visited the newly opened Sandals LaSource resort in Grenada, to check out how gastronomy fares in the world of all inclusive luxury resorts.
By Kalle Bergman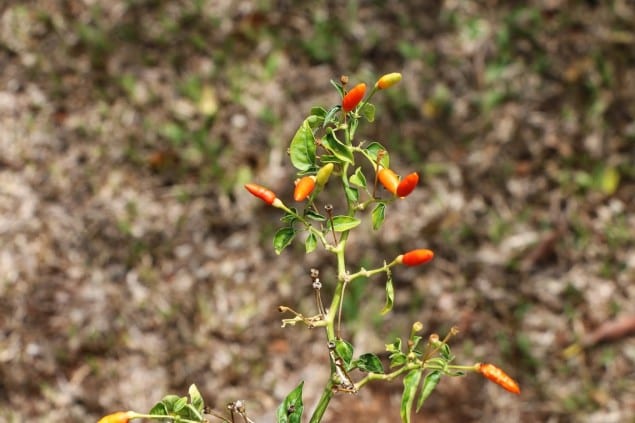 The island of Grenada, known as the Spice Isle, is one of the lesser exploited tourist destinations in the Caribbean. It attracts guests looking not only for sandy beaches and lots of sun – but for gorgeous nature, winding mountain roads, and of course – some of the most exciting herbs and spices in the world. Honest Cooking however, traveled there to check out the newest resort from the Caribbean resort brand Sandals – The Sandals LaSource – where food and drink are at the center of the experience. What we wanted to know, was if all inclusive can also be translated in to high quality dining.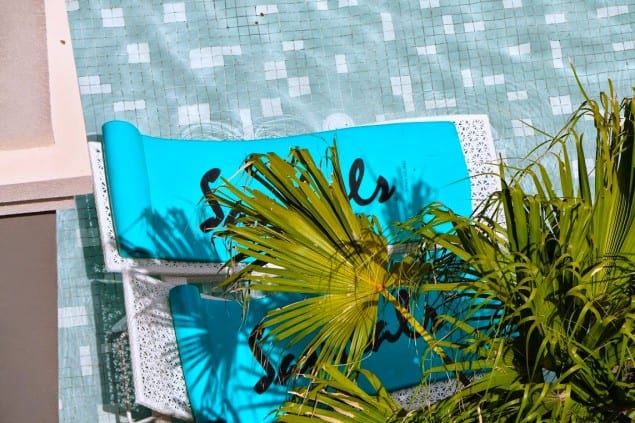 The Sandals LaSource is located just a stone's throw away from the Maurice Bishop International airport in Grenada. Literally. The transfer to the resort is a 2 minute ride, and as a matter of fact, you can see the landing strip from the resort. That's nothing to worry too much about though, there is very little air traffic to and from the island, and disturbance from the airport is minimal.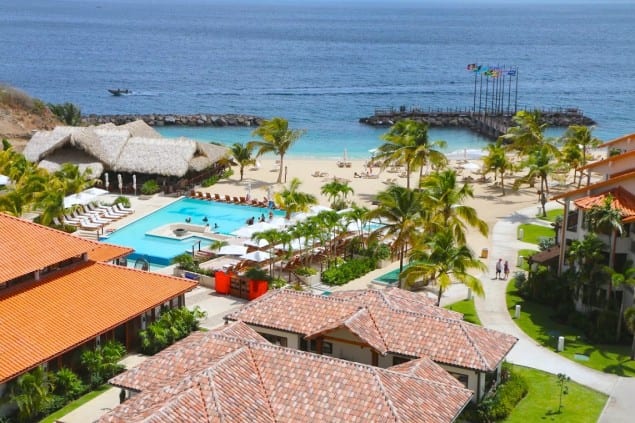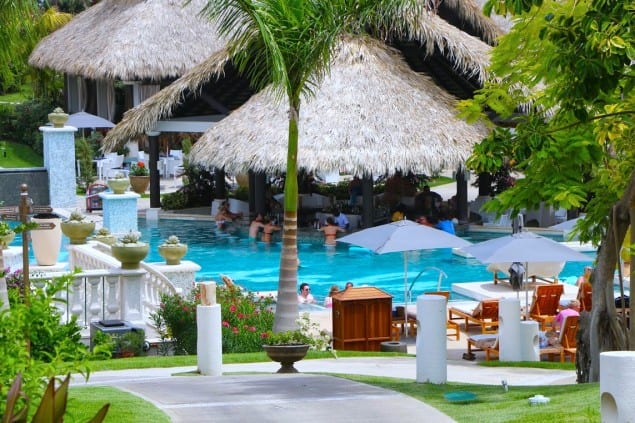 Previously a golf resort – Sandals took over the LaSource property a few years back, removed the golf course and added several new buildings, features and room types. From private villas to sky suites with infinity pools and rooms served by your own private butler – this all inclusive resort has accommodations that fit most requirements. Since opening in December 2013, Sandals have recruited almost all of their staff locally – which is quite an accomplishment considering that there were very few skilled hospitality workers available on the island. As a guest, you won't notice this – the staff is extremely friendly, service minded and professional, a testament to the warm and welcoming personality of the people of Grenada as well as (we guess) the efficiency of Sandals' training programs.
The resort is spread out on several acres of land – but feels small, intimate and is easy to maneuver. With a maximum of 500 guests on property, the resort never feels crowded – even at full capacity there are always tables available at all restaurants, and free sun beds on the beach as well as poolside.
Sandals recently introduced a new dining concept across their resorts – Discovery Dining. The idea behind this new concept is to keep many of the things that the returning Sandals lover is looking for – but also to introduce the guests to new cuisines and dishes. For instance, this means that their Italian restaurants – previously mostly focused on American-Italian cuisine with dishes like Fettuccine Alfredo and Eggplant Parmigiana, are now also serving more traditional courses from many of the 20 regional Italian cuisines, giving guests the option of "discovering" food they might not be very familiar with.
In addition to this, the beverage side has been given a complete overhaul – adding a number of signature cocktails to complement the theme of every restaurant. An example is the sushi restaurant Soy, where you are now able to sample infused sakes and japanese inspired martinis that complement the sushi and sashimi courses served.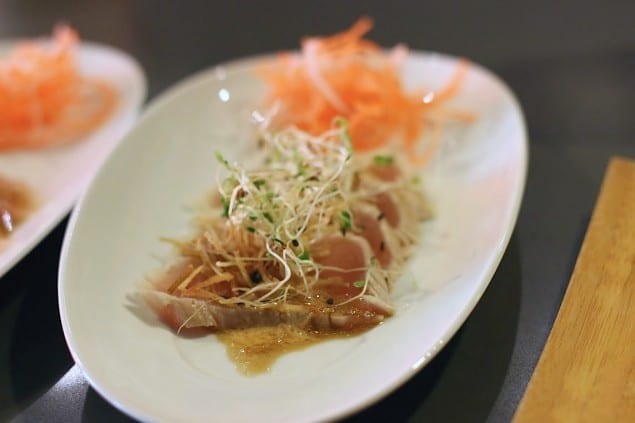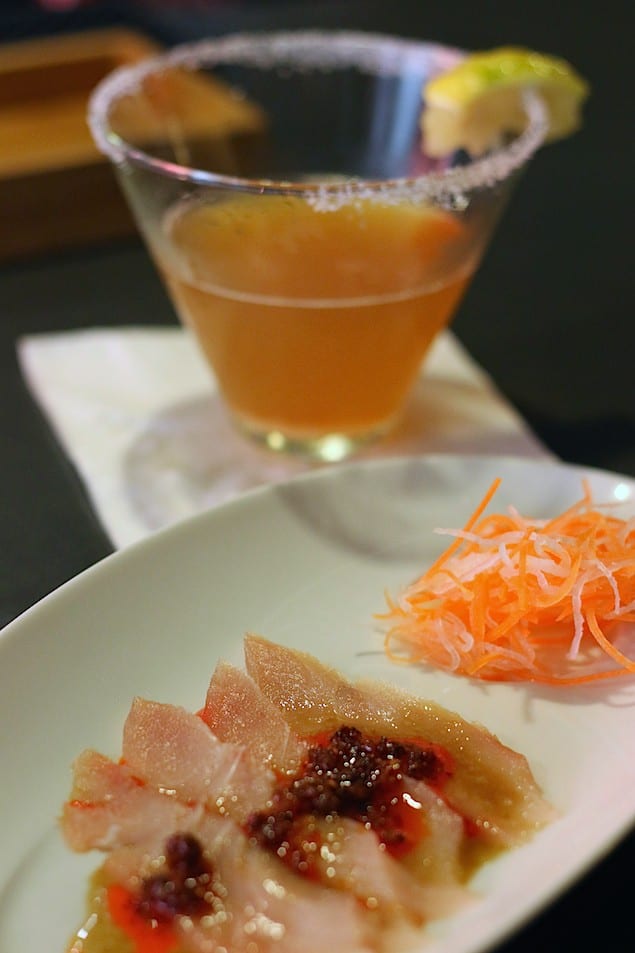 The Grenada property is the first Sandals resort to have this concept fully implemented from day one of its existence, and it also features restaurants that are not yet launched in any other Sandals resort. From local Caribbean fare, through Italian, Japanese, French and British cuisine – Sandals are focused on giving guests the opportunity to not be locked into just a few generic alternatives. On any given day, you can freely roam the property's restaurants and try a mix of old favorites and new acquaintances. A favorite past time of Honest Cooking of course, and we jumped on the opportunity of having appetizers at one restaurant, mains at another and dessert at a third – before heading for a late night snack at a fourth.
Start with some tempura shrimp and sashimi – paired with a green tea infused sake – at the Soy restaurant, before heading upstairs to Spices for a plate of Caribbean fish cakes. Perhaps a confit de canard at the french La Jardinier restaurant and ending your eating spree by indulging in a tiramisu at the Cucina Romana. Still hungry? Head back to Soy for a second round of sashimi before turning in. With 9 restaurants on the property, you will be able to eat something different every day – at every meal.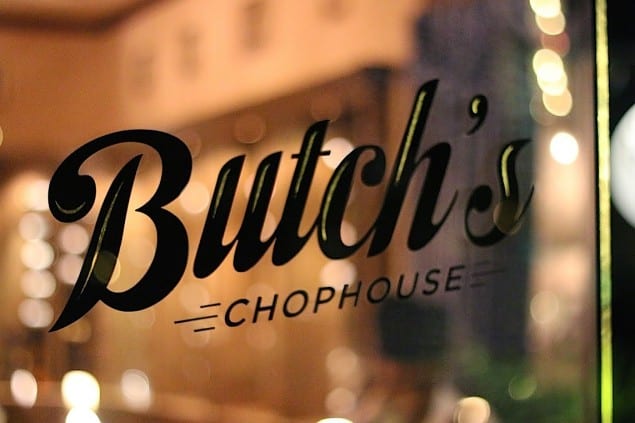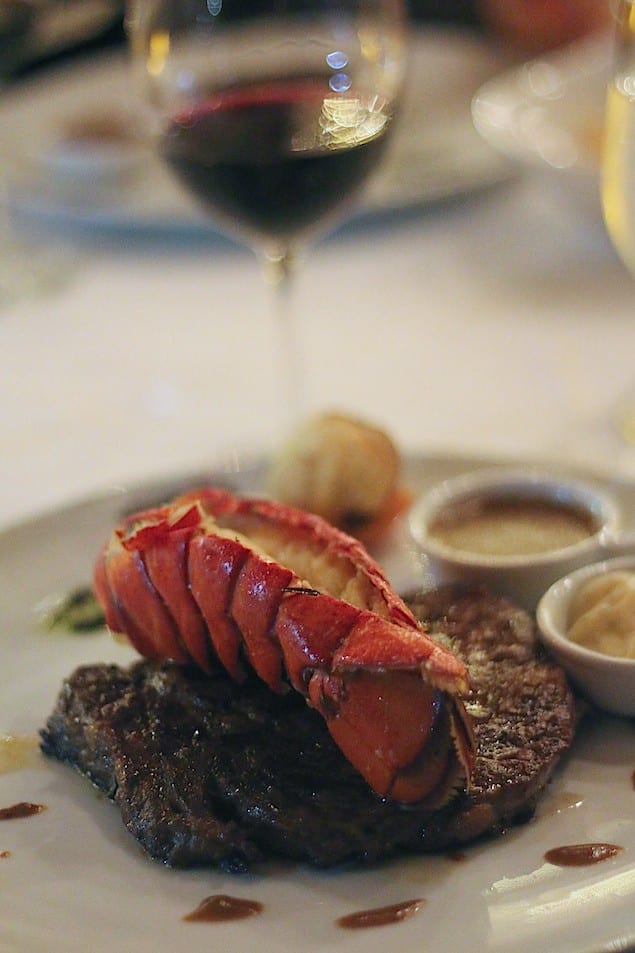 The newest restaurant concept in the family of restaurants on property is Butch's Chophouse, an American steakhouse with all the trimmings. From Oysters Rockefeller to huge rib-eyes and classic steakhouse desserts like cheese cakes, it is probably the heaviest dining option on the property, but judging from its popularity at the Sandals LaSource, we would be surprised if it did not show up at many of the other Sandals resorts in the near future.
For more casual dining, there is both a gourmet hot dog cart, as well as a poolside pizzeria that serves up some pretty tasty wood-fired pies to order.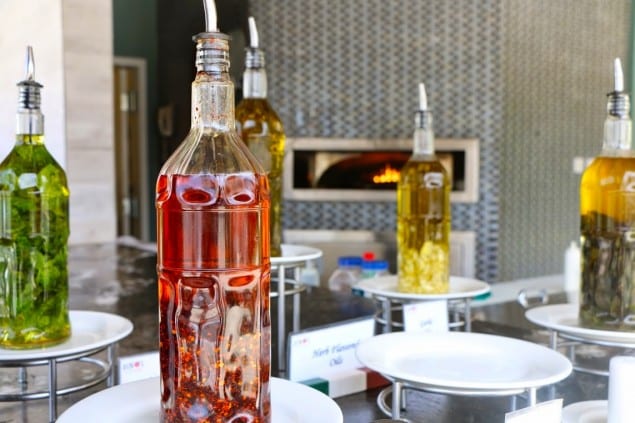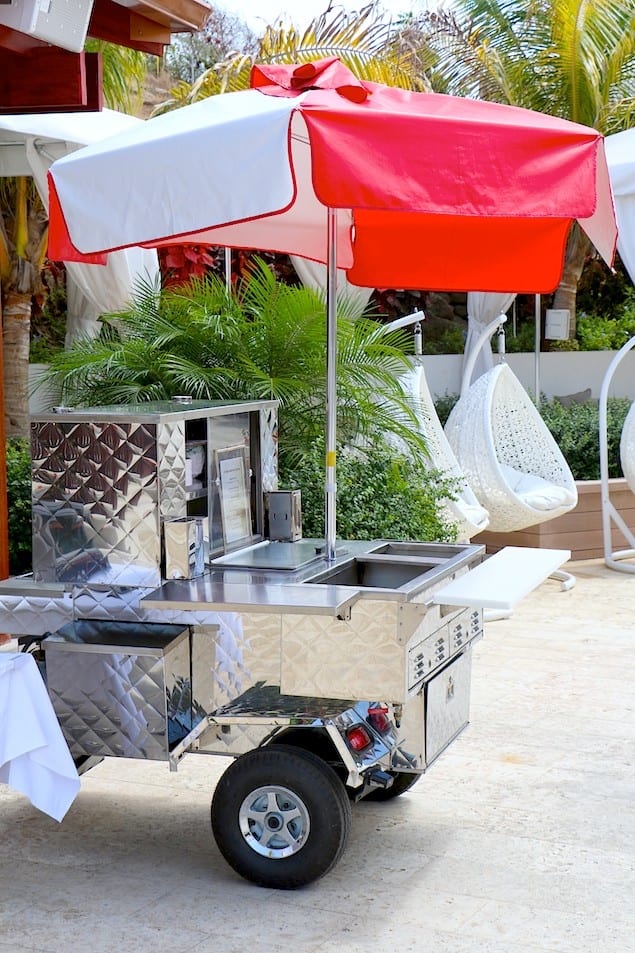 In general, we really appreciated most of the food we were served at the Sandals LaSource. The sushi and sashimi was impeccably fresh, the pasta properly cooked and full of flavor, the steak was made just right and the breakfast buffets were opulent and vibrant. The cocktail program was surprisingly interesting, and there is a very high-value-for-money wine list that complements the (more than decent) included Beringer wines.
We would have loved to see a little more Caribbean flair – today the only restaurant that ventures into local cuisine is the Spices Restaurant which features pan-Caribbean cooking – but since the resort is so close to the capital of Saint Georges, you can always take a cab into town if you are interested in some authentic local food, or take a stroll through the vibrant spice market.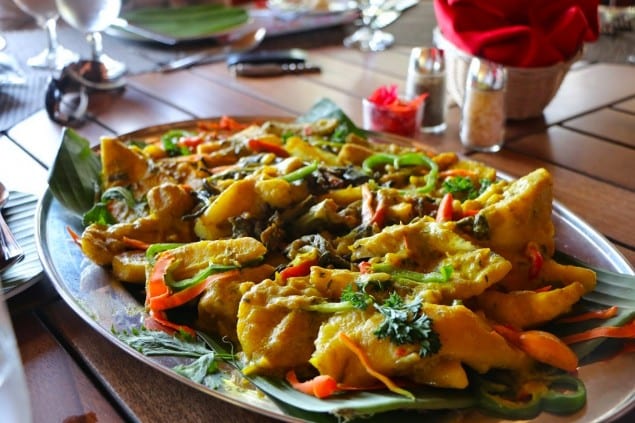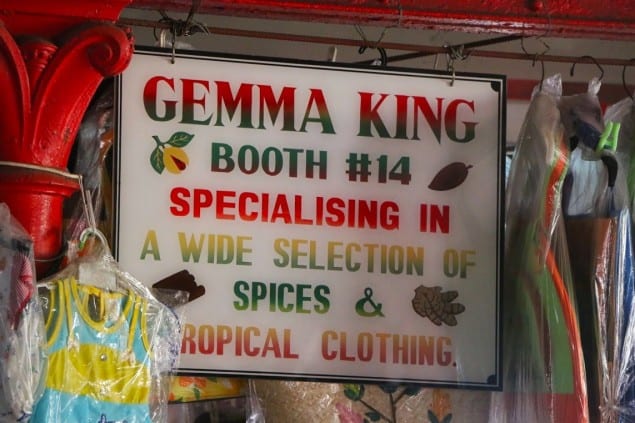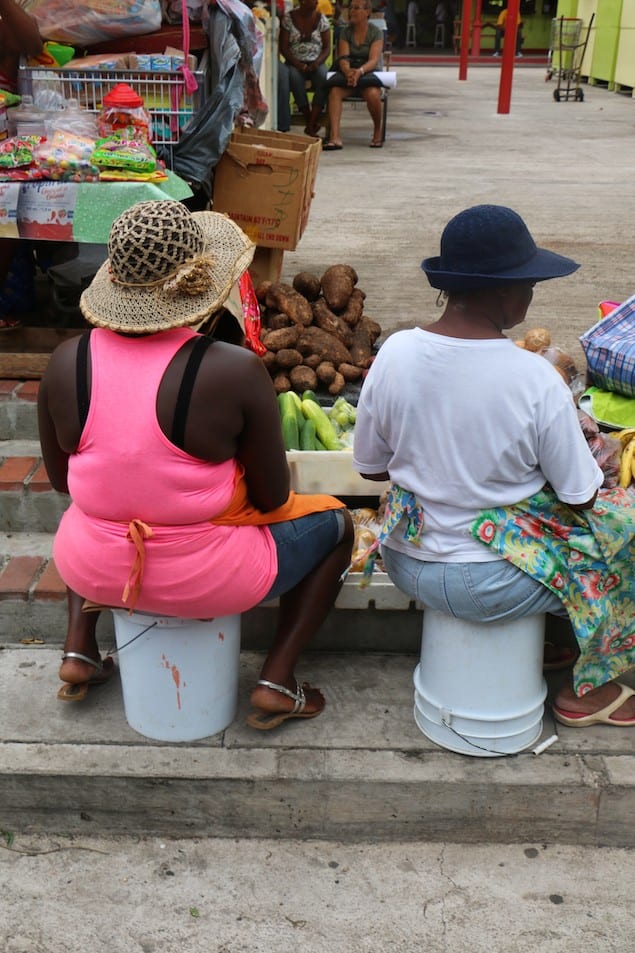 Meanwhile, the Sandals LaSource have certainly upped the antes in the world of all-inclusive-resort-dining – with a selection of options that are both fresh and well executed. For anyone looking for total, complete and utter relaxation in an environment where you can choose freely between several solid restaurant experiences – The Sandals LaSource should absolutely be on the shortlist of destinations.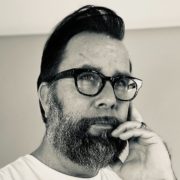 Kalle Bergman
Kalle Bergman is a food writer and media entrepreneur who is the founder of Honest Cooking and PAIR Magazine. As a food writer, his writing has been regularly featured in publications like Gourmet, Los Angeles Times, Huffington Post and Serious Eats. He is obsessed with simple food, more often than not from his native Scandinavia.