Rich, thick, dark as night brownies are drizzled with dulce de leche before baking. Sprinkle with quality flake salt for a delicious sweet and salty duo.
By Jane Poretsky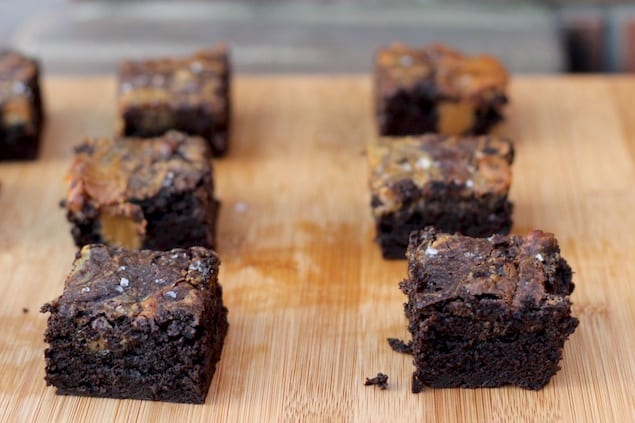 This recipe will provide you with a heavy and dense brownie batter that is stick-to-the-roof-of-your-mouth-thick. Be sure to use flaked salt that will dissolve and have a complex flavor.

Salted Dulce De Leche Brownies
Rich, thick, dark as night brownies are drizzled with dulce de leche before baking. Sprinkle with quality flake salt for a delicious sweet and salty duo. adapted slightly from David Lebovitz
Ingredients
8 tablespoons (115g) salted butter, cut into pieces
6 ounces high-quality dark chocolate chips or chunks*
¼ cup unsweetened Dutch-process cocoa powder
3 large eggs
1 cup (200g) sugar
1 heaping teaspoon vanilla extract
1 cup (140g) flour, sifted
1 14oz can sweetened condensed milk or ready-made dulce de leche
Maldon sea salt for sprinkling on top
Instructions
To make homemade dulce de leche, simply bring a very large pot of water to boil. Add a can (or a few) of sweetened condensed milk, lower the heat, and cook the can for 3 hours. Let it cool completely, then open + try not to eat the whole thing in one sitting. [Don't be afraid of explosions. You're safe as long as you keep the can completely submerged in water throughout)
Preheat the oven to 350 degrees.
Line a 8x8 inch square pan with two layers of foil (I use the non-stick foil. Brush the foil with a bit of butter or oil, just for extra security.
Melt the butter in a medium saucepan. If you have some time on your hands, turn the heat down to low and let it brown for 5-10 minutes. Watch it to ensure that it won't burn.
Once you start to see it slightly darken, and can smell the nutty fragrance perfuming the air, add the chocolate chips, then the cocoa powder.
Turn off the heat and whisk until smooth. Add in the eggs one at a time, then stir in the sugar, vanilla, then the flour (measured before sifting).
Scrape half of the batter into the prepared pan, and top with large dollops of dulce de leche. I used about ⅓ of the can for this portion.
Drag a knife through creating psychedelic swirls. Top with the rest of the batter, and then dollop the top with 8-10 more plops of cracktastic-milky-goodness. Swirl again, being careful not to overmix. Beware that the batter is very thick and may feel difficult to swirl. Fear not! You're doing it right. Sprinkle a generous pinch of salt over the top and bake for 40 minutes.
The key to great brownies is to avoid overbaking or they get dry. The corners should feel firm, and the belly of the beast [brownie] still a bit jiggly.
Allow these to sit until completely cool, or ideally, overnight. Don't attempt to cut them when they are warm as it will be a hot mess. For perfect squares, place the cooled brownies into the freezer for 15-20 and slice with a very sharp knife.
Notes
I love guittard 63% dark chocolate chips for baking. If you prefer a lighter, sweeter brownie, use semi-sweet chocolate. Similar to the salt, quality of chocolate and cocoa powder is extremely important. When you only have a handful of ingredients, better make sure you use the best.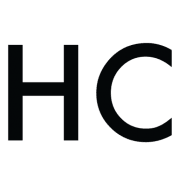 Jane Poretsky
Jane Poretsky is a recent NYU grad & native New Yorker. She dreams of having her own cooking show one day; one where she humors you, and shows you how to make her favorite rustic dishes. From French pâté studded with pistachios, to silky spaghetti glossed in a yolky cream sauce, no recipe stone will be left unturned.