This post is sponsored by Cavit. Inspire your pairings, recipes, and gatherings with new wine ideas.
Take a moment to care for yourself, nutrients and all. Dive into this colorful and nourishing hummus bowl paired with a Pinot Grigio wine.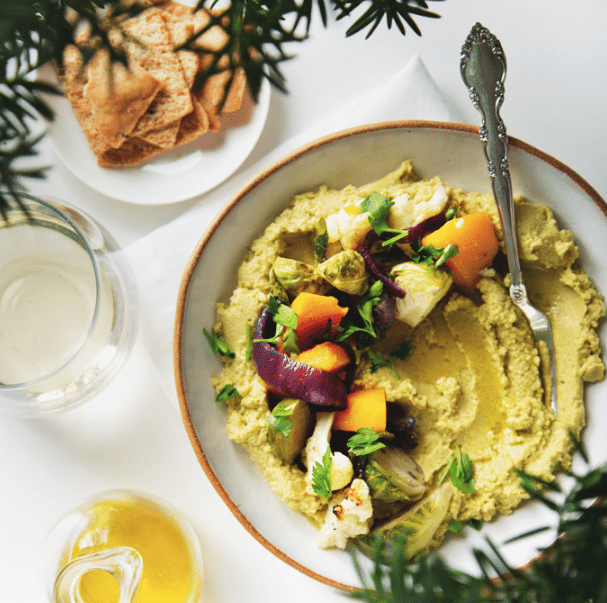 With the winter holidays in full swing, life has been very full, but also a little on the chaotic side. There are fast-approaching work deadlines, holiday parties, cookies around every corner, and the energy can sometimes go full-on frenetic. Are you feeling it too? Aaron and I are terrible about over-extending ourselves, which means self-care can go straight out the window. Instead of totally fighting our tendency to say "yes" more than we should, we've instead accepted that the end of the year is crunch time. Days off probably aren't happening, and workouts that don't involve walking the dogs will be sparse, but there are two things that we agree to prioritize, no matter what: 1) sleep (at least 8 hours a night) and 2) food (mostly whole foods and homemade).
This Roasted Vegetable Hummus Bowl is how I've been turning my go-to snack of chips and hummus into a legit lunch or dinner, as well as a lighter happy hour type appetizer. (Because when life gets busy, why fight the chips and hummus?) You can use your favorite store-bought hummus as the base, or go with the five minute recipe I'm including below. And the reason I say this can be served as a legit meal is because there are a boatload of good-for-you veggies on top of that hummus. I'm currently obsessed with a combination of roasted butternut squash, brussels sprouts, cauliflower, and red onion—most of which I've been buying pre-chopped and feeling zero shame about.
Another thing I love is that this recipe is super adaptable to what you have on hand. I sometimes swap the brussels sprouts for chopped broccoli, the onion for shallots, and the butternut squash for sweet potatoes, just to give you a few examples. From there, I garnish our hummus bowls with a pour of good quality extra virgin olive oil, a squeeze of lemon juice, and some chopped fresh parsley to brighten it all up.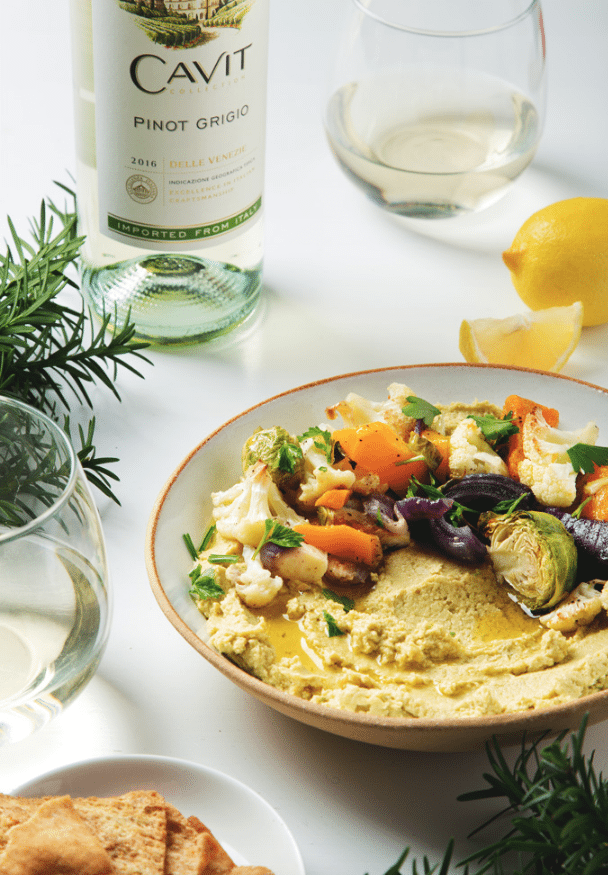 If you want to jazz it up even more, I recommend serving your bowls with multigrain pita chips or seedy crackers for dipping, and a chilled glass of white wine (there's nothing like a glass of wine with lunch to make you feel fancy!). For the last year or so, we've been drinking the Pinot Grigio from Cavit because it's light and citrusy, with a subtle green apple flavor that's really refreshing. (I also like that it's vegan and made using eco-friendly vineyard and winery practices.)
Admittedly, Aaron was skeptical when I first told him we were having roasted vegetable hummus bowls for dinner the other week, but he ended up loving this recipe. It's seasonal yet still has a lot of color, and the fresh herbs and lemon keep it bright and vibrant. Call me simple, but this dish is exactly what I want to be eating in December.
See Also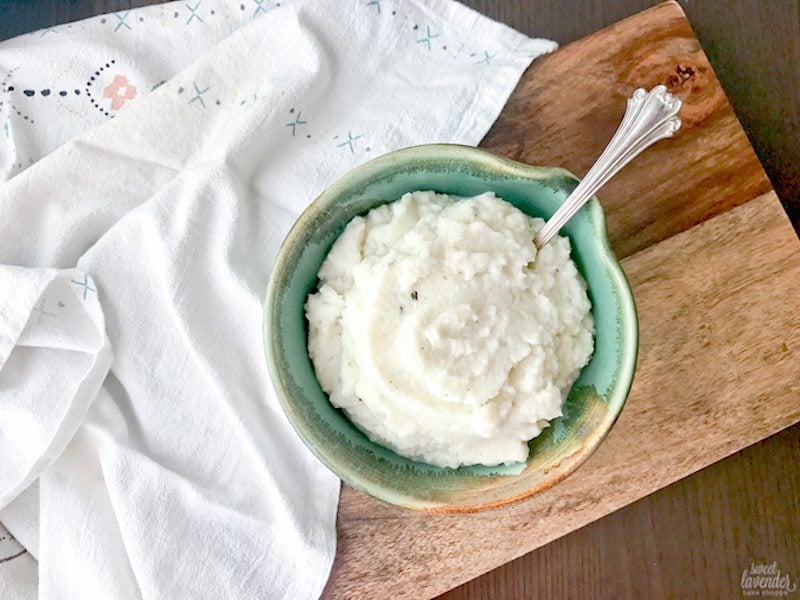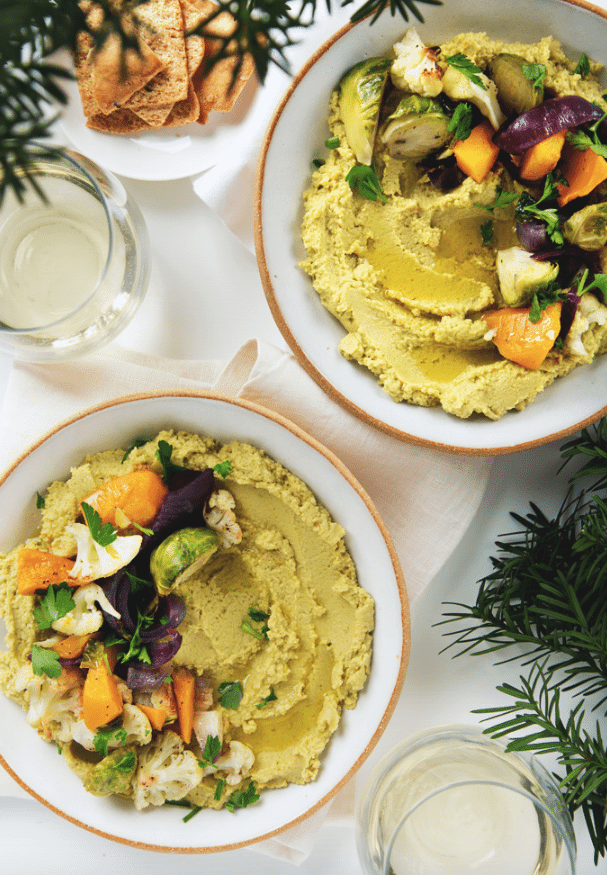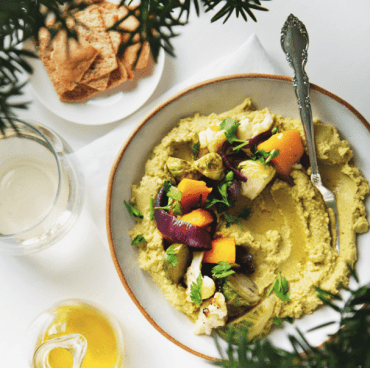 Roasted Vegetable Hummus Bowl and Pinot Grigio
Amanda Maguire
Ingredients
for the roasted vegetables:
1

pound

peeled and chopped butternut squash

½

pound

brussels sprouts

ends trimmed then halved

½

pound

chopped cauliflower

1

large red onion

peeled and thickly sliced

extra virgin olive oil

for drizzling

sea salt and pepper

3

cups

hummus

store bought or homemade (recipe below)
for serving:
extra virgin olive oil

1

lemon

cut into wedges

1

small bunch fresh parsley

chopped

tortilla chips or pita chips
for the hummus:
3

cups

cooked chickpeas

1/4

cup

+ 2 tablespoons filtered water

1/4

cup

chopped fresh chives

2

tablespoons

+ 1 teaspoon apple cider vinegar

2

tablespoons

tahini

2

tablespoons

extra virgin olive oil

2

tablespoons

nutritional yeast

1

teaspoon

sea salt

½

teaspoon

garlic powder
Instructions
Preheat the oven to 400° F.

Roast the vegetables: Line two large rimmed baking sheets with parchment paper. Divide the butternut squash, brussels sprouts, cauliflower, and red onion between the two baking sheets. Drizzle each with olive oil, then season with salt and pepper. Toss to coat. Arrange in a single layer and roast for 25-30 minutes, or until fork-tender and browned around the edges.

If you're not using store-bought hummus, make the hummus while the veggies roast: Add all of the ingredients to the bowl of a food processor. Process for 1-2 minutes, stopping to scrape down the sides of the bowl once or twice, until the hummus reaches your desired consistency.

Divide the hummus among wide, shallow bowls. Top each with roasted vegetables, a small pour of olive oil, a squeeze of fresh lemon juice, and a sprinkle of chopped parsley. Serve with tortilla chips or pita chips for dipping, if you like.
Notes
Hummus recipe adapted from my Cool Ranch Hummus.
This recipe is very adaptable to what your have on hand. I sometimes swap the brussels sprouts for chopped broccoli, the onion for shallots, and the butternut squash for sweet potatoes, to give you some examples.
Take full advantage of your grocery store's pre-prepped veggie selection to make this meal extra speedy!