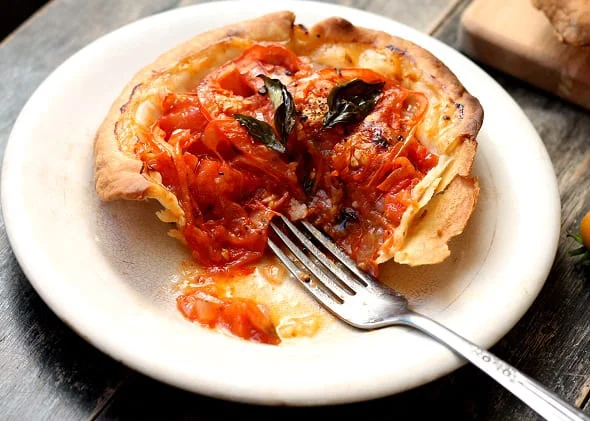 There's not much to this tart so the flavor is contingent on tracking down quality tomatoes and roasting them at a high heat, cast iron pans are perfect for that.
By Bryan Picard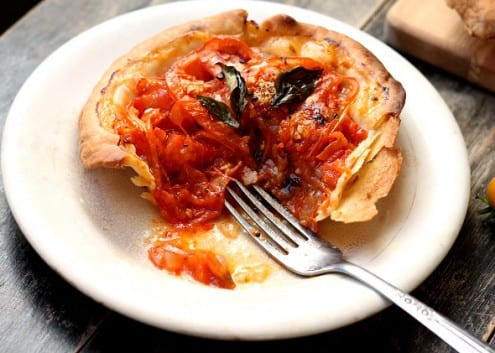 Roasted Tomato Tart
There's not much to this tart so the flavor is contingent on tracking down quality tomatoes and roasting them at a high heat, cast iron pans are perfect for that.
Ingredients
Roasted Tomatoes
2-3 lbs tomatoes (about 10 medium)
2 shallots, chopped
small handful of fresh basil
few leaves of fresh oregano
3 tablespoons olive or grapeseed oil
sea salt + ground black pepper
Dough
1 cup white flour
5 tablespoons unsalted butter
2-3 tablespoons cold water
a pinch of salt
Instructions
Roasted Tomatoes
Preheat the oven to 450°F.
Put all but two tomatoes in a cast iron pan or baking sheet. Add the rest of the ingredients and mix.
Roast in the oven for about 25 minutes.
Dough
In a bowl, mix together the flour and salt. Rub the flour with the butter until you get a sandy texture. Then add just enough water to make a smooth dough. Cover and chill for 30 minutes.
Tart
Split the dough in four; roll out on a floured surface, and line the buttered tart pans.
Spoon the roasted tomatoes into each tart, making sure to add the cooking liquid.
Slice the remaining two tomatoes, and layer them on top with a few leaves of basil.
Reduce the heat to 375°F and bake for another 30 minutes, until the crust is golden brown. Season with sea salt and drizzle with a bit of oil.
Bryan Picard
Bryan Picard is a wild and homegrown food enthusiast. He lives in the Maritimes in Canada and has worked the kitchens as a cook and chef for the past ten years. He writes on his blog The Bite House.