It's winter. And winter means warm, comforting bowls of healthy goodness. But healthy needn't be tasteless. And soups needn't be one dimensional.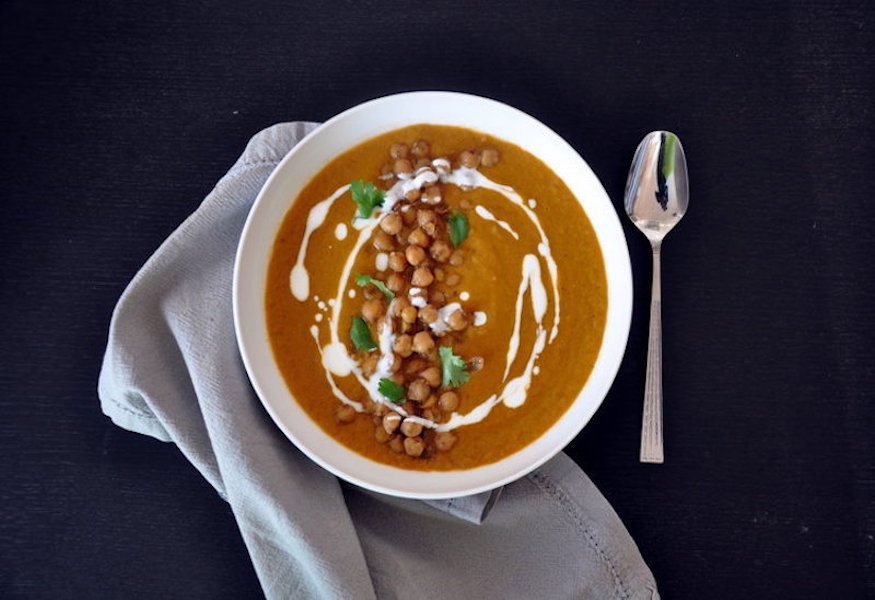 I love mixing ingredients to create new soups. Be it a mix of veggies, or adding in legumes & beans, a hearty soup is one that has a plethora of flavors … without adding much else. I never ever add any chicken or veg stock to my soups. On the contrary, my only secret would be to let all the ingredients slow-cook and simmer together for a little longer than expected. And then blend it all. Always blend. Much as I love chunky soups, blending definitely gives a uniform flavor to the dish and removes the need for unnecessary additives.
I have used a slightly lengthy process for this soup (and it does make a difference!), but if you're short on time, you can skip roasting the tomatoes. Or you could use a can of (I know I know..ugh!) fire roasted tomatoes (cans are not exactly my go to EVER, but I know some busy people swear by them).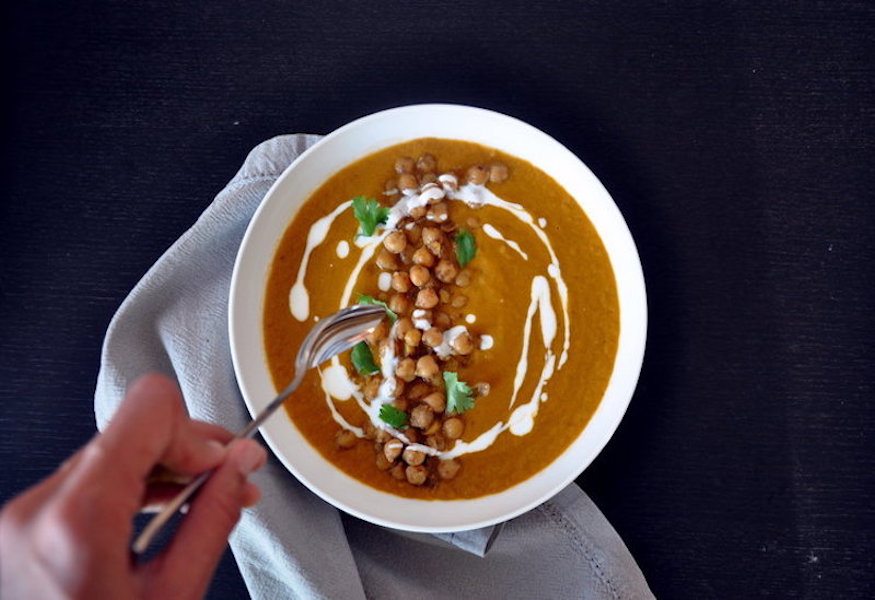 Print

---
Author:

Shuchi Mittal

Yield:

0

Serves 2

1

x
For the soup
4

large plum tomatoes (halved)

1

green pepper (cut into large chunks)

1

small red onion (diced)

2

cloves of garlic (crushed)

1 teaspoon

fresh grated ginger

1

jalapeno (more if you like it hot!, finely chopped)

2

heaped tablespoons red lentils (lentils add creaminess to the soup without the need for anything heavy. You can substitute with a little grated cauliflower or sweet potato if you are not a fan of lentils)

1 teaspoon

peri peri spice (optional)

2 teaspoons

cumin powder

6 tablespoons

light olive oil
Handful of cilantro (roughly chopped (stems and all!))
Salt & pepper to taste
Others
1 cup

chickpeas (I soaked and boiled them, but you can use a can)

1 tablespoon

light olive oil
Spice mix : 1/2 teaspoon cumin powder (1/2 teaspoon dry mango (amchoor) powder, 1/3 teaspoon garam masala, salt)
Whole milk yogurt or sour cream
---
Instructions
Roast the chickpeas
Add oil to a non stick pan. On high heat, add the chickpeas and the spice mix, and roast till the chickpeas begin crisping on the egdes. Stir constantly to avoid burning. Remove from heat and cool.
Roast the veggies
Toss the tomatoes and green peppers in 2 tablespoon olive oil, 1/2 teaspoon cumin powder, salt & pepper. Put it on a baking tray and roast in a 425F pre-heated oven for 45-60mins, till the tomatoes are completely tender and edges begin to brown. Cool, remove skin off the tomatoes and crush. If the green peppers are soft enough for the skin to come off, then remove if off them as well. Otherwise you could leave the peppers as is.
Make the soup
Heat the remaining oil in a deep bottomed pan. Add the jalapeno, ginger & garlic and cook for a few seconds. Toss in the onions, add a little salt and cook till the onions turn translucent. Stir in the lentils and roast for a couple of minutes. Finally add the roasted tomatoes & green peppers, along with the remaining dry spices. Add 1 cup water, cover, and let the mixture simmer for 30-40 minutes on medium heat, till the lentils are full cooked. Remove cover, cool contents slightly and blend, blend, blend…. Transfer soup back to the stove (trust me on this step!) to give it all one more (long) simmer before serving. (I use a hand blender so everything is done in the same pot – less dishes folks!)
Top with roasted chickpeas, a dollop of yogurt and some fresh cilantro. Enjoy steaming hot!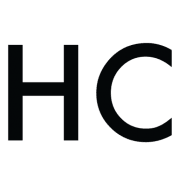 Shuchi Mittal
Shuchi cooks with the heart of a poet. Banker turned chef, she runs the 29. Private Kitchen in NYC focusing on social tasting events, dining experiences and small-scale private events. Using simple & wholesome ingredients, she likes to re-invent homemade Indian flavors into modern tapas & small plates. Her dream? To cook, feed, write, and eventually open her own communal dining cafe - with a published recipe book on the stands.