Tomatoes are the star of this simple grilled cheese recipe. Roasting the tomatoes brings out a sweet flavor that pairs perfectly with the mozzarella cheese, basil and balsamic reduction.
By Lauren Hardy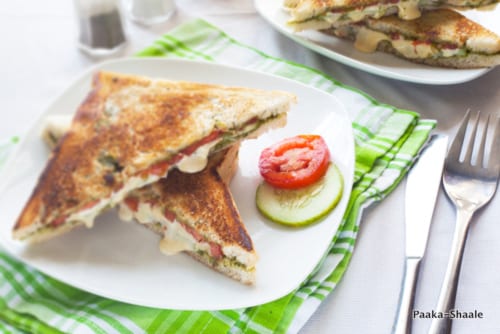 Roasted Tomato Caprese Grilled Cheese
Tomatoes are the star of this simple grilled cheese recipe. Roasting the tomatoes brings out a sweet flavor that pairs perfectly with the mozzarella cheese, basil and balsamic reduction.
Ingredients
6 tomatoes (vine or roma), sliced about ½ inch thick
1-2 tablespoons olive oil
½ teaspoon salt
½ teaspoon pepper
½ cup balsamic vinegar
3-4 ounces fresh mozzarella
12-15 basil leaves
4 slices seedy bread
Instructions
Preheat oven to 325 degrees. Place tomatoes on a nonstick baking sheet and drizzle with olive oil, salt and pepper. Roast for 45-50 minutes.
While tomatoes are roasting, add vinegar to a small saucepan and bring to a boil. Reduce to a very low simmer and cook for 10-15 minutes, until liquid reduces by about half and is slightly syrupy.
Remove from heat, pour vinegar in a bowl or glass to pour, and let sit.
Once tomatoes are finished, heat a large griddle or skillet over medium heat. Brush the outsides of each slice of bread with olive oil, then place mozzarella on one slide, followed by tomatoes, basil (feel free to shred it if you'd like), more tomatoes and more mozzarella.
Cook until cheese is melty and each side is golden, about 5 minutes per side.
Serve immediately drizzle with balsamic.
Lauren Hardy
Lauren Hardy is a writer, editor and self-taught, experimental foodie. By the time she was 6 years old, she had the Toll House Inn chocolate chip cookie recipe memorized and baked a variety of batches for her family each week. Her passion for cooking flourished during her college years. In addition to her writing aspirations, she hopes to own a bakery someday. You can follow her latest musings on her blog, "Making Life Sweet," at laurenhardy.com, where she blogs weekly about inspiration, food and faith.