Roasted Pears with Pistachios and Vanilla Ice Cream
Tender roasted and spiced pears are a simple dessert to serve with cool ice cream and crunchy pistachios. Try throwing them on the grill for added char and learn how to pair the dessert with the perfect Port.
By Simone Van Den Berg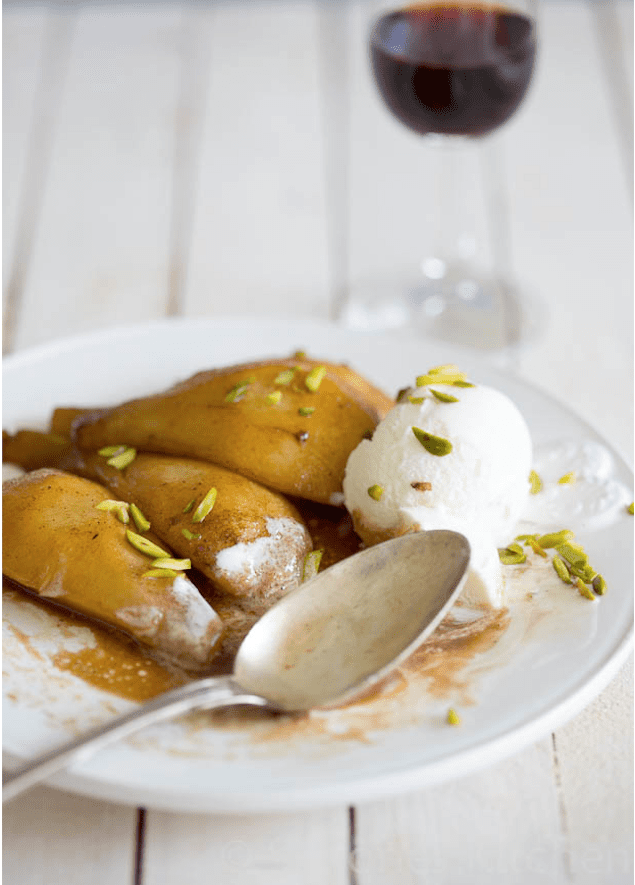 It's been over a year since I visited the vineyards of Quevedo and learned the diference between Ruby en Tawny Port. And I also learned that a good Port is really really good! (You see I only really knew the cheaper stuff before) So when Oscar approached me a couple of weeks ago and asked if I maybe had a photo of a dessert with a glass of port anywhere in my stock I decided it was time to make one, since I didn't have anything like that. So if you need a quick idea for a delicious dessert this is easy and insanely delicious.
Ofcourse you have to roast the pears so that requires some oven time, but other than that it's easy peasy. Ofcourse you can also make your own ice cream, but buying a good one in the stores is ok, too.
The standard combination of port is ofcourse with cheese and good nuts, but I wanted to do a sweet dessert this time and as recommended by Oscar I made these roasted pears. We had these with a ten year old Tawny from Quevedo and it really is worth spending a little more money for a good port and enjoy with this dessert or anything else you want, or without dessert, is good too! The Quevedo wines and port are available in the Netherlands through the Jumbo. For anywhere else in the world you might want to check the Quevedo website for more information.
See Also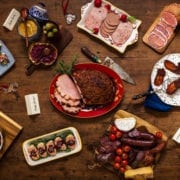 For roasting these pears I used the always available Conference pears, or at least our supermarket always seems to stock these. But feel free to try any other type of pear I would say. Definitely worth making!

Roasted Pears with Pistachios and Vanilla Ice Cream
Tender roasted and spiced pears are a simple dessert to serve with cool ice cream and crunchy pistachios. Try throwing them on the grill for added char and learn how to pair the dessert with the perfect Port.
Author:
Simone Van Den Berg
Ingredients
3 conference pears, not too ripe, peeled and cored.
⅓ cup firmly packed dark brown sugar
½ tsp cinnamon
½ lemon juiced
3 tbsp of unsalted butter
small handfull of pistachio's, roasted and chopped
Good vanilla icecream to serve
Instructions
Preheat the oven to 200 C.
Clean the pears and arrange them into an ovendish or baking tray (I quarter the pears). Put the pear juice, the sugar and the cinnamon together in a small saucepan over medium high heat and let the sugar dissolve, Pour the sauce over the pears and make sure they each have a bit of sauce on them before putting it in the oven.
Make sure you spoon a bit of the sauce on top of the pears regularly during the next 30 minutes or so or until the pears are done to your liking. Mine took 25 minutes.
Roast and chop your pistachio's. Make sure you prepare a plate for your pears and sprinkle the pistachio on top. You can eat the pears either warm or cold.
Serve with a glass of Quevedo ten year old Tawny port
Preheat the oven to 400 degrees F.
Simone Van Den Berg
Simone van den Berg is a Netherlands based freelance food photographer and food blogger. She has a passion for cooking, food and travel, which she shares on her blog Simone's Kitchen and of course right here on Honest Cooking.