With warm fig and brown sugar flavors paired with a jolt of bright Meyer lemon and cold brew coffee, this vodka and vermouth mix is the perfect transition into warm weather cocktails. Make ahead in bulk and easily serve to your guests.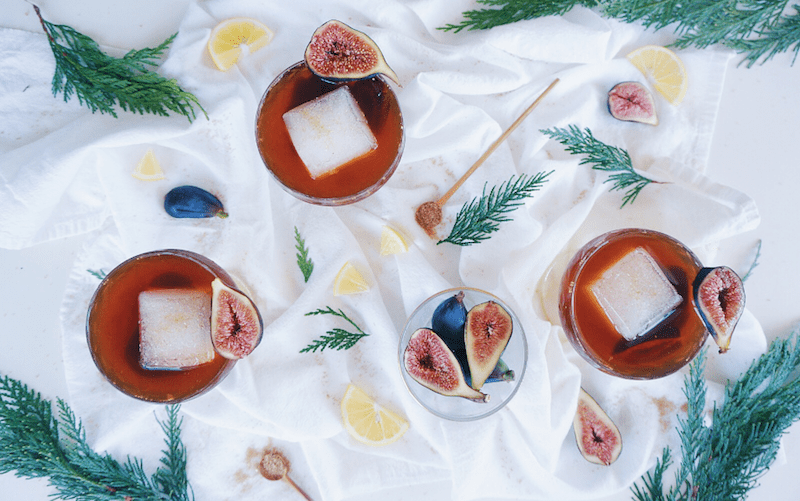 Add a jolt to the mix with a caffeinated cocktail perfect to brighten things at a spring gathering. If you love to entertain like I do, it's essential to make sure that your guests have something fun to sip on. The perfect cocktail for spring entertaining is one that can be made ahead in bulk. The inspiration for this cocktail came from my recent Farmbox LA delivery, they dropped off a basket of gorgeous figs and I knew I had to concoct something with them. This Roasted Fig and Cold Brew Cocktail is unique enough to impress your friends and easy enough to make, so you can enjoy two or twelve with the rest of the gang.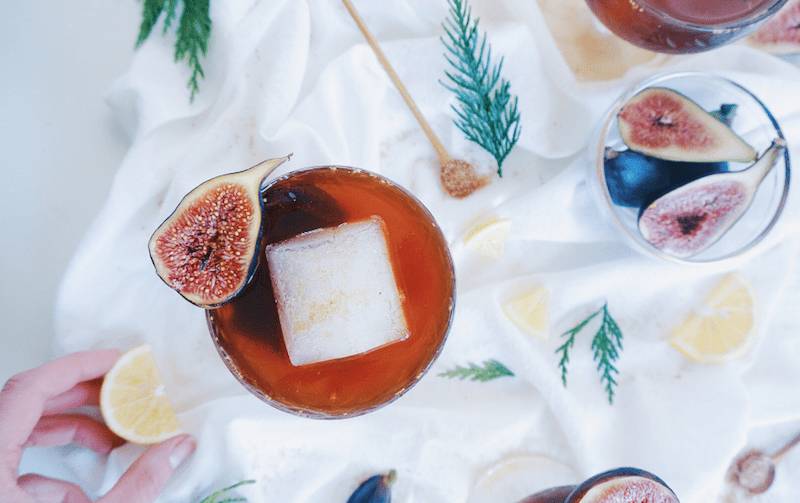 For more cocktail and cooking inspiration, not to mention top-notch travel tips, click here.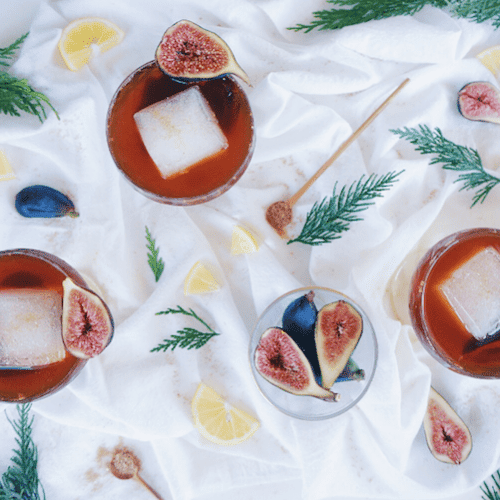 Celeste Wilson
Ingredients
Roasted figs
8

figs

1

teaspoon

brown sugar

1/2

cup

stumptown cold brew
Cocktail
12

oz

of stumptown cold brew

2

teaspoons

brown sugar

1

tablespoon

Meyer lemon juice

4

shots of vodka

2

teaspoons

sweet vermouth
Instructions
Heat oven to high broil

Pour 1/2 cup coffee into a shallow bowl

Slice figs in half and add figs to coffee bowl

Sprinkle figs with 1 teaspoon brown sugar

Soak figs for 1 hour

Place figs flesh side up on a non stick cookie sheet

Broil figs for 15 minutes or until golden brown

Remove from oven, set aside

Add all cocktail ingredients besides the sugar into a large pitcher

Pour the sugar into a small microwave safe bowl and add one teaspoon of the cocktail mixture to the pitcher

Heat the small bowl for 30 seconds or until the sugar is melted.

Add melted sugar mixture to large pitcher

Stir well add 1/2 of roasted figs to pitcher and muddle them with a wooden spoon

Place remaining roasted figs into the bottom of the serving glasses (2 per glass)

Pour 1/4 of the cocktail mixture into each glass and add a large ice cube

Carefully stir contents of the glass until cocktail is cold

Truly enjoy
Celeste Wilson
Hi friends my name is Celeste Wilson, I'm a nurse, recipe developer, food stylist, food photographer, blogger, and influencer chronicling a plant based lifestyle. My recipes creatively showcase plant based cuisine from my perspective as both a registered nurse and a healthy food lover. I aim to inspire plant based eating without a strict vegan or meat shaming agenda, life is short, eat what makes you happy. Residing in sunny Los Angeles California, home of the year round avocado