That plate of fried onion rings can be pushed to the side. These roasted Delicata squash rings beautifully drizzled with color is what should be on your table tonight.
By Chitra Agrawal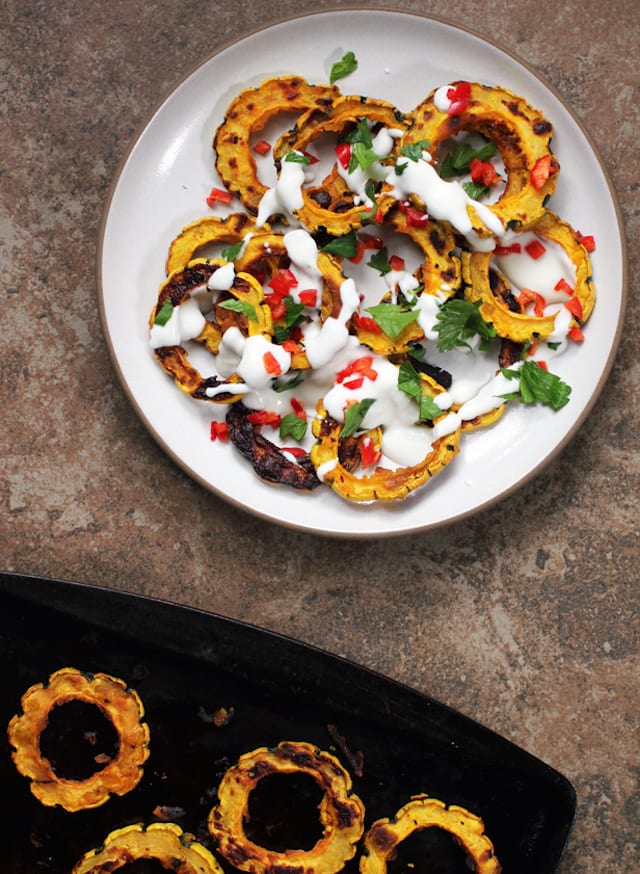 This recipe was one I came up with at the tail-end of our farm share season. Delicata squash is a squash I came to later, after toying with butternut, acorn, spaghetti and kabocha squashes. In comparison, delicata is easier to work with and you can eat its skin since it's so thin. The skin is also nutritious and adds good texture and contrast to the sweet and tender meat of the squash.
I went through quite a few rounds of testing a recipe for baked hot chips made from bitter gourd this summer for my cookbook so I thought I would loosely apply that recipe to the delicata. Hot chips are somewhat of a phenomenon in South India. There are whole shops devoted to spicy chips made from all sorts of different vegetables. Before roasting the squash, I batter the cut rings with some rice flour, chili powder, spices, lemon juice and oil. This adds some additional crunch, which pairs well with creamy yogurt, sweet peppers and herby parsley.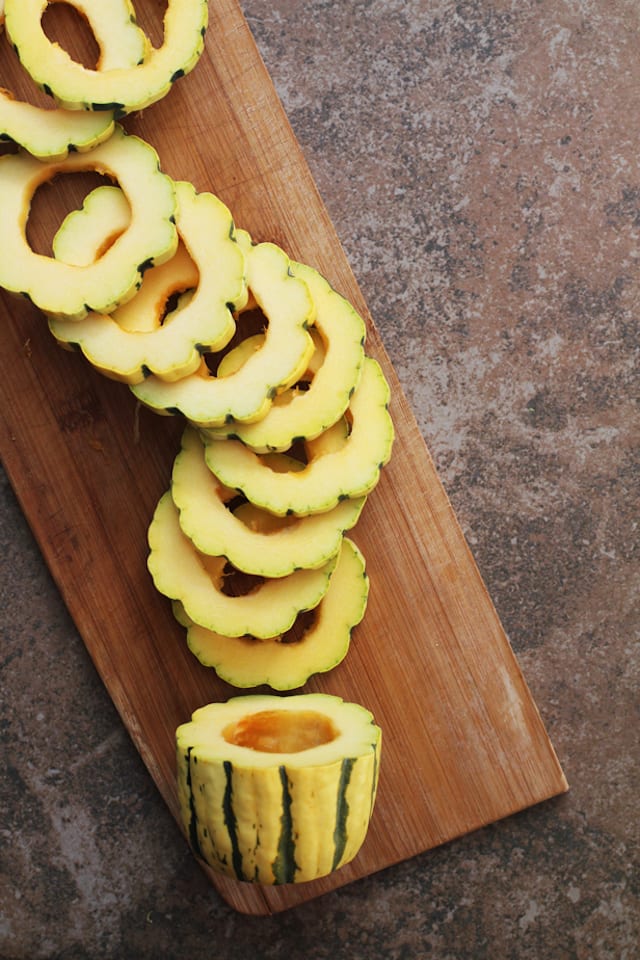 First step is to slice the squash. I wanted these to be part chip, but still hearty enough to be a lunch salad so I cut them about 1/3 inch thick.
See Also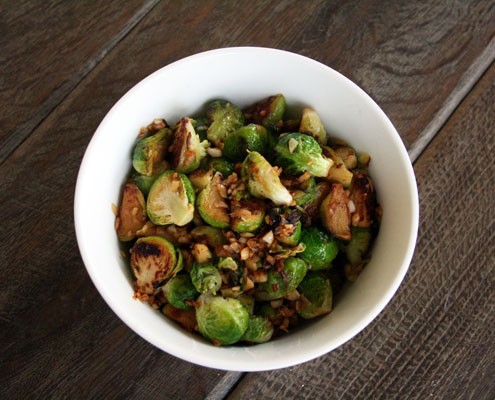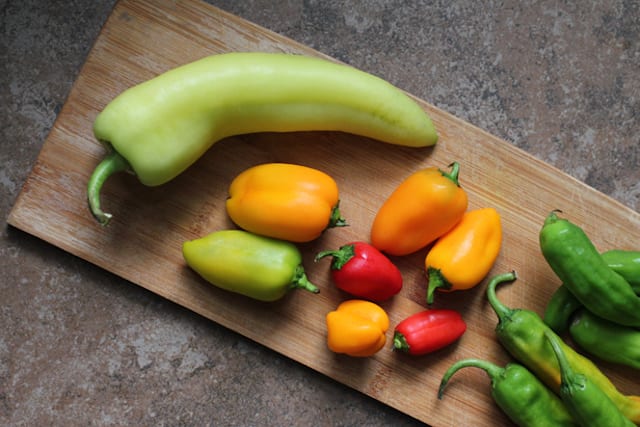 The week I made this recipe, we had received parsley and all of these wonderful peppers from Sang Lee Farms in our CSA. I just cut up the bright red ones to put on top. I'm sure pomegranates would also be great to add a crunchy sweetness and a burst of color. I topped these delicata squash rings with yogurt, also known as lazy person's creamy dressing:) It complemented the spices in the rice flour batter and the crunchy texture of the rings well.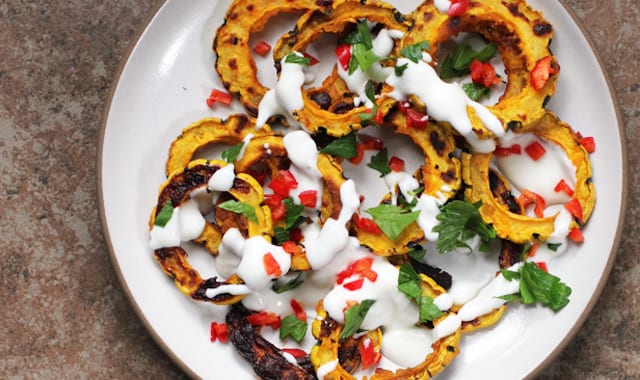 Roasted Delicata Squash Rings
Chitra Agrawal
Ingredients
Ingredients

2

delicata squash

¼

cup

rice flour

¼

teaspoon

turmeric powder

1

teaspoon

red chili powder or cayenne or to taste

½

teaspoon

cumin powder

½

teaspoon

coriander powder

big pinch of asafetida

hing powder

1/2

teaspoon

salt

juice of ½ a lemon

~1 ½ tablespoons

3-4

tablespoons

sunflower oil

yogurt

diced pepper or pomegranate

fresh herbs like parsley or cilantro
Instructions
Preheat oven to 400 degrees Fahrenheit.

Trim ends of delicata squash. Slice in half horizontally. Scoop out inside of squash halves. Slice the squash into 1/4-1/3 inch thick rings using a sharp knife.

In a medium bowl, whisk together rice flour, turmeric powder, chili powder, cumin powder, coriander powder, asafetida and salt. Mix in lemon juice and oil to make a smooth batter. Add in the squash rings and coat with the batter. Depending, you may just need to add a few more drops of lemon juice or water so the batter coats the slices well; it should not be drippy, just thick enough to coat.

Place the squash rings in a single layer on a greased sheet pan in the oven. Bake for about 10-15 minutes, or until ring is golden brown. Flip the rings, turn the tray 180 degrees and then bake for another 10-15 minutes or until chips are browned to your liking on both sides. Keep an eye on them and take out any rings earlier that look well done. Take them out of the oven to cool. Add an additional sprinkling of salt if you like.

Place rings on a plate. Top with yogurt, diced pepper or pomegranate and parsley.
Chitra Agrawal
Chitra writes the food blog, The ABCD's of Cooking, which chronicles her adventures cooking American Born Confused Desi recipes. When she is not recipe blogging, Chitra can be found hosting her online cooking show and a supper club featuring Indian-inspired, vegetarian cuisine. She also teaches cooking classes and sells Indian street foods (sometimes yummy Indian tacos!) at events and artisanal markets in Brooklyn. Her cooking has appeared in the New York Times Dining Journal and she is a contributor to The Huffington Post, Gojee, The Daily Meal and Brooklyn Based.