Let us delve into a fast, healthy, in-season salad.
By Julia Mueller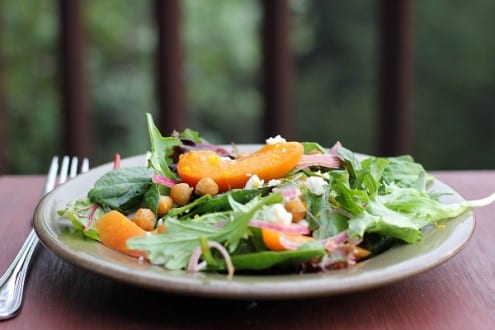 Have you seen all the stone fruit popping up all over the place in the grocery store? The peaches, the cherries, the apricots, the nectarines. Spring has brought us a bounty of delicious produce and making a tasty salad out of our spring fruit is a dern good idea. Does this salad have the ability to heal sunburn? No. But it's fresh, springy, easy to make in a hurry and tastes great!
Roasted Chickpea and Apricot Salad
Let us delve into a fast, healthy, in-season salad.
Ingredients
1 15-ounce can garbanzo beans, drained and rinsed
¼ cup olive oil, divided
2 teaspoons ground cumin
1 pinch cinnamon
Zest of one orange
2 tablespoons red wine vinegar
2 tablespoons fresh orange juice
¼ teaspoon salt
Pinch black pepper
¼ red onion, thinly sliced
4 large ripe apricots, pitted and sliced
6 cups baby arugula leaves (or mixed greens)
½ cup crumbled feta cheese
Instructions
Preheat the oven to 450 degrees.
In a mixing bowl, toss the garbanzo beans with 2 tablespoons of olive oil, the ground cumin and a pinch of cinnamon and salt.
Spread garbanzo beans on a parchment-lined cookie sheet and bake for 20 minutes, stirring half-way through.
In a salad bowl or mixing bowl, whisk together the other 2 tablespoons of olive oil, vinegar, orange juice, salt and pepper.
Add the red onion and apricots and mix to coat in oil.
Add the arugula (or mixed greens) and mix.
Once the garbanzo beans are out of the oven, add them to the salad warm, along with the feta cheese and toss together.
Serve in heaping portions with some delicious barbecue and enjoy!
Julia Mueller
As a fitness and nutrition enthusiast, Julia writes a food blog called The Roasted Root, where she share recipes that are mostly vegetable and meat based along with stories of her travels and day-to-day activities. Julia loves enjoying fresh home cooked meals with her friends and family, and the process of developing recipes, photographing, and sharing them.