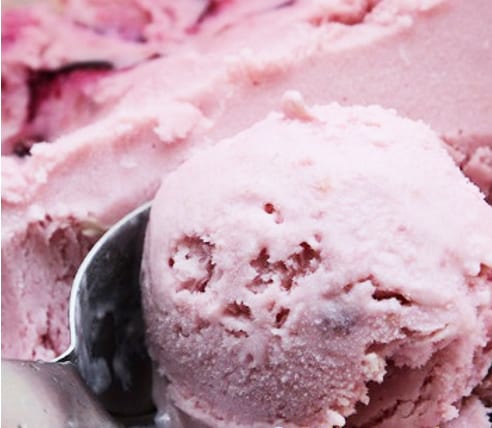 Roasting the cherries releases sweet juices that turn this super-smooth ice cream a vibrant hue.
By Sukanya Ghosh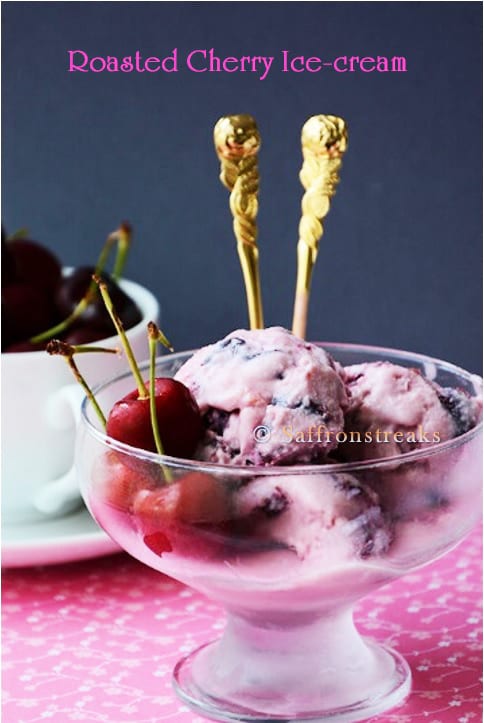 Roasted Cherry Ice Cream
Roasting the cherries releases sweet juices that turn this super-smooth ice cream a vibrant hue.
Ingredients
Red Cherries : 30
Heavy cream : 1 cup
Condensed milk : 1 cup / 12 oz
Brown sugar : 3 tsp
Cinnamon stick : 1
Cherry liquer : 1 tsp (optional)
Instructions
Roast the cherries
Wash and wipe dry the cherries.
Put the cherries in a baking dish.
Sprinkle brown sugar over it.
Sneak a stick of cinnamon in the baking dish, or any other flavor you want to.
Roast the cherries on a pre heated oven at 375 for 15 minutes, till the cherries sweat, release enough juices and sugar melts.
Cool the cherries in the pan and de seed the cherries.
Cherry ice cream
Whip the heavy cream with a teaspoon of sugar, till it attains the stiff peak.
Fold the whipped cream into the condensed milk and blend it gently with a rubber spatula till you get the desired smoothness.
Fold in the roasted cherries, mix it in cutting action.
Since I was making some brandied cherry at home, so I have added few drops of cherry liquer in the ice cream. But this is optional step.
Freeze it in a freezer safe plastic box and let it freeze dor 45 minutes.
After 45 minutes, when it starts to freeze at the edges, whip the icecream again with an electric blender.
Again freeze it for at least 8 hours before serving.
Sukanya Ghosh
Sukanya writes the blog Saffronstreaks, a food and travel blog where she experiments in the kitchen spiced up with interesting food stories and gourmet travelogues. She loves to cook with fresh produce, enjoy both spicy and sweet and her many dining out experiences become cherished memories. Sukanya is from India but now lives in North Carolina, USA.