Start with a dry brine, learn how to reverse sear and then dig into the most juicy pork chops of your life served with a shallot herb sauce.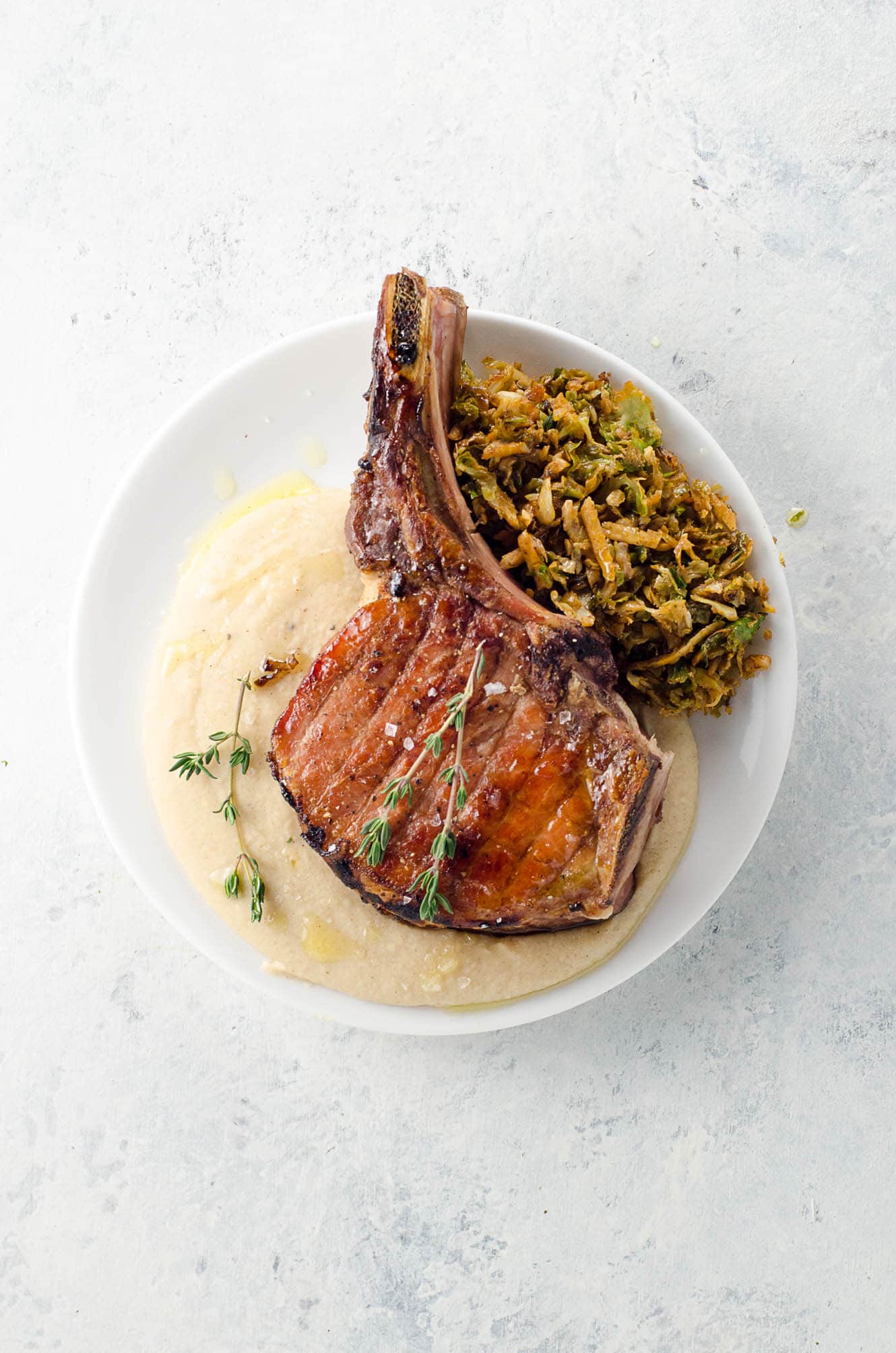 WTF, Dry Brine?
I love the term dry brine. It sounds so official, doesn't it? It's a process, people. Do you want to know what the process is, though? It's sprinkling a little too much salt and maybe some sugar onto meat and then waiting a while. That's it. Yay.
Brining can help meat stay tender and flavorful, but wet brine is a pain in the ass and can prevent a good sear. Dry brine is kind of a magic solution (pun intended). Salting meat draws out a little bit of its moisture, which dissolves the salt, and then the whole thing gets reabsorbed into the top layer of meat, infusing it with flavor and goodness. The little bit of sugar in this recipe helps the chops sear perfectly and also enhances the flavor of the pork. (You'll hardly notice it, but pork works well with a touch of sweetness.)
WTF, Reverse Sear?
Reverse searing is pretty genius, you guys. It gives you a beautiful, golden, crisp exterior but also a lot of control over the cooking process. I would never have thought of this technique on my own, and I'm so glad someone else did. Here's what it means to reverse sear: you start by cooking meat at a very low temperature, in this case at 250°F in the oven, until it's not quite done. Then you get a cast-iron pan blazing hot and spend 3 to 4 minutes just searing the shit out of the chops, quickly developing a coveted crust and brining the interior up to temperature in the process.
Again, yay.
WTF, Rib Chops?
I will spare you a pig diagram, because you and pigs both deserve better. But here's the deal. Rib chops, like all pork chops, are cut from the loin, which basically runs down the pig's back between shoulder and tush. (I say tush because butt is confusing on a pig — more on that never.) It's a good, tender cut, once reserved for the wealthy, and is where the expression "high on the hog" came from. The loin gets cut into chops if we're having chops. Rib chops come from behind the shoulder and can be pretty varied depending on whether they're cut from closer to the shoulder or the tuchus. (Technical term.) Regardless, they take well to brining and searing, and they should cook nice and evenly, so they're a good choice for this dish.
Ooookay that's enough tuchus talk, and not enough general hilarity.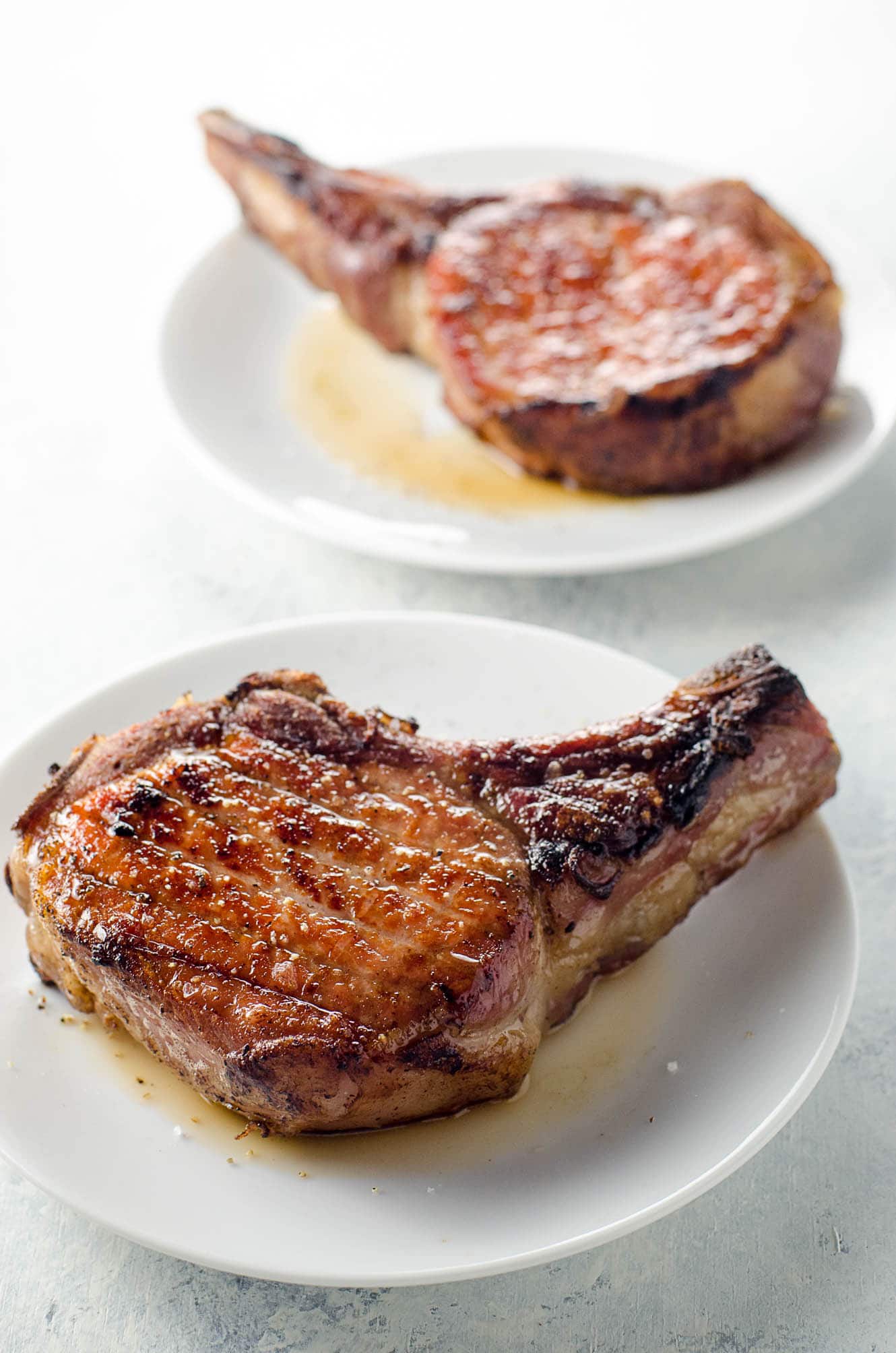 Click here for the quick shallot herb pan sauce.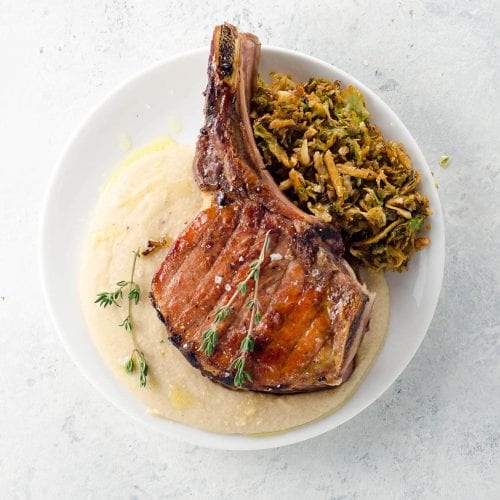 How to Reverse Sear for the Best Pork Chops of Your Life
Carolyn Cope
Start with a dry brine, learn how to reverse sear and then dig into the most juicy pork chops of your life served with a shallot herb sauce.
Ingredients
For the dry-brined pork chops
6

bone-in pork rib chops cut 1 1/2 inches thick

see note

2

teaspoons

fine sea salt

1

teaspoon

sugar

6

tablespoons

vegetable oil

divided
Instructions
The night before serving, place a wire rack on a rimmed baking sheet and lay pork chops on top. In a small bowl, combine salt and sugar and rub evenly over chops. Place, uncovered, in refrigerator. Remove from fridge an hour before cooking.

Preheat oven to 250°F with a rack in the center. Place pan in oven as-is and bake chops until an instant meat thermometer reads 110°F, which should take about 30 minutes. Start checking after 25 minutes. (I need you to trust this process -- don't raise the oven temperature, and don't be tempted to cook the chops past 110° at this stage. It will all work out in the end.)

Heat two tablespoons of the oil in a 12-inch cast iron skillet over high heat. Turn on an exhaust fan — things could get exciting.) When the oil begins to smoke, add two pork chops to the pan. Sear for about one minute on the first side without tinkering — chop should be deep golden-brown. Then flip and sear a minute or so on the other side until beautifully golden. Finally, stack the chops and pick them up with tongs, holding the "fat cap" (the fatty side of the chop) against the bottom of the pan to sear. Remove chops to a plate and cook remaining chops in the same way (or use multiple skillets).

To make the sauce, Click the link above.
Notes
Ask your butcher to cut the chops for you. They're thicker than most pre-cut chops, and that really helps to keep them perfectly cooked on the inside.
Recipe and technique adapted from Serious Eats.
Carolyn Cope
Carolyn is the voice behind the popular blog Umami Girl and writes frequently for other food-related publications. Equal parts live-to-eat and eat-to-live, she holds certificates from both the French Culinary Institute and the eCornell Plant-Based Nutrition program. Carolyn has lived and worked in New York and London and currently resides with her husband and two daughters in a sweet little seaside town in New Jersey.