Red and Sweet Potato Salad with Bacon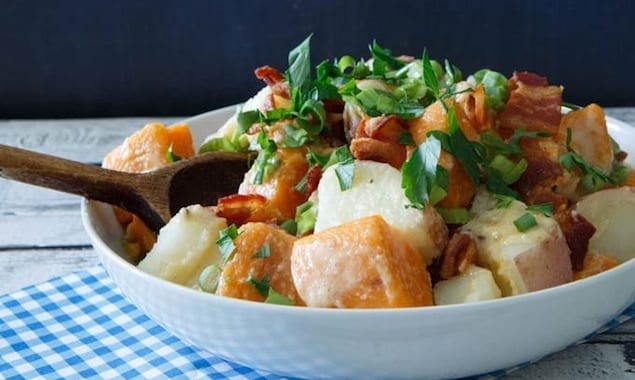 A creative backyard barbecue side dish that will awaken your taste buds and make you a legend among friends. This Sweet Potato Bacon Salad is sure to impress. It is filled with bacon flavor and the almighty sweet potato.
By Chris Cockren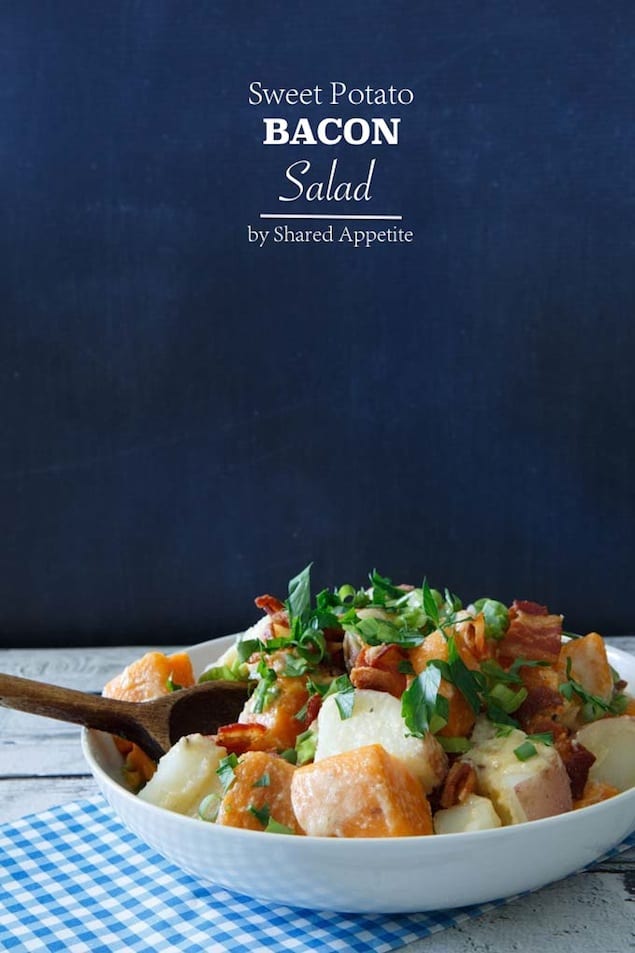 I think you'll really dig this creative potato salad also, because it's filled with bacon flavor… even throughout the dressing, and it's studded with the potato's big flavored friend. The almighty sweet potato.

Red and Sweet Potato Salad with Bacon
A creative backyard barbecue side dish that will awaken your taste buds and make you a legend among friends. This Sweet Potato Bacon Salad is sure to impress. It is filled with bacon flavor and the almighty sweet potato.
Ingredients
5 medium red-skinned potatoes
3 medium sweet potatoes, peeled
1 (16 ounce) package bacon, chopped into ½" pieces
½ cup mayonnaise
¼ cup extra virgin olive oil
1 tablespoon dijon mustard
3 tablespoons red wine vinegar
3 teaspoon onion powder
2 teaspoons garlic powder
Pinch cayenne pepper
Kosher salt
Freshly ground pepper
2 bunches scallions, chopped
Parsley, chopped, for garnish
Instructions
Chop the red-skinned potatoes and sweet potatoes into approximate 1" pieces. Place in a large pot and cover with cold water by 2 inches. Season generously with Kosher salt. Bring water to a boil over high heat, and cook until potatoes are fork tender (about 10 minutes). Drain potatoes and let cool.
Meanwhile, cook bacon in a large skillet over medium-low heat until crisp. Drain on a paper-towel lined plate. Reserve 3 tablespoons of bacon fat for the dressing.
In a medium bowl, whisk together mayonnaise, olive oil, mustard, vinegar, 3 tablespoons cooled bacon fat, onion powder, garlic powder, and pinch of cayenne pepper. Season to taste with Kosher salt and freshly ground pepper.
When the potatoes are cool to the touch, gently toss them, along with the bacon and scallions, in the dressing mixture to coat. Garnish with parsley if desired.
Store in refrigerator and allow flavors to meld a bit before serving.
Chris Cockren
Chris is a New York based food blogger that loves bringing friends and family together through food. On his blog, Shared Appetite, Chris chronicles his culinary adventures of eating his way in and around NYC, as well as cooking and entertaining at home.