Raw Strawberry Chocolates that stay set at room temperature. Packed with superfoods and whole ingredients. Paleo, dairy-free, nut-free and sweetened with bee pollen.
By Martyna Candrick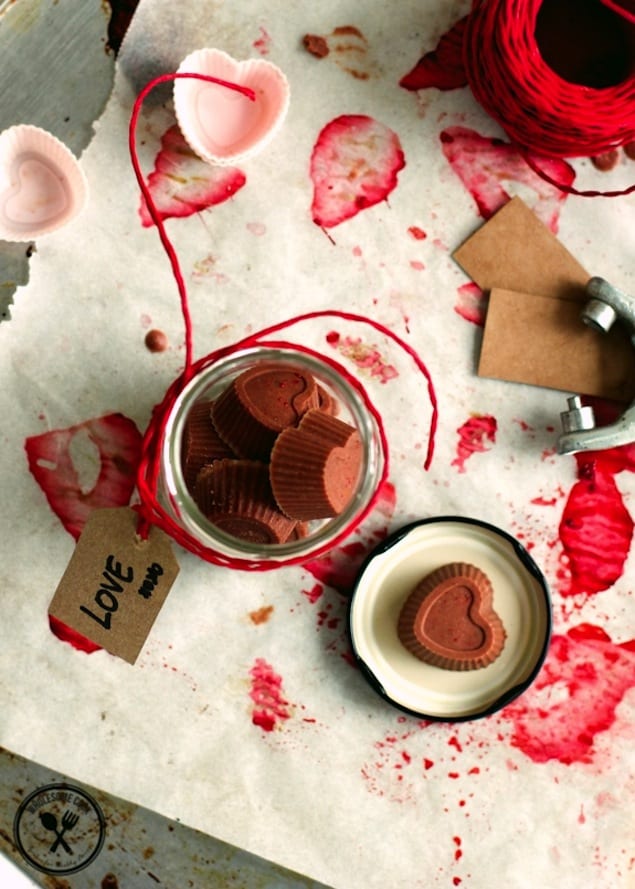 Why these raw chocolates are so good for you:
Raw Cacao is extracted from the cacao bean and processed using low temperatures to preserve its nutritional content. It contains vitamins C, magnesium, iron, chromium, manganese, zinc as well as the highest level of antioxidants of all foods. Cocoa powder on the other hand has very little nutritional value left in comparison, due to a different processing method.
Raw Cacao Butter, again, is extracted from the cacao bean and processed using low temperatures. It can be found at most health food stores – I like the Loving Earth brand. Raw cacao melts at approximately 38C (100F). For tempering, it should only be melted using a bowl over a hot water bath method and the melted liquid temperature should never rise above 48C (118F). The easiest way to achieve this is to bring a pan with a little water to a boil then turn off and remove from the heat source before placing a snug-fitting bowl with grated cacao butter over the top. Do not overmix the butter while melting.
Unlike raw chocolate made with coconut oil which melts at room temperature (around 25C/77F), these chocolates will stay set at room temperature. That means they are portable and can be kept in the pantry. If you are expecting a heatwave over 35C (95F) then, just like you would with any old regular blocks, pop them in the fridge.
Maca Powder comes from a South American cruciferous root plant and is rich in vitamins and minerals. It promotes endurance, stamina and, apparently, enhances sexual desire. It is also used to enhance mental acuity, physical vitality, oxygen in the blood, neurotransmitter production and increase fertility in men and women. It has a sweet, caramel-like flavour.
Strawberries are high in fibre and vitamin C. They are a fantastic tonic for the skin, have anti-inflammatory properties and are relatively good source of folate.
Bee Pollen is considered an energy and nutritive tonic in Chinese medicine. The percentage of rejuvenating elements in bee pollen exceeds those present in brewer's yeast and wheat germ. It corrects the deficient or unbalanced nutrition. It has a surprising number of healing applications and is used for improving endurance and vitality, extending longevity, aiding recovery from chronic illness, adding weight during convalescence, reducing cravings and addictions, regulating the intestines, building new blood, preventing infectious diseases such as the cold and flu.
Other things you could add include chia or other seeds, chopped nuts, organic shredded coconut, dried fruit, vanilla protein powder, raspberry jam or zest from an orange.
These Raw Strawberry Chocolates are easy to make but there are a few things to note to help with the process. – The chocolates take about 20 minutes of actual work. There is some oven-drying time for the strawberries but you can skip that if you're in a hurry or don't want to heat the berries to 50C (122F). There's also setting time for the chocolate, but if you don't want to wait for the chocolate to set naturally, pop them in the fridge of freezer. – If you are working with a limited number of moulds and your chocolate hardens while you wait for the chocolates to set, you can easily melt it over and over again by placing the bowl back over a pan filled with boiled water. Do not overmix the chocolate, just let it melt. "chopping" the hardened chocolate with a metal spoon once or twice to speed up the process.
Raw Strawberry Chocolates
Unlike raw chocolate made with coconut oil which melts at room temperature (around 25C/77F), these chocolates will stay set at room temperature. That means they are portable and can be kept in the pantry.
Ingredients
3 large strawberries, hulled
65g (2.3oz) raw cacao butter (in solid form)
1 tbsp bee pollen (skip for a vegan option and use double maca powder instead)
3-4 tbsp cacao powder
2 tsp maca powder
pinch of sea salt
Instructions
You can omit the dehydrating step for the strawberries if you like, but their flavour won't be as intense and the puree will be more watery.
Set the oven to the lowest setting (I set mine to 50C/122F). Slice strawberries thinly and place on a baking sheet lined with baking paper. Dehydrate in the oven for 2 hours (you can dry pumpkin seeds, sunflower seeds or activated nuts at the same time). Puree – you should have about 2 tablespoons of puree.
Shave cacao butter using a kitchen grater. Place in a dry stainless steel bowl that will fit snugly over the top of a saucepan. Bring a little water to the boil in the saucepan and remove from heat. Place the bowl with cacao butter over the top and allow it to melt, stirring gently a couple of times to distribute the heat. Do not heat above 48C (118F) – there is no risk of that if you take the saucepan off the boil. Add strawberry puree, bee pollen and sift in cacao and maca powders, add sea salt. Stir to combine. Reheat chocolate using these guidelines if needed during the process.
Pour chocolate into moulds and allow to set at room temperature for around 2 hours or in the fridge for 20 minutes. Remove from moulds and store in an air-tight container in the pantry or fridge (in summer or on really hot days).
Martyna Angell
Martyna is a Polish-born Australian recipe developer and food blogger. Her creativity and passion for good food shines through in many of the delicious and easy to prepare meals which she cooks, styles and photographs for her blog, Wholesome Cook. Fresh cream-filled eclairs are her only weakness.