Enjoy these fantastic raspberry crumb bars from Amrita Rawat.
By Amrita Rawat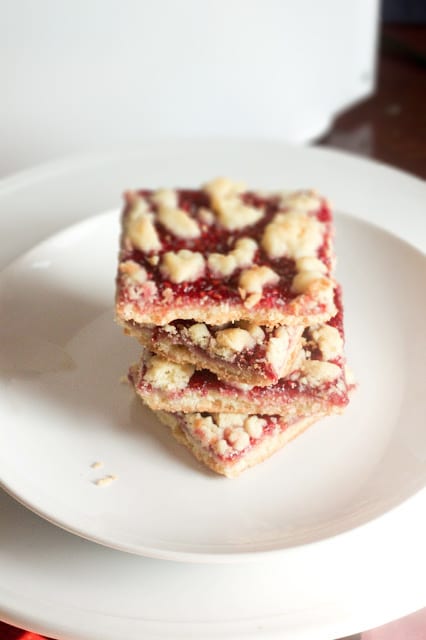 I haven't quite been able to forget how delicious these crumb bars turned out. I love me some raspberries and combined with a buttery shortbread, it's hard to stop munching on these. I divided the dough in half and did half with a Nutella topping and the other with raspberry jam. The raspberry jam won.
Raspberry Crumb Bars
Enjoy these fantastic raspberry crumb bars from Amrita Rawat.
Ingredients
3 sticks (342g) butter
½ cup (100g) sugar
3 tbs p sugar
2 yolks
1 tsp vanilla
1¼ (175g) flour
1½ cup (180g) cake flour
¾ tsp b powder
¾ tsp salt
1½ cup (510g) raspberry jam
¼ cup (35g) p sugar
Instructions
Cream butter, powdered sugar, and sugar.
Beat in egg yolks and vanilla.
Add flour mixture and briefly combine.
Remove a quarter of the dough and chill separately.
Form disk about 8 inches in diameter and one inch thick and cover with plastic wrap--chill for about 30 minutes to an hour (or freeze for up to a month).
Preheat oven to 350 degrees F.
Roll out dough to a rectangle, with a thickness according to your preference onto a baking sheet lined with parchment paper.
Trim the edges so it has neat sides.
Bake for 20 minutes until light brown.
Remove and let cool for 10-15 minutes.
Then spoon raspberry jam on top of the still-warm shortbread.
Spread in an even layer with spoon, covering surface.
Remove smaller dough from the fridge, and use a grater to make large flakes, evenly sprinkle over jam.
Bake another 20-25 minutes.
Sift powdered sugar over the top.
Trim edges again and cut into squares.