Ramps pack a pungent, garlicky flavor that makes for a great pesto. They pair well with the natural sweetness of Razor Clams to round off a delicious pizza.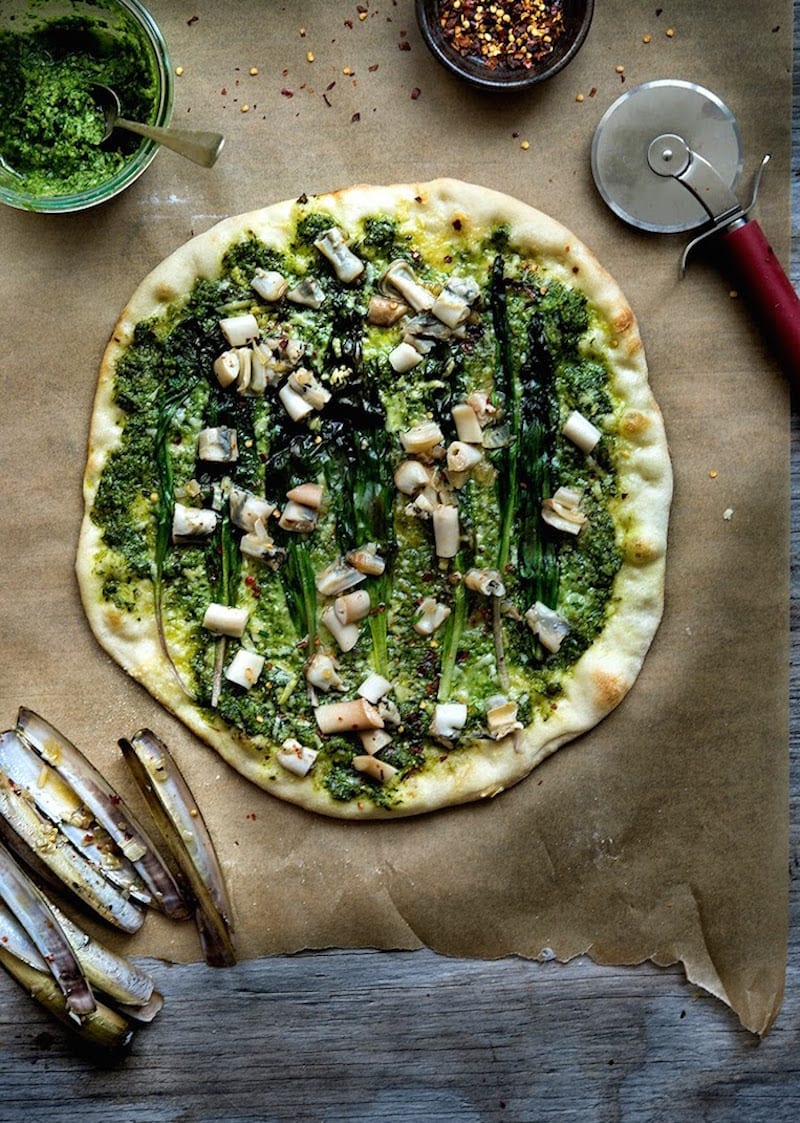 In my humble opinion, the calendar does not announce the official start of spring (for 2015, spring commences on March 20). Rather, the arrival of the first ramps (aka wild leeks) is the telltale sign that spring is upon us. Ramps are the quintessential sign of spring; the sign that spring has officially sprung.
Ramp leaves are very tender. They taste like a cross between an onion and garlic. The whole plant is edible, from the leaves to the bulb. Ramps pair perfectly with eggs (frittata, omelette, etc.); make a mean compound butter; are great in stir-fries, pasta, risotto, sauces, soups, dressings, pesto; or simply sauteed in a little butter or olive oil.
The ramp season is relatively short, just a few weeks from April 'til early-June. Maybe this brief window has something to do with their mass appeal. With industrial farming and modern agricultural techniques, we can have just about anything we want, when we want it. But sometimes, it's best to appreciate something in the moment; to savor it at its peak, commit that taste to memory, and cherish that memory until the next point in time when it can be appreciated again. And for this, I believe ramps are worth celebrating.
While ramps are a bit of a regional delicacy, I think you could easily adapt this recipe using young green garlic or garlic scapes in the pesto. While not the same, tender spring garlic is also something to get excited about. But if you do happen to find ramps, they're too good to pass up. Be sure to use them fast, as they wilt in no time. Store ramps in the refrigerator (uncleaned), ideally for no more than a day.
These are razor clams from the waters of Long Island (Suffolk County), NY, via the friendly folks at Seatuck Fish at the Union Square Farmers' Market, NYC.
See Also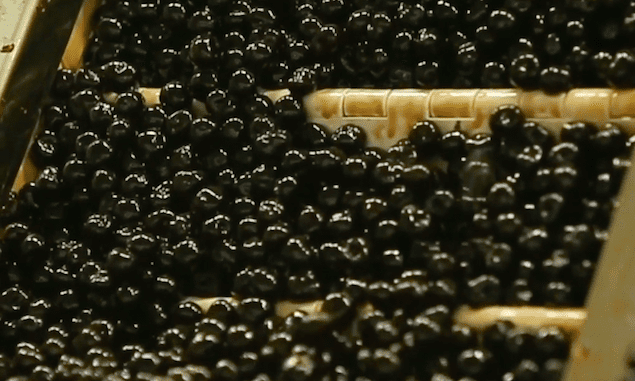 Was initially going to go with steamers or cherry stone clams, but then I spotted the razor clams and the rest was history. It's hard to pass up fresh razor clams. They're tender and sweet, and deliciously good. But you could easily substitute your favorite variety of clam.
Steamed and then chopped the razor clams. and added them to the pizza in the last 30 seconds or so of cooking. The garlicky, onion-y ramp pesto pairs exceedingly well with the clams.
Print
Author:

Linda Schneider

Yield:

2

pizzas

1

x
Category:

Primi
Ramp Pesto
4

to

5

ounces about

12

to

15

ramps ramps

2 tablespoons

toasted sunflower seeds

3

to

4

tablespoons freshly grated Parmesan cheese

1/3

to

1/2

cup olive oil
salt and pepper
Pizza Dough
makes

2

(12-inch pizzas)

150 grams

1 cup plus 1 tablespoon 00 flour (I like Caputo)

150 grams

1 cup plus 1 tablespoon plus 2 teaspoons all-purpose flour
~ 1 cup water (lukewarm)

1 teaspoon

olive oil (plus extra for coating)

1 teaspoon

salt

2 ounces

~3/4 teaspoon *active dry or instant yeast
Steamed [Razor] Clams
1 tablespoon

olive oil

1

small shallot (minced)
red pepper flakes

1/4 cup

dry sherry or white wine

6

razor clams (rinsed thoroughly under to remove any sand)
squeeze of lemon
Finishing the Pizza
Ramp pesto
Cheese (used a combination of Raclette and Parmesan, grated)
Steamed clams

6

–

7

ramps (blanched in boiling water for

30

seconds and then plunged into an ice water bath. Drain. Pat dry.)
Instructions
Ramp Pesto
To toast the sunflower seeds: Add the sunflower seeds to a dry skillet over medium heat. Toss and turn until the seeds are lightly toasted, making sure they don't burn. Transfer to a bowl to cool.
Add the ramps, toasted sunflower seeds, and Parmesan cheese to a food processor. Pulse until finely chopped. With the motor running, add the olive oil slowly, until the pesto comes together, but is still a bit chunky. Season with salt and pepper.
Best to prepare a day ahead of time and let the flavors marry. Makes enough pesto for two, 12-inch pizzas.
Pizza Dough
*If you're using active dry yeast, dissolve it with a pinch of sugar in 2 tablespoons of the lukewarm water. Let the yeast and water sit at room temperature for 15 minutes, until the mixture is bubbly. If you're using instant yeast, you can skip this step.
Combine the dissolved yeast (or the instant yeast) with the remainder of the ingredients. Mix and knead everything together, either by hand or using a stand mixer with the dough hook, until the dough is soft and smooth. If you're using a stand mixer, it should take 4-5 minutes on the second speed. By hand, knead until springy and soft, about 8-10 minutes.
Divide the dough into two equal portions. Lightly coat each round with olive oil. Cover with plastic wrap and let the dough rise at room temperature until it doubles in size, about one hour.
Alternatively, let the dough rise slowly in the refrigerator for 48 hours (the dough will develop more flavor). Remove the dough from the refrigerator at least two hours before making the pizza so the dough comes up to room temperature.
Steamed Clams
Heat the oil in a deep pan. Add the shallot and saute a few minutes until soft but not browned. Add the red pepper flakes. Add the sherry or wine. Bring to a simmer. Add the clams. Cover and cook until the clams open (discard any clams that don't open), about 3-4 minutes. Remove the clams from the pan. Take the clams out of their shells and roughly chop. Reduce the pan sauce and pour over the clams. Squeeze a bit of lemon on top.
Pizza
Preheat your oven to 500F with the pizza stone in it for at least one hour.
Shape your dough on a lightly floured work surface. Lightly flour your pizza peel (finely ground semolina works well to prevent the dough from sticking). Layer on the ramp pesto, grated cheese, blanched ramps (stretched lengthwise across the pizza), and red pepper flakes, and slide onto the hot pizza stone. Bake until the dough is nicely browned in spots. When just about done, scatter the clams around the pizza and cook another 30 seconds or so.
Linda Schneider
Linda Schneider is the blogger behind Wild Greens and Sardines, an homage to her love for all things food and [Mediterranean] travel. What she enjoys most is seasonal, farm-to-table recipes that highlight local ingredients, farmers, and food artisans. She loves going to local farmers' markets, seeing what's in season, and sharing recipes with others.