When culinary creativity fails you, turn to a simple weeknight meal that always delivers. Simmer fragrant chicken meatballs in a rich tomato sauce and serve with al dente cooked spaghetti, and your family will be all smiles and mmm's.
We've all been there. On a weeknight, with a brain that simply cannot come up with an idea for dinner, 30 minutes to cook and very few ingredients in the fridge. Have no fear, because the perfect quick dinner is here. A classic pasta dish, a crowd pleaser that elicits oohs and aahs around the table. Healthy, delicious and incredibly easy to make.
ABOUT CHICKEN MEATBALLS
Ok, so here's the deal. Chicken is incredibly lean, which isn't ideal for meatballs. You generally want them to keep moist, and not dry out if you happen to cook them for a few minutes too many – which is why we need to add either fat or fluid to them to give them that perfect consistency.
Also, chicken on it's own doesn't have that deep flavor that we all love in beef meatballs. It needs some support from herbs and spices to reach the hights we're looking for.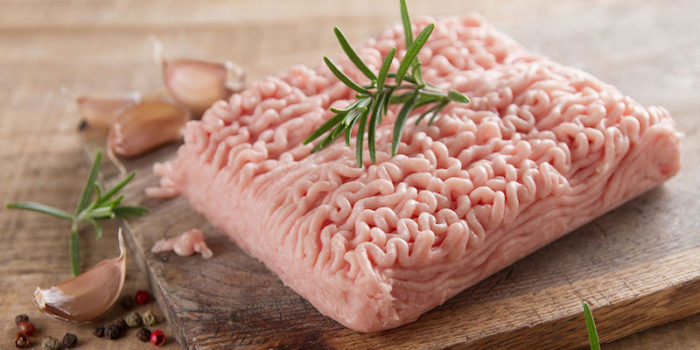 The solution?
– Breadcrumbs: soaked in a little bit of milk or water, this stabilizes the meatballs, and gives the ground chicken a little more structure.
– Sour Cream: prevents the meatballs from going gry, and adds smoothness to the consistency.
– Tomato Paste: brings the sauce into the actual meatballs, and gives them an umami oomph.
– Parmesan Cheese: grated Parmesan gives the meatballs a pop, with small grains of goodness pairing perfectly with the tomato.
– Herbs: here, you can experiment with anything you like. For a more traditional Italian flavor profile, use dried basil, oregano and parsley flakes. Or kick in some cilantro for a middle eastern twist.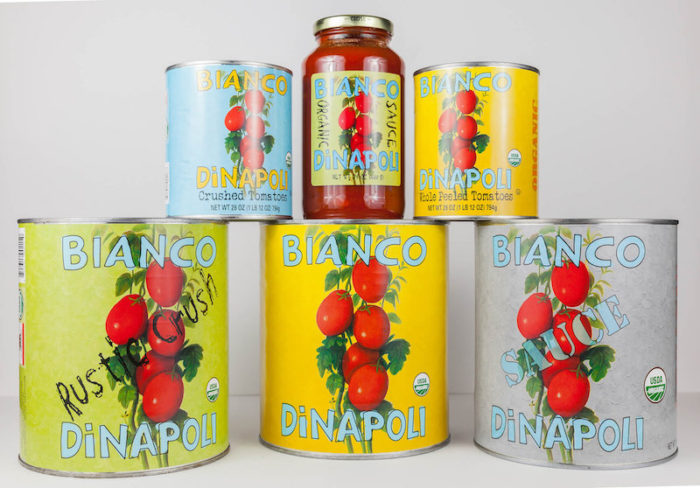 ABOUT THE SAUCE
I only have one piece of advise for the sauce. Keep it simple. Don't overdo it and try to create something that needs to simmer for 4 hours here – after all, you just have 30 minutes to cook this whole meal, so let's stick with the basics.
– Fresh Tomatoes: get them as ripe as you possibly can. Overripe even. This gives the sauce a sweeter flavor.
– Canned Tomatoes: buy the most expensive ones you can find. They're still going to be pretty cheap, but the best ones are SO much better than the cheapest ones.
– Tomato Paste: creates the third level of tomato flavor, the base on which the other two types of tomatoes rest on.
– Chicken Stock: we don't want the sauce to taste like chicken soup, but just a small amount of chicken stock brings all the other ingredients together and rounds the sauce off perfectly.
– Parmesan Cheese: gives the sauce a slightly grainy structure, making sure it clings better to the spaghetti.
– Herbs: Don't overdo it on the herbs in the sauce. Just a teaspoon of mixed herbs is enough.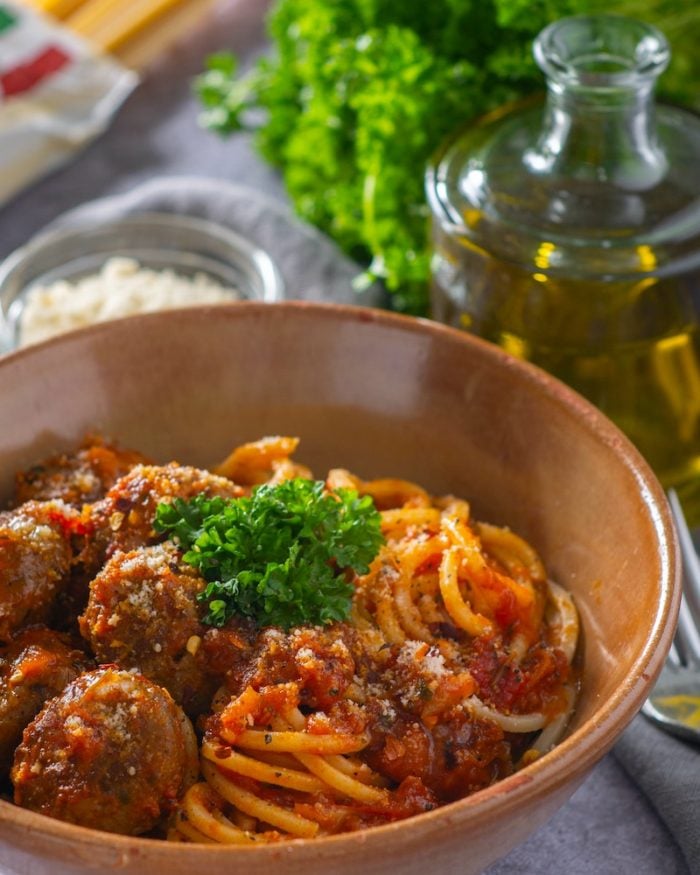 Print
Weeknight Chicken Meatballs and Spaghetti
The perfect 30 minute meal for those weeknights when you just want to cook a crowd pleaser that you know everyone in the family will love.
Author:

Kalle Bergman

Prep Time:

10 minutes

Cook Time:

20 minutes

Total Time:

30 minutes

Yield:

4

people

1

x
Category:

Italian, Main Course, Pasta, spaghetti

Cuisine:

American-Italian, Italian
FOR THE MEATBALLS
1

lb ground organic chicken

1 tbsp

sour cream

2 tbsp

breadcrumbs

4 tbsp

whole milk (or water)

1 tsp

basil

1 tsp

oregano

1 tsp

parsley flakes

1

pinch salt
ground black pepper

1 tbsp

tomato paste

1 tbsp

grated Parmesan

2 tbsp

olive oil ((

one tbsp

for the meatballs,

one tbsp

for cooking))
FOR THE SAUCE
2

ripe medium sized tomatoes (chopped)

1

can organic chopped tomatoes

1 tbsp

tomato paste

1/2 tsp

basil

1/2 tsp

oregano

2

cloves garlic (chopped)

1/3 cup

chicken stock (or

1 tsp

dry chicken bouillon and

1/3 cup

water)

1 tbsp

grated Parmesan
salt and black pepper to taste

2 tbsp

olive oil
Instructions
FOR THE MEATBALLS
Soak breadcrumbs in milk or water for 5 minutes
Add all the other ingredients for the meatballs, mix thoroughly and let rest for 5 minutes.
Using your hands shape meatballs, with roughly 2 inch diameter. Keep a little water next to you, so you can wet your hands in between meatballs, to prevent them from sticking.
Pour one tbsp of olive oil into a skillet over medium heat. Gently cook the meatballs, making sure to move them around the pan every 45 seconds or so. Continue cooking for about 7 minutes. Set aside.
FOR THE SAUCE
In another skillet, over medium heat, heat up about half of the olive oil.
Add the chopped garlic and cook for about 30 seconds (do not let it brown).
Add the chopped tomatoes, canned tomatoes, tomato paste, herbs and chicken stock. Stir, and let simmer for 10 minutes (you might want to turn down the heat to low). Add the rest of the olive oil.
Remove from heat, and pour into a blender. Blend on medium speed for 45-60 seconds, until the sauce is smooth.
Return the sauce to the pan, add parmesan cheese, and salt and pepper to taste.
TO ASSEMBLE
Pour the tomato sauce over the chicken meatballs, and bring back to a simmer over low heat. Let simmer for 3 minutes, then serve over al dente cooked spaghetti.
Optional: drizzle some extra olive oil on top, sprinkle some extra parmesan over it and serve with some fresh herbs.
Keywords: chicken, italian, parmesan, pasta, spaghetti, tomatoes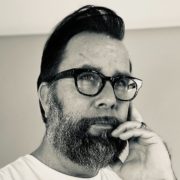 Kalle Bergman
Kalle Bergman is a food writer and media entrepreneur who is the founder of Honest Cooking and PAIR Magazine. As a food writer, his writing has been regularly featured in publications like Gourmet, Los Angeles Times, Huffington Post and Serious Eats. He is obsessed with simple food, more often than not from his native Scandinavia.