Quick Meal – Paprika Roasted Salmon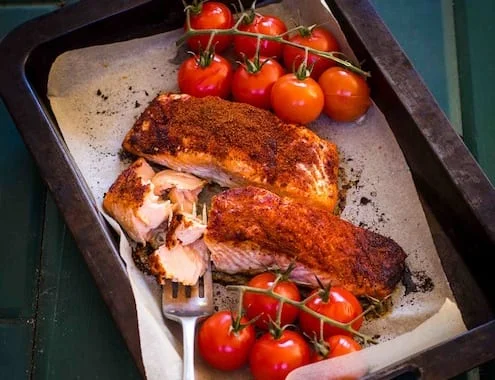 This fancy looking salmon recipe is actually both super easy and super tasty.
By Martyna Candrick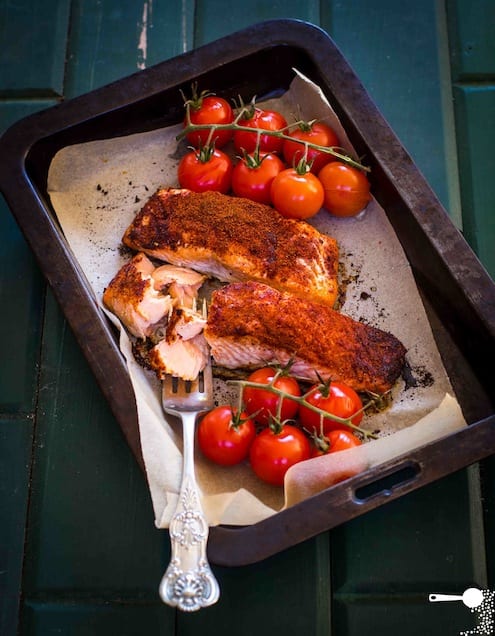 I absolutely adore salmon, in all of its incarnations, but I seem to be the only one in this household who does. Which means that this wonderful fish full of natural goodness is normally relegated to a lunchtime menu, for one.
The other week, as I was busy recipe testing for clients, writing for the blog, doing all sorts of household chores and prepping a 3 course feast for datenight, I got a sudden craving for a nice juicy salmon treat. I didn't have time to stuff around the stove pan-fry it, because that requires almost udivided attention so I decided to whack it in the oven and hope that it would turn out. I rubbed the fillets with oil and sprinkled, generously I might add, with smoky paprika. That's it. Within 15 minutes I had a satisfying meal that struck just the right chord.
Quick Meal - Paprika Roasted Salmon
Serve with a side of roasted truss cherry tomatoes and potatoes, or add crumbled salmon to salads.
Ingredients
For the Oven-baked Paprika Salmon:
2 (130g or thereabouts) salmon fillets
1 tbsp olive oil, plus extra
1 tbsp smoky paprika
(2 vines of truss cherry tomatoes)
Instructions
Preheat oven to 220C (200C fan forced, 425F, gas mark 7).
Line a small baking tray with non-stick baking paper and grease it generously with extra oil, about 2 tablespoons.
Place salmon fillets on the paper, skin down and a couple of inches apart.
Rub a tablespoon of oil all over each fillet and sprinkle generously with smoky paprika.
(Add truss cherry tomatoes to the tray, if using.)
Bake salmon fillets (along with the tomatoes) in the preheated oven for about 15 minutes.
Turn off the oven, and with the oven door open, let it rest for another 3 minutes or so.
Serve salmon with some bread, potatoes, roasted tomatoes or a garden salad.
Martyna Angell
Martyna is a Polish-born Australian recipe developer and food blogger. Her creativity and passion for good food shines through in many of the delicious and easy to prepare meals which she cooks, styles and photographs for her blog, Wholesome Cook. Fresh cream-filled eclairs are her only weakness.