This slightly-spicy soup only tastes creamy and indulgent, it's actually quite healthy so go ahead and have seconds.
By Kelly Morisson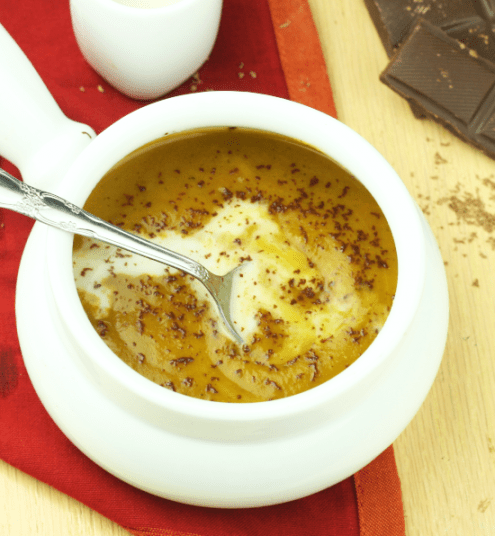 Pumpkin Soup with Dark Chocolate Shavings
This slightly-spicy soup only tastes creamy and indulgent, it's actually quite healthy so go ahead and have seconds.
Ingredients
1 small onion, finely chopped
½ teaspoon minced garlic
2 teaspoons curry powder
1 teaspoon garam masala
2 (15 ounce) cans unsweetened pumpkin puree
2-3 tablespoons sweetener (eryhtritol, sugar, brown sugar, etc.)
2 cups veggie broth
1 cup unsweetened almond milk
salt and pepper, to taste
dark chocolate, to serve
Instructions
Heat a greased Dutch oven over medium high heat. Add in the finely chopped onions and cook until slightly browned, stirring occasionally, about 3-5 minutes. Add in minced garlic, curry powder, and garam masala, and cook for another minute. Stir in the pumpkin puree. Add in the sweetener, veggie broth, and almond milk and stir until combined.
Bring the soup to a boil, boil for a minute, and reduce to a simmer. Simmer for at least 20 minutes or up to an hour, keeping in mind that the soup gets richer and more flavorful the longer it cooks. Puree using an immersion blender (or puree in batches in a standard blender) and salt and pepper to taste. Divide amongst six bowls, serve with shaved dark chocolate on top, and bask in your elegance. Devour.
Kelly Morrison
At the age of thirteen, Kelly Morrison founded Foodie Fiasco, a popular healthy recipe website that provides the ultimate guide to having it all: happiness, decadence, and loose pants. Five years later, she currently resides in West Hollywood, CA, where she spends her days developing recipes, photographing food and her cats, and writing bios in the third person.