This baked oatmeal is the perfect comforting breakfast for crisp autumn mornings.
By Lauren Hardy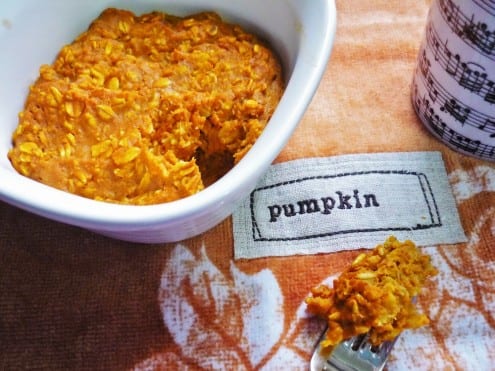 Pumpkin Oatmeal
This baked oatmeal is the perfect comforting breakfast for crisp autumn mornings.
Ingredients
⅓ cup old fashioned rolled oats
½ teaspoon ground cinnamon
pinch of ground nutmeg
¼ teaspoon baking powder
¼ teaspoon sugar
⅓ cup milk
⅓ cup pumpkin puree
1 egg white
¼ teaspoon pure vanilla extract
Toppings:
1 tablespoon maple syrup
Pecans (optional)
Dried cranberries (optional)
Instructions
Preheat the oven to 350?.
Combine the oatmeal, cinnamon, nutmeg, baking powder, and sugar in a small bowl.
Add in the milk, pumpkin puree, egg white, and vanilla.
Once combined, pour the batter into a greased oven-safe ramekin.
Bake for 25 minutes, or until oatmeal is set and puffy.
Remove from oven and top with maple syrup and any additional toppings.
Lauren Hardy
Lauren Hardy is a writer, editor and self-taught, experimental foodie. By the time she was 6 years old, she had the Toll House Inn chocolate chip cookie recipe memorized and baked a variety of batches for her family each week. Her passion for cooking flourished during her college years. In addition to her writing aspirations, she hopes to own a bakery someday. You can follow her latest musings on her blog, "Making Life Sweet," at laurenhardy.com, where she blogs weekly about inspiration, food and faith.