Nutty, chocolate cake is filled with delicious pumpkin for a sweet, festive fall treat common in Northern Italy.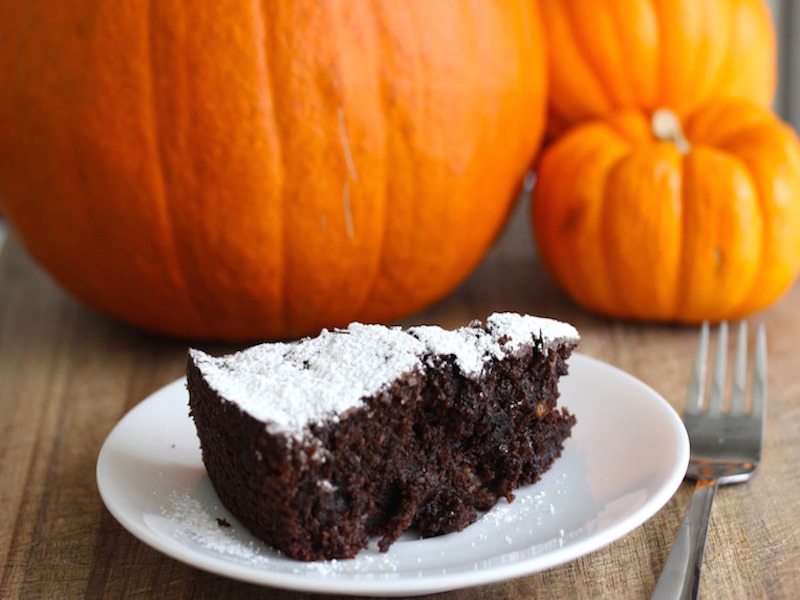 To tell you the truth I've never been a huge fan of pumpkin. Only when I moved to the US I revalued this beautiful, orange squash.
Lombardy, the northern Italian region where I come from, has a long and strong tradition of pumpkin recipes and this pumpkin chocolate cake is one of them. The Pumpkin Chocolate Cake has a super moist texture and a sweet, chocolatey and nutty taste. I personally love this cake and I will absolutely bake it again for Thanksgiving.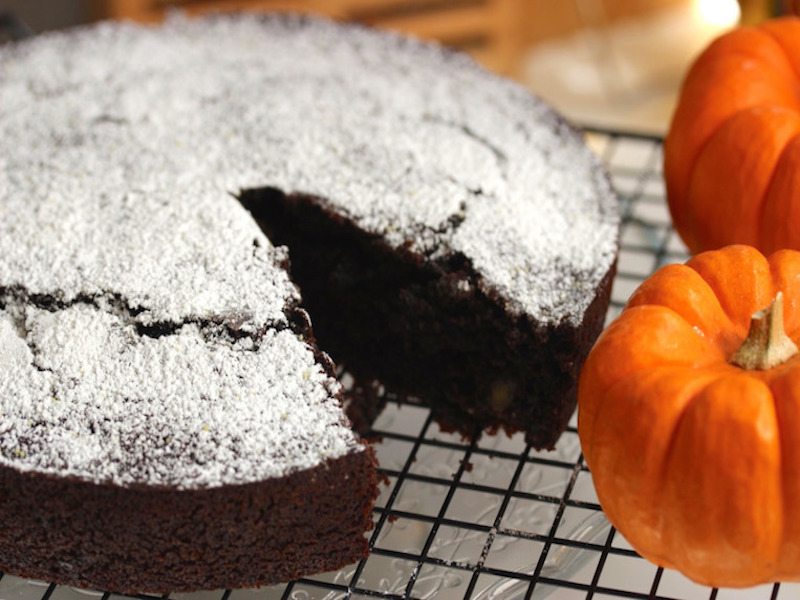 Pumpkin Chocolate Cake: Torta Di Zucca E Cioccolato
Ingredients
15 oz. pumpkin puree (fresh or canned)
3 eggs
1 cup granulated sugar
1 cup + 3 tbsp all purpose flour
4 tbsp unsweetened cocoa powder
10 tbsp unsalted butter, softened
⅓ cup milk
1 sachet vanilla baking powder (1/2 oz or 16g)
¼ cup walnuts, coarsely chopped
¼ cup chocolate chips
powdered sugar, to dust
Instructions
If using a fresh 2 pound pumpkin : halve the pumpkin. Remove seeds and stringy pulp. Peel, cut into chunks and boil in lightly salted water for 25 minutes or until tender. Purée in a blender or food mill.
Preheat oven at 350 F degrees.
Grease with baking spray or butter and breadcrumbs a 9 inch cake pan. Set aside.
In a big bowl, beat eggs and sugar, then add pumpkin puree and flour and mix thoroughly.
Add cocoa powder, butter, milk and blend together.
Gently fold in the vanilla baking powder until well incorporated.
Stir in chocolate chips and chopped walnuts.
Pour the cake batter into the greased pan and bake for 35 minutes.
Allow to cool in its pan.
Dust with powdered sugar before serving.