Warming Winter Pumpkin Celeriac Soup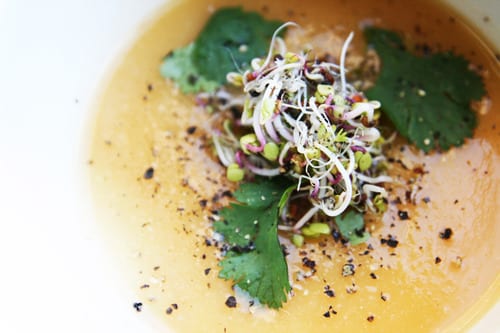 This soup is velvety smooth, comforting, and sweet. Made using just a couple of ingredients, it is perfect for weeknight dinners and stormy afternoons.
By Mariela Alvarez Toro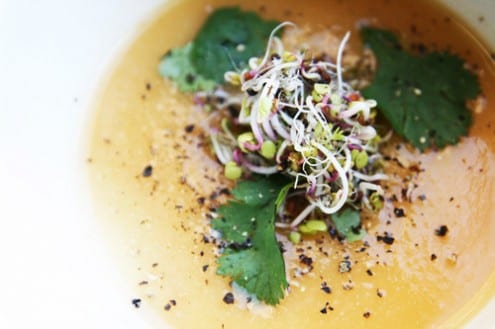 If you haven't heard of celery root, don't fret – it is a strange vegetable that I've just recently discovered. Its scary outer shell is no doubt intimidating, but once you start peeling away its tentacles, and knurly parts, you will begin to understand why this vegetable is so fascinating. Its intense aroma is intoxicating, deep, and fragrant. A little bit of knife work will reveal a perfectly white beautiful root vegetable. Celery root can be eaten raw, roasted, stewed or steamed, pureed or, my favorite, used as base for soups.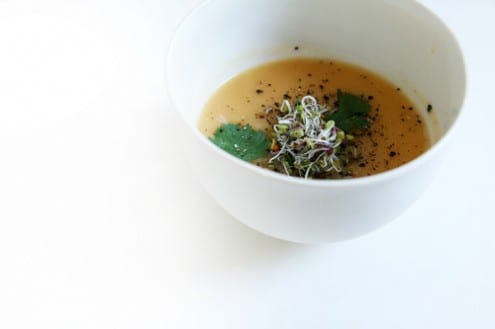 Warming Winter Pumpkin Celeriac Soup
This soup is velvety smooth, comforting, and sweet. Made using just a couple of ingredients, it is perfect for weeknight dinners and stormy afternoons.
Author:
Mariela Alvarez Toro
Recipe Type:
Soup, Appetizer
Ingredients
2 cups roughly cubed pumpkin
1 celeriac roughly cubed
4 cups vegetable broth
1 tbsp. olive oil
Garnishing
Drizzle of olive oil
Fresh ground pepper
Parsley and cilantro to taste
¼ cup of some sort of sprout (radish)
Instructions
Heat olive oil in pan over medium heat. Add cubed pumpkin and celery root. Toss in olive oil until well coated. Cook for five minutes.
Add vegetable broth and cover. Cook over medium heat for 15 to 20 minutes. Vegetables should be tender.
Remove from heat and let cool for 5-10 minutes. Transfer contents to blender and puree until smooth. Add water if necessary to achieve preferred thickness.
Return to pot and reheat. Taste for salt.
To serve, garnish with drizzle of olive oil, freshly ground black pepper, cilantro, and a pinch of fresh sprouts.
Eat immediately.
Mariela Alvarez Toro
Recently graduated with from Harvard University's Graduate School of Design. She has recently completed "People in Food-Space", an ethnographic study on the cultural production of taste in space. She has also examined post-soviet food production systems and housing projects in Havana, Cuba. Originally from Puerto Rico, Mariela has been living in the United States for eight years. She has involved herself in both teaching and practice, while writing on food at tastyplan.com. Her goal as a food writer is to cook creatively, using the best ingredients to find new flavor combinations every day.