Slow cooked lamb sandwiches on a baguette will delight the palate with sweet onions and spicy aioli.
By Perna Signh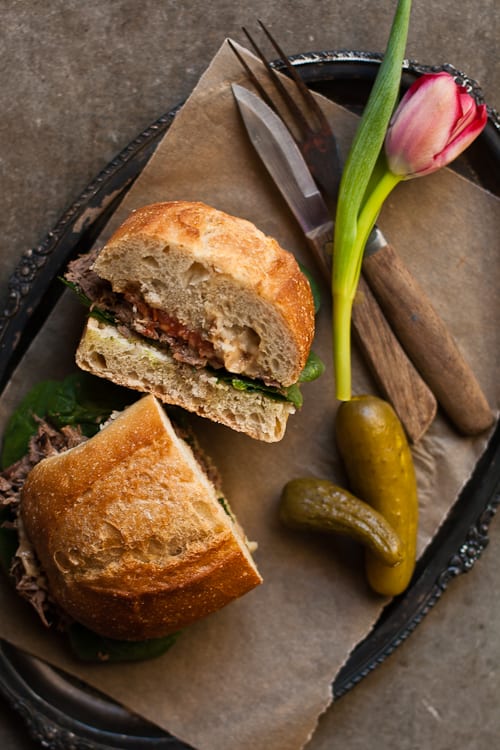 Pulled Lamb Sandwich with Caramelized Onions and Chipolte Aioli
Ingredients
Lamb
1½ - 2 lbs boneless leg of lamb
¾ chicken stock
1½ teaspoon rosemary
1 tablespoon olive oil
2 cloves of garlic (smashed)
1½ tablespoon balsamic vinegar
1 teaspoon cracked black pepper
½ teaspoon red pepper flakes
Onions
4 cups thinly sliced
1½ tablespoons olive oil (or butter)
1½ teaspoon salt
1½ teaspoons sugar
Aioli
2 tablespoons Chipotle and Roasted Garlic Paste
½ tsp salt
1 large egg yolk, at room temperature
½ cup (250ml) extra-virgin olive oil
½ cup pure olive oil
Sandwich
Baguette bread (you can use your choice of hard crusted bread)
Some greens (arugula or baby spinach go well with this)
Sliced tomatoes
Sliced avacado
Instructions
Lamb
In a mason jar add all the ingredients except for the lamb and chicken stock. Close the lid and shake vigorously for 5 seconds.
Pour the vinaigrette to a ziplock bag. Add the lamb. Seal the bag and squish it so that all the vinaigrette is coated well around the lamb. Let it sit for 30 minutes.
Take the lamb out of the Ziplock back. Heat a cast iron skillet. Transfer the lamb to the skillet and cook on each side for 3-4 minutes.
Pour chicken stock to the slow cooker or oven safe dish. Transfer the lamb to the slow cooker discarding all excess fat.
Cover and cook on low for low for 6-7 hours, adjust cooking time if using an oven.
Caramelized Onions
Use a wide thick bottom saute pan (I use a cast iron skillet). Heat oil/butter
Add sliced onion. Stir well to coat the onion with oil/butter. Turn the heat to medium and let it cook on its own, stirring occasionally.
As the onion turns brown and looses its water it will stick to the bottom. Let it stick a little but keep an eye so that you do not burn them and keep stirring occasionally.
Towards the end the onions might all come together and begin to stick more to the bottom. Try adding a couple tablespoons of water to deglaze the pan.
Turn the heat off and let it sit in the hot pan for 10 minutes before you move it to dish.
Aioli
Crush the garlic cloves with the salt in a mortar or deep bowl until you have a smooth paste. Take out some of it as it may be too much; you can add it back later.
Add the egg yolk. Anchor the bowl down by tying a dishtowel around it tightly, if necessary.
Using a fork or whisk, add the oil to the egg and garlic mixture starting very slowly, drop by drop. I like to use a spout in an olive oil bottle to regulate the flow but you can also drip the oil in from a spoon. As the mayonnaise thickens continue to add the oil in a very thin stream. Continue until all the oil has been incorporated.
If it gets too thick you can dilute it slightly with a tablespoon of warm water – don't add more oil, it will just get thicker. Taste, and add more of the garlic, if desired.
Sandwich Assembly
Take the leg of lamb out of the slow cooker. Using two forks shred the meat. I always reduce the remaining liquid in the slow cooker and pour it over my meat.
On a bed of greens over sliced baguette put some pulled leg of lamb, add caramelized onion, tomato and avacado. Smother some aioli on the other half of the baguette.