Puff Tart with Almond Cream and Berries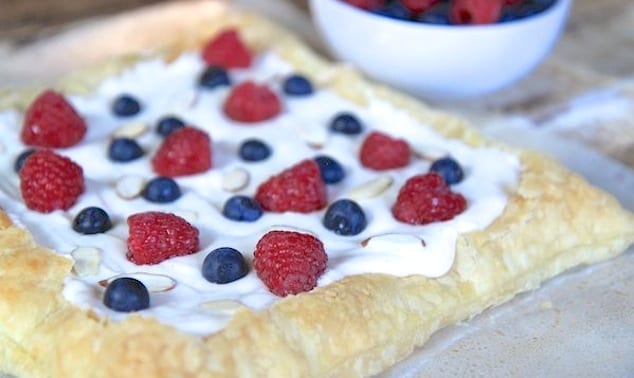 Quick and easy puff pastry tarts filled with almond cream cheese filling and topped with fresh berries and almonds.
By Taylor Kadlec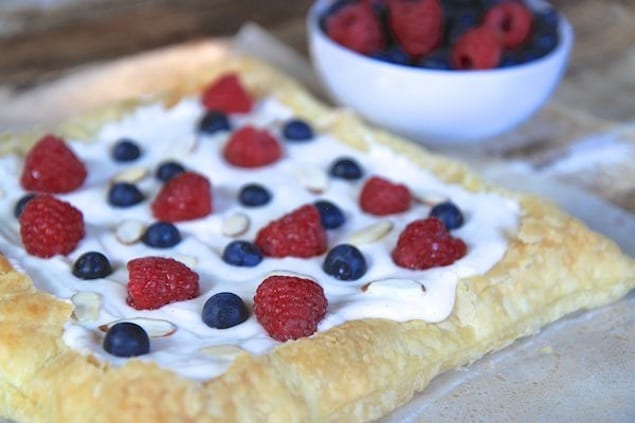 Tarts always look and sound much more intimidating than they really need to. Aside from thawing out the puff pastry, the only real work in this tart is to make the filling, which is a simple combo of cream cheese, a little cream (or milk), powdered sugar, and vanilla and almond extracts. Topped with a sprinkling of berries and you have one tasty and impressive dessert!

Puff Tart with Almond Cream and Berries
Quick and easy puff pastry tarts filled with almond cream cheese filling and topped with fresh berries and almonds.
Ingredients
2 sheets puff pastry, thawed
1 egg, beaten
8 oz cream cheese
¼ cup heavy cream
⅓ cup powdered sugar
1 tsp vanilla bean paste (or vanilla extract)
1 tsp almond extract
¼ cup raspberries
¼ cup blueberries
2 tbsp sliced almonds
Instructions
Preheat oven to 400 degrees F.
Line 2 baking sheets with parchment paper.
Place the puff pastry on parchment paper, and brush with beaten egg wash.
Poke the puff pastry thoroughly with a fork (otherwise it will puff up a lot).
Bake in preheated oven for 15 minutes.
Let cool completely.
Make the cream filling by beating together cream cheese, heavy cream, powdered sugar, and the extracts.
Spread filling over cooled puff pastry.
Top with berries and almonds.
Refrigerate at least 2 hours to let filling set.
Keep refrigerated until ready to serve.
Cut into square/slices and serve.
Notes
If you want to make one large tart, you can pinch the puff pastry doughs together before baking them, using wet fingers, and placing them on one large baking sheet. You can also cut this recipe in half and just make one smaller tart (using one puff pastry sheet), and cut the cream cheese filling in half.
Taylor Kadlec
Taylor Kadlec is a lover of all things food including baking, cooking, and of course, eating. She is a self-taught baker and cook, and she shares her kitchen adventures on her blog Greens & Chocolate, where healthy cooking meets sinful indulgence.