In the Veneto region, prosciutto from Montagnana is less common, but has a delightful sweeter flavor that is perfect served with summer melons.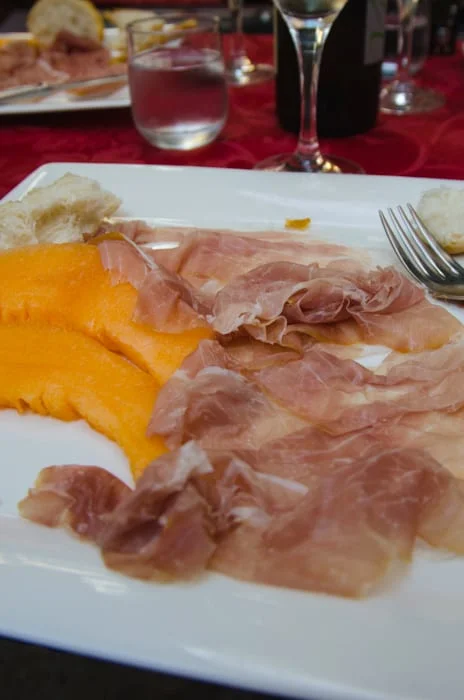 Prosciutto is one of Italy's most renowned food products, but in the US we only see two of the many wonderful prosciutti produced in Italy. Only prosciutto in Parma and the San Daniele prosciutto from Friuli are produced in a manner that adheres to US import guidelines. But there are many others produced in Italy that you can only enjoy in Italy.
Today we visited one town in the Veneto particularly known for it's proscuitto, Montagnana. Located between the Euganie and Berici hills, south of Padua and Vicenza, Montagnana is a small walled city, one of the best preserved examples of medieval walls in Europe. We visited on a cycling tour, but the Euganie Hills are a wonderful place for hiking tours too. A lovely evening walk around the city to view the walls at sunset is a must.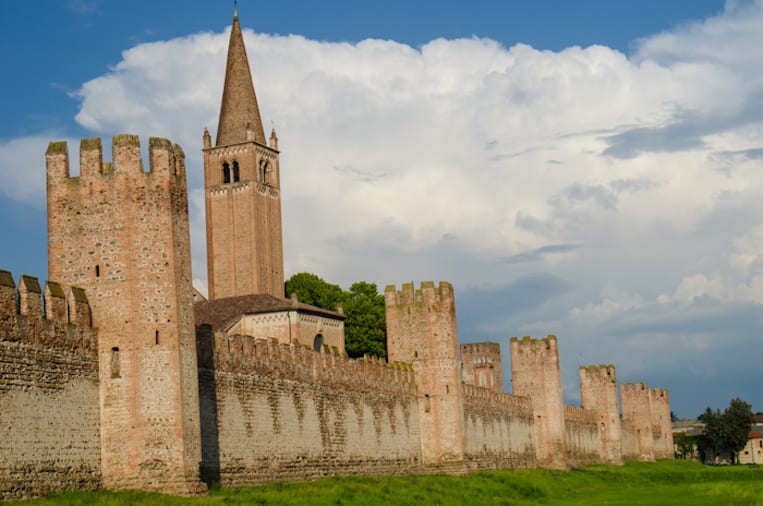 Prosciutto from this area in the Veneto has its own D.O.P designation, Proscuitto Berico-Euganeo. The DOP regulations for the Berico-Euganeo prosciutto describe it as a "pink-colored ham that tends towards red in the lean parts and pure white in the fat parts which has a delicate and fragrant aroma." Every year the town of Montagnana celebrates its prized product with a week long festa, or festival, when restaurants offer special dishes, producers offer tours, and local chefs teach classes featuring the ham.
On our visit here, we enjoyed a tasting of the prosciutto. It is a bit sweeter than Parma prosciuttos, and pairs wonderfully with the local melons which have just come into season. A white wine from Colli Euganie, the Serprino, a refreshing still white wine made from the same grape used for prosecco, is a perfect pairing.
Kathy Bechtel
Kathy Bechtel's obsession with food and cooking began as a teenager. After years following a traditional career path as a telecommunications engineer, she left to attend culinary school and wine training, and is now combining her passions for food and wine, the outdoors, and travel as owner and Culinary Tour Director of Italiaoutdoors. In this role, Kathy leads small bicycle, skiing and walking tours that explore the authentic regional cuisines, local products and undiscovered wines of Northeastern Italy.