Prosciutto and Brie Apricot Toasts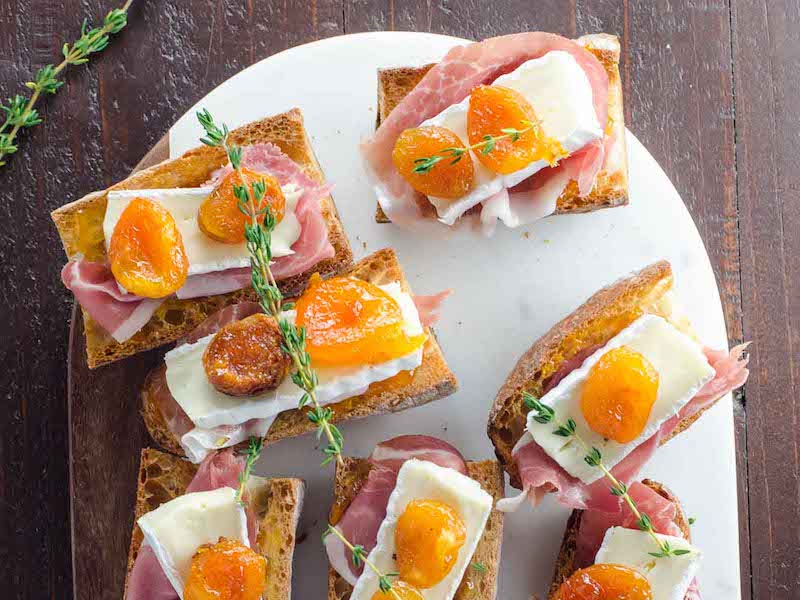 PARTNER POST: We've teamed up with Bonne Maman to bring you the best homemade breakfast and brunch recipes to show Mom you care this Mother's Day and all spring long.
Looking for an easy but elegant breakfast in bed recipe for Mother's Day that's perfect for little hands to make? Try this prosciutto, brie and apricot preserves on a toasty baguette.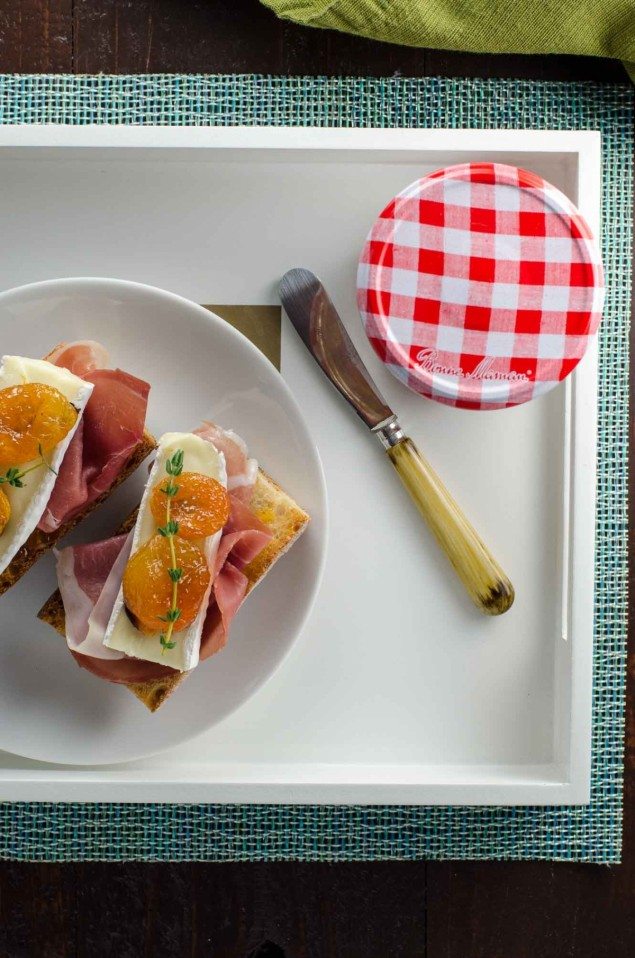 Just gonna put it out there that I can't believe Mother's Day is coming up so soon. How did that happen? Rhetorical question, to be sure, but our 12-year-old daughter has a theory. As a kid I remember time dragging on endlessly. The month between putting a certain blue backpack on my Christmas list and opening it by the tree was a grueling hundred and one years long. The last two weeks of school each year bled into eternity.
I don't know whether it's the fast pace of technological change, the over-scheduling, or just her old soul, but the 12 year old has not had the same experience at all. She processes time like a middle-aged adult: weeks and months fly by, faster all the time. And here's the kind of theory that a pliable, youthful, slightly contrarian brain unleashes on a middle-aged experience:
What if time actually is speeding up, but everything else — including the units we use to measure time — is speeding up proportionally, so we don't have any formal way of measuring the acceleration? Yet we're human, and humans (especially the musicians among us, BTW) have an innate sense of time that's perceptive enough to raise a red flag in the distance. We know enough about time speeding up to be unsettled by it, but not enough to really call it out.
Yikes, right? That's what a few of her friends and mine have said when she mentioned it. And hey, for whatever reason, the fact that it's extremely unlikely to be true doesn't make it appreciably less spooky.
Not to pull rank, but we Copes are so tight with Bonne Maman that we've been using their jars as our primary drinking glasses since way before it was cool. (Here's some proof from 2010, which was years — years, I tell you — into our pre-hipster-era jar drinking movement.)
But there's so much more about Bonne Maman that's carried on throughout the years. Their use of simple, honest, wholesome ingredients you'd find in your own pantry. Their time-honored recipes. The way the taste, and even the jar, evoke decades-old memories and yet somehow fit seamlessly into modern life.
This might be awkwardly much, but there are a few brands that are virtually synonymous with Cope, and this is one of them. So on Mother's Day, I'd be psyched to have this beautiful breakfast delivered to my bedside. Maybe with some cold-brewed iced coffee. Or a glass of Veuve, if you insist.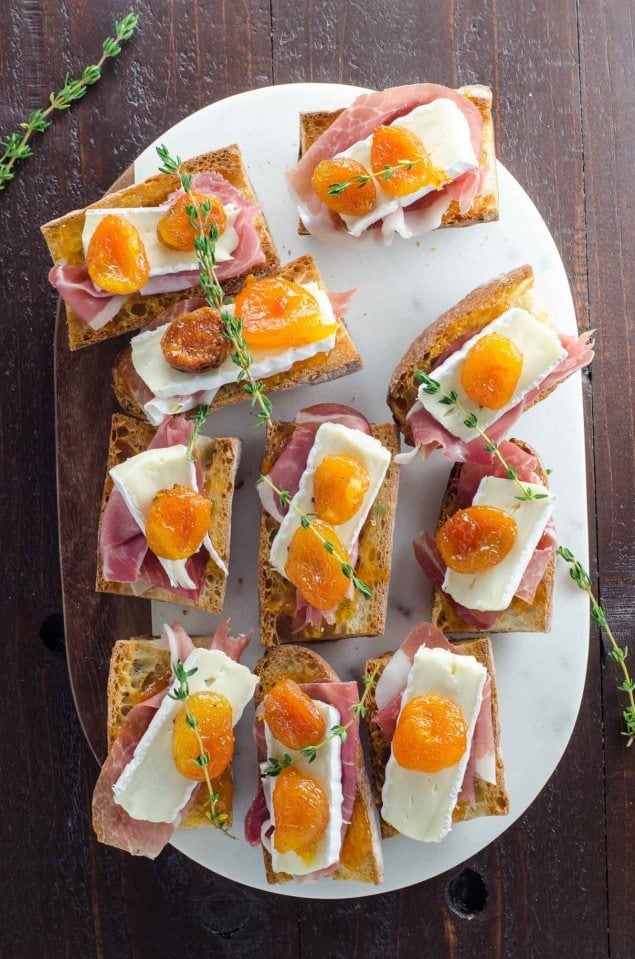 This elegant recipe is easy enough for little hands to assemble with just a bit of help. It's perfect to serve Mom breakfast in bed on Mother's Day and makes enough for the rest of the family, too. It also makes a great bite-sized appetizer for a crowd if you cut the baguette into thin slices on an angle and finish with smaller amounts of the toppings.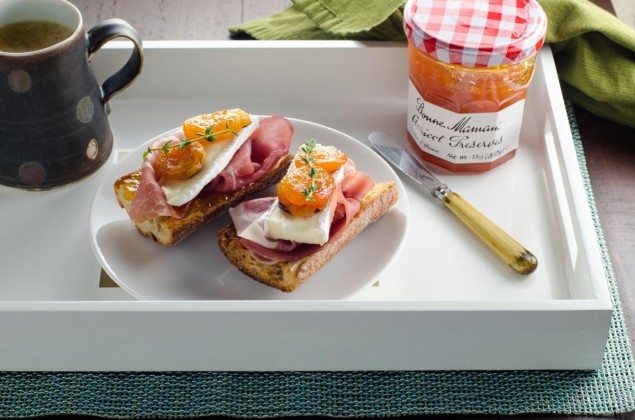 See Also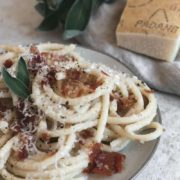 you'll want to enter this great Sweepstakes with over 1,000 prizes available and you can even win a 12 piece Le Creuset Cookware set!
For more recipe ideas, check out these fun toasts.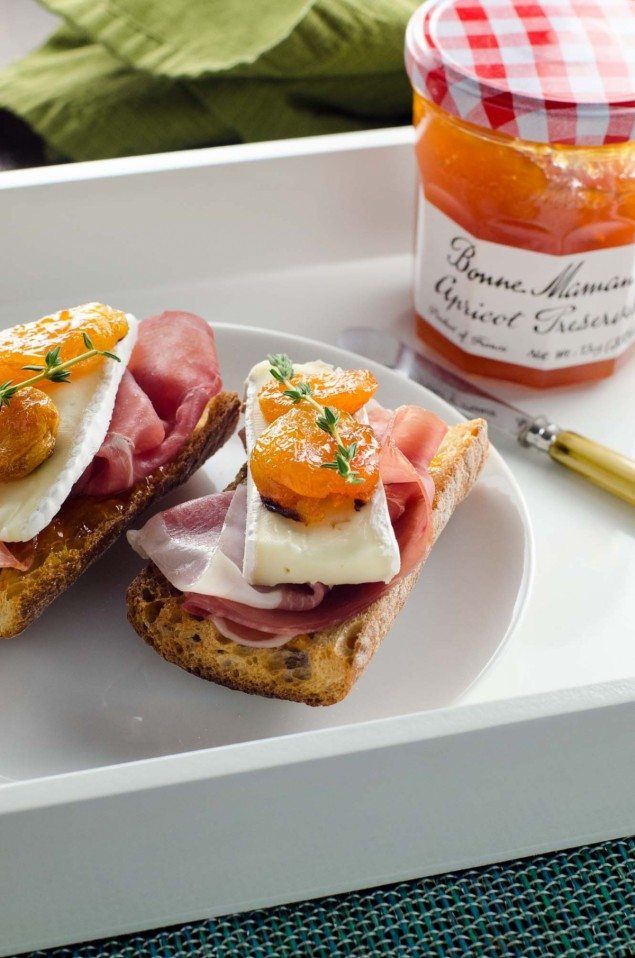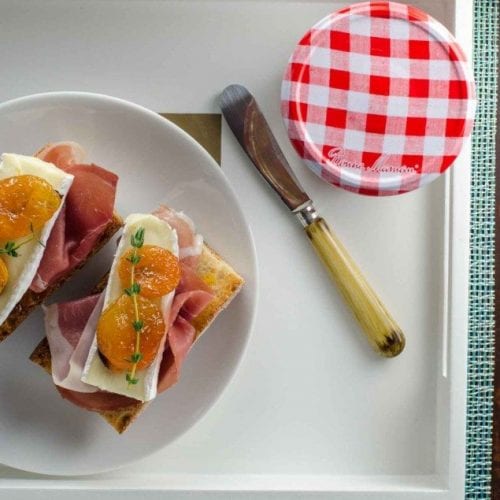 Prosciutto and Brie Apricot Toasts
Carolyn Cope
Looking for an easy but elegant breakfast in bed recipe for Mother's Day that's perfect for little hands to make? Try this prosciutto, brie and apricot preserves on a toasty baguette.
Course
Appetizer, Breakfast
Ingredients
1

baguette

1/3

cup

Bonne Maman apricot preserves

divided

1/2

cup

dried apricots

4

ounces

thinly sliced prosciutto

4

ounces

good brie

A few sprigs fresh thyme
Instructions
Preheat oven to 350°F. Cut the baguette into five sections and halve each section lengthwise. Line a sheet pan with parchment paper. Place sections, cut sides up, in a closely spaced single layer on the pan, leaving some room for the apricots.

In a small bowl, stir together two tablespoons of the apricot preserves and the dried apricots until the apricots are evenly coated. Place apricots in a single layer in the remaining space on the sheet pan. Bake for about 15 minutes, until bread is lightly toasted and apricots are a bit sticky and jammy.

Spread each baguette piece with some of the remaining apricot preserves. Drape with a slice of prosciutto and top with a slice of brie and a couple of jammy apricots. Garnish with thyme and serve.
Carolyn Cope
Carolyn is the voice behind the popular blog Umami Girl and writes frequently for other food-related publications. Equal parts live-to-eat and eat-to-live, she holds certificates from both the French Culinary Institute and the eCornell Plant-Based Nutrition program. Carolyn has lived and worked in New York and London and currently resides with her husband and two daughters in a sweet little seaside town in New Jersey.