These easy, savory pastries are perfect to make when you have an unexpected guest.
By Ann Low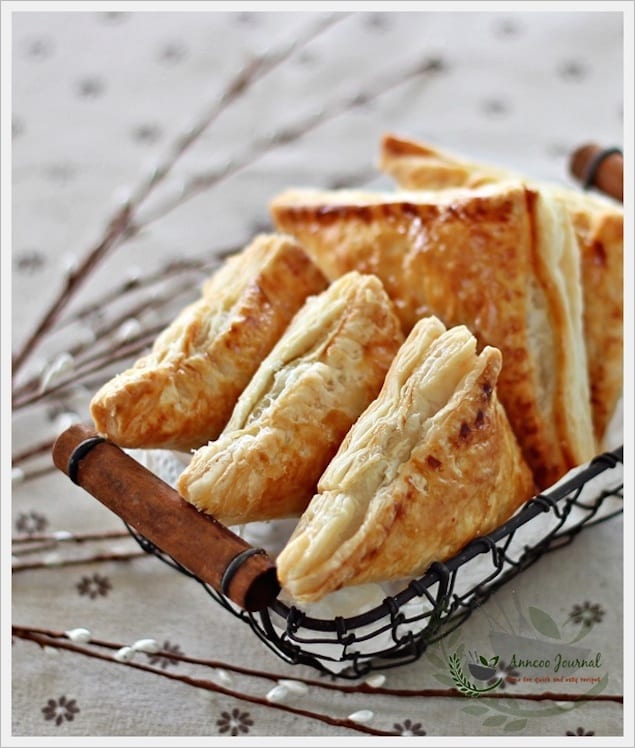 This is a quick and easy family snack …. Potato Curry Puffs. Since I've still have potatoes on my pantry and some leftover frozen puff pastry, I quickly made this flaky Potato Curry Puff as an afternoon snack. Just boil the potatoes till soft, then fry it together with curry powder and onion with little milk. After wrapping the potato filling with the pastry, about 20 pieces, I stored half of them into the freezer. These can be baked as and when I feel like it or when I have unexpected guests for tea.

Potato Curry Puffs
These easy, savory pastries are perfect to make when you have an unexpected guest.
Ingredients
1 packet Frozen puff pastry, (only need large 5 pieces) thaw pastry in chiller for few hour before use
450g Potato
3 tbsp Curry powder
4-5 tbsp Milk
1 large Onion, chopped
1 tsp Sugar
¾tsp Salt or to taste
1tsp Chicken powder (optional)
1 beaten egg
Instructions
Wash potatoes and peel skin. Boil potatoes with a pinch of salt until soft and tender for about 15-20 minutes Mash cooked potatoes with a fork, leaving some chunks behind.
Add enough oil in wok, use medium heat fry onion and curry powder till fragrant.
Add cooked potatoes together with the seasoning and milk, stir fry well. Dish up potato filling and leave to cool.
Place puff pastry sheet on a lightly floured table top and use a pizza cutter to cut pastry sheet into 4 equal square sheets.
Put potato filling (about 1 to 1.5 tablespoon) on pastry sheet (refer picture) leaving enough border so that it can be folded over and sealed.
Egg wash the border and fold the edges together. Then use fork press down the edges to seal the border. Place the potato puffs on a lined baking tray and egg wash the tops of each puff..
Bake at preheated oven at 200C for about 25-30 minutes or until golden brown.
Ann Low
Ann Low is the author of Anncoo Journal, and loves to bake and cook for both family and friends. She acquired a strong passion for culinary skills from a very young age by watching her grandmother prepare delicious meals for the family. Ann believes that baking is an art and she wants to share her baking and cooking experiences with everyone in the world.