Purchasing a pork roast doesn't do it, there's no skin, and no fat. A pork belly has the latter two, but no lean meat. The simple solution – combine the two.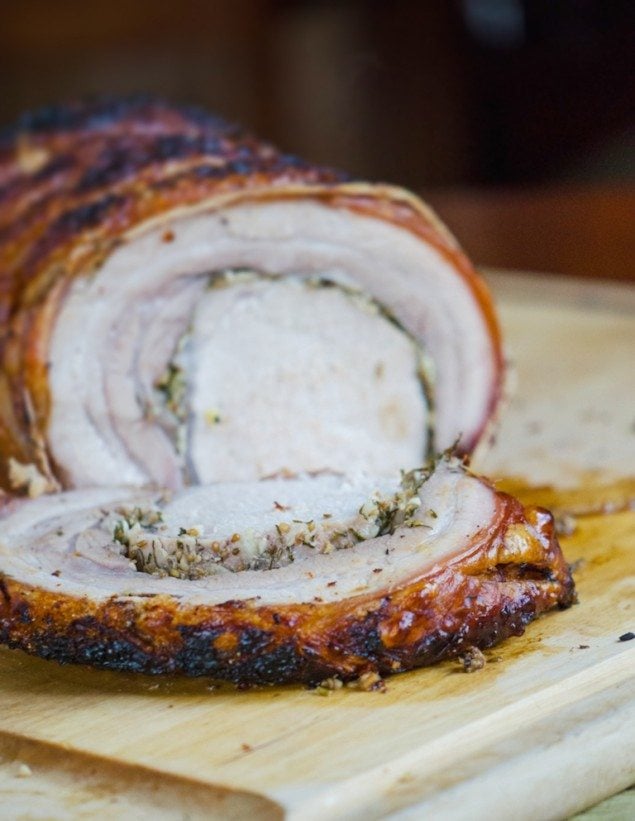 For me, a trip to an Umbrian market is not complete without a stop by a porchettai, a vendor in a white van hawking delicious porchetta sandwiches, a large sandwich of savory roasted pork on a fresh white bun. A tasty snack to revive weary cyclists as we tour Umbria, you can find porchetta sandwiches throughout Italy.
EXPLORE OUR ITALIAN SPICES
[products columns="4″ orderby="title" order="ASC" ids="203660, 186309, 186307, 203654″]
Print

Porchetta – Italian Roast Pork
---
Author:

Kathy Bechtel

Total Time:

3 hours

Yield:

4

1

x
Description
How to make the best possible Italian Pork Roast
---
1

2 1/2 – 3 pound piece fresh pork belly (skin on)

1

2 1/2 – 3 pound boneless pork loin
Kosher salt

2 tablespoons

fennel seeds

2 tablespoons

olive oil

1/2

bulb fresh fennel (tough outer layer and inner core removed, chopped into

1/4

inch dice)

3

garlic cloves (minced)

1 tablespoon

minced fresh rosemary (or

1 teaspoon

dried)

1/4 cup

fennel fronds (finely chopped)
---
Instructions
Set belly skin side up. Using a sharp knife or box cutter, score the skin on each diagonal, making a diamond shaped pattern. Try to cut only the skin itself, but don't worry too much if you cannot pierce the skin everywhere, or if sometimes you cut a little deeper. It is hard to penetrate the skin consistently, even with a very sharp knife.
Flip the belly so the skin side is down. Score the belly flesh in the same diagonal diamond shaped pattern.
Salt both sides of the belly, as well as the loin. Set aside while you make the seasoning mixture.
Place the fennel seeds in a hot sauté pan, and toast just until they are aromatic and starting to brown. Add the olive oil, chopped fresh fennel, garlic and rosemary, and saute until the fennel is soft, about 4 minutes. Add the chopped fennel fronds and remove from heat.
Cover the entire loin and the flesh side of the pork belly with the seasoning mixture. Roll the belly around the loin so the short ends of the belly meet, or come as close to meeting as possible. If there is a bit of loin still exposed along the bottom, don't worry, we'll put this at the bottom and no one will ever know. If the loin is longer than the pork belly, or the belly longer than the loin, and one sticks out, trim so the ends are flush.
Tie the roast with kitchen twine at about 1/2" intervals. Place the roast on a wire rack set in a sheet pan, with any gap where the pork belly may not cover the loin at the bottom. If you have the luxury of time, place the roast, uncovered, in your refrigerator for 1-2 days to allow the seasonings to penetrate the roast and the skin to air-dry. When ready to cook, removed the roast from the refrigerator and allow to sit at room temperature for 2 hours.
Preheat oven to 500°F.
Place roast in preheated oven, and roast for 45 minutes. Reduce heat to 300° and continue to roast until the porchetta reaches an internal temperature of 140°, about 1 1/2 to 2 hours more. If the skin is not as brown and crispy as you'd like, turn on the broiler and finish browning the skin, keeping a careful eye on it so it doesn't burn.
Cook Time:

3 hours

Category:

Main
Kathy Bechtel
Kathy Bechtel's obsession with food and cooking began as a teenager. After years following a traditional career path as a telecommunications engineer, she left to attend culinary school and wine training, and is now combining her passions for food and wine, the outdoors, and travel as owner and Culinary Tour Director of Italiaoutdoors. In this role, Kathy leads small bicycle, skiing and walking tours that explore the authentic regional cuisines, local products and undiscovered wines of Northeastern Italy.