Pomegranate and Blueberry Rice Pudding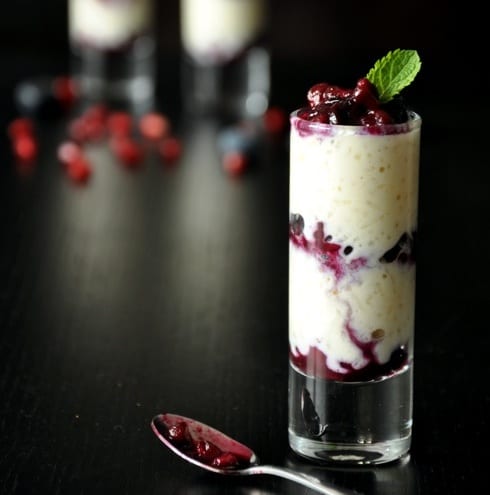 This pudding is not only embarrassingly easy, but also has the simplest flavors that are delicious and refreshing.
By Shuchi Mittal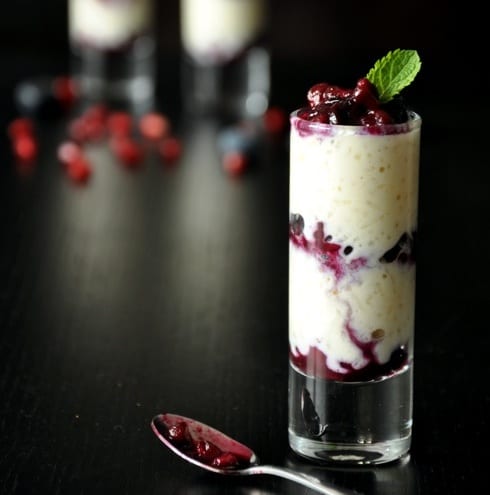 Doesn't that photo look beautiful enough to be eaten?
I find comfort in colors. Specially when the sun is beating relentlessly on our heads all summer long.
Fruits & berries with their vibrance, sweetness mixed with tartness and natural pigments are my eternal favorites. Shamelessly showing off their hues in every farmers market or supermarket, these have more potential than you can imagine. Not only do they add a fresh flavor to desserts & salads, they are also packed with more nutrients than any diet plan you may be on! I experiment with fruits very often, and this pudding was not only embarrassingly easy, but also had the simplest flavors that were delicious and refreshing.
Sometimes we forget that tasty does not have to be complicated. Hope you enjoy this one as much as I did.
Pomegranate and Blueberry Rice Pudding
A berrylicious take on the classic indian kheer.
Ingredients
For the rice pudding (kheer)
3 cups whole milk
3 tablespoons rice, washed
5 tablespoons brown sugar (or adjust to taste)
¼ teaspoon vanilla essence
2 tablespoons fresh cream
For the fruit coulis
½ cup fresh pomegranate seeds
½ cup fresh blueberries
3 tablespoons brown sugar
1 cup water
Instructions
Make the kheer
Bring the milk to boil.
Add the rice and cook on medium heat, stirring occasionally till the rice is fully cooked.
Mash the rice slightly with a spatula, and add the sugar.
Continue to cook till the sugar has melted and the pudding reached a semi thich consistency.
Turn off the heat and stir in the cream & vanilla.
Keep aside to cool (Note: the pudding will get thicker once cooled)
Make the coulis
Bring to boil the water and sugar.
Add the pomegranate, cover and cook on medium heat till the seeds have broken down slightly and begin to soften (unlike other fruits, pomegranate seeds take a long time to soften, so it is fine to leave them with a bite, as long as some of the pulp starts to break down).
Add the blueberries, and continue to cook till the blueberries swell up.
Using a spoon, mash the blueberries and some of the pomegranate seeds. Remove cover, cook till you get a jam like consistency.
Remove from heat and cool.
Layer the rice pudding with the fruit coulis and serve chilled.
Shuchi Mittal
Shuchi cooks with the heart of a poet. Banker turned chef, she runs the 29. Private Kitchen in NYC focusing on social tasting events, dining experiences and small-scale private events. Using simple & wholesome ingredients, she likes to re-invent homemade Indian flavors into modern tapas & small plates. Her dream? To cook, feed, write, and eventually open her own communal dining cafe - with a published recipe book on the stands.