PARTNER POST: Get ready to feed a holiday crowd with appetizer recipes paired perfectly with food-friendly Cavit wines.
If you're hosting a party this winter season, then you have to make this pomegranate baked brie with cranberries. It is perfect served warm with crackers, sliced pears, apples or crostini.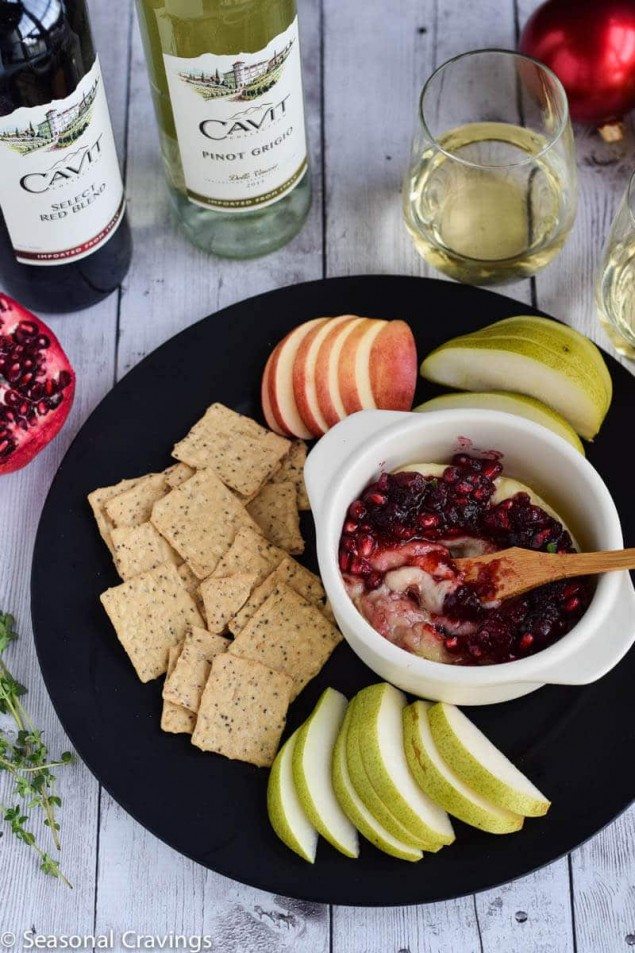 Are you guys feeling the pre-holiday craze? Are you frantically searching for just the perfect gift for your loved ones? If you are anything like me, you shop for a long time, considering all your options, then wait until the last minute for those most special people in your life.
Luckily I have delicious food to eat while internet shopping all day long! The joys of being a food blogger…I ate this entire Pomegranate Cranberry Baked Brie for lunch.
It was glorious.
The sauce is so delicious you will want to slather it on toast or stir it into your oatmeal or yogurt. Or how about a quesadilla with pomegranate cranberry sauce and brie? Oh yes, please. I'm not kidding when I say you must try this.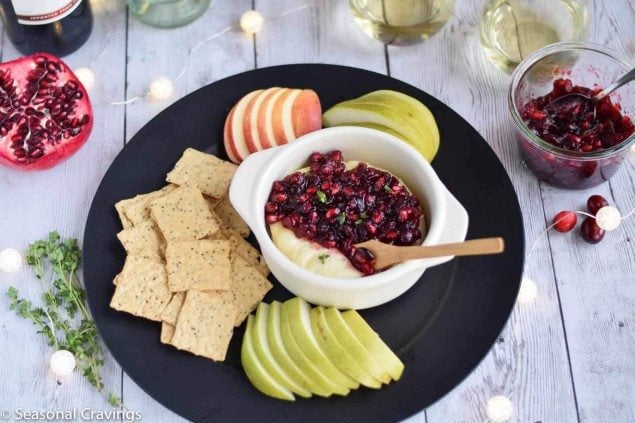 This sauce is adapted from my favorite Thanksgiving Cranberry Pomegranate Sauce. I make it every year and it's always a hit. There's something so delicious about cranberries and pomegranates together. Cranberries are not too sweet but the pomegranates help sweeten them up. The pomegranate molasses adds a deep pomegranate flavor.
With each bite, you get a sweet pop of pomegranate juice and it's so delicious!
What is it about brie? I mean isn't it the world's most perfect food? Pair it with a sweet topping, a crunchy cracker and a chilled Cavit Pinot Grigio and viola! You have the perfect cocktail party food. I'm having my annual Yankee Swap this weekend and this is on the menu for sure.
For another easy holiday appetizer, try these trout bites. Recipe here.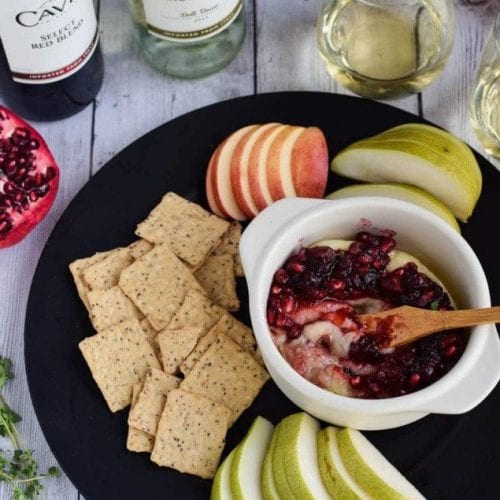 Karen Kelly
Ingredients
1

round of brie

8 oz

6

oz

fresh cranberries

1/2 bag

¼

cup

light brown sugar

2

tbsp

pomegranate molasses

¼

tsp

fresh thyme

½

cup

pomegranate arils
Instructions
Preheat oven to 350º F.

In a small sauce pan, add all sauce ingredients except pomegranate arils.

Bring to a gentle boil then turn down to low. Stir frequently and cook for about 4-6 minutes.

Remove from heat and add pomegranate arils. Stir.

Scrape or carefully slice the top rind off of the brie.

Bake brie for about 10-15 minutes.

Remove from oven and add topping to brie.

Return to oven for 3-5 minutes just to warm topping.

Serve immediately with crackers, apples, pears or crostini.
Karen Kelly
I am a blogger, photographer, recipe developer and mom. With three kids keeping me busy, I am always looking for easy, healthy dishes that can be prepared quickly.