Poke is a fresh and filling Hawaiian-style sashimi bowl that will knock your espadrilles off.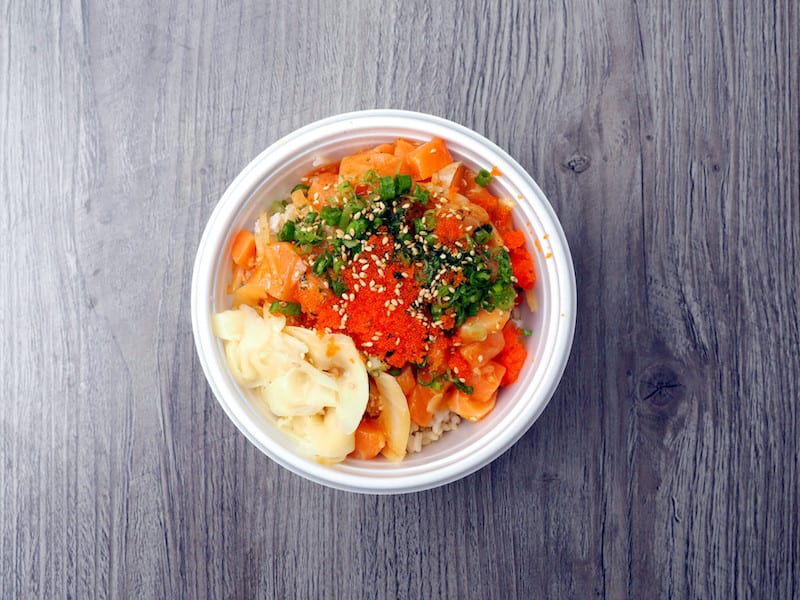 LA Times
Poke, pronounced "poh-kay" and rhymes with "okay," is typically a chilled mix of tuna sashimi, seaweed salad, toasted macadamia nuts, and scallions and dressed with soy sauce and sesame oil. Besides indulging in something fresh and filling, the fun part is that you make your poke the way you like with various toppings! It is served with steamed rice, preferably on a beautiful summer day by the beach. Are you imagining tropical islands and crashing waves dancing in your mouth? Thought so.
Los Angeles boasts of its fresh cuisine and diverse produce that it's no surprise poke has become so popular in this city. So won't you give it a try? Here are five of many poke places that have popped up!
Poke Poke – Venice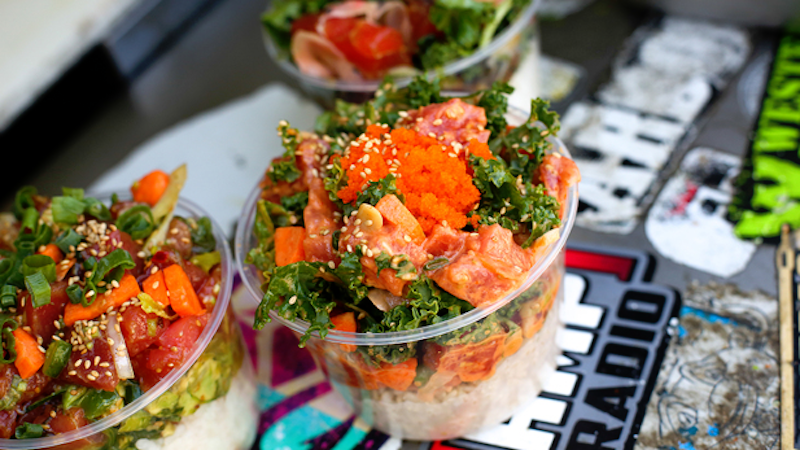 Poke Poke
If you're going to try poke for the first time, with an iconic Southern California beach backdrop included, it is mandatory to go to Poke Poke. While the line of locals and tourists alike will test your patience and hunger, the wait will be well worth it. Literally a two window hole-in-the-wall, the friendly and efficient boys behind on the other side of the wall pump out your customized poke bowls with an upbeat vigor. Sit at one of the picnic tables, but be forewarned…the desensitized seagulls and pigeons are all eyes on the prize. Otherwise, spread out a blanket on the sand and people watch as you enjoy your poke. Oh, if you still have room for dessert, go back for an acai bowl. It's pretty much a decadent vitamin bomb.
1827 Ocean Front Walk Venice, CA 90291
poke-poke.com
Bobarrito – Santa Monica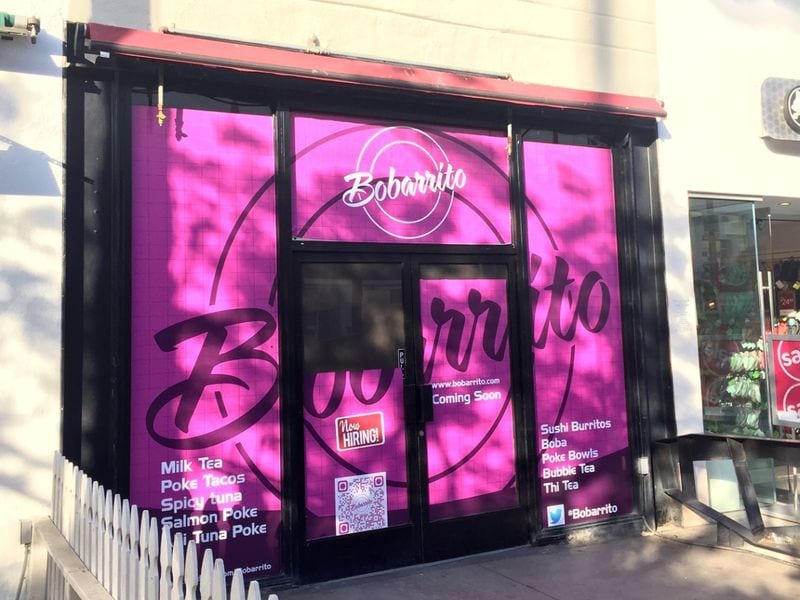 EATER LA
Along the bustling 3rd St. Promenade is the soon-to-be-opened, Bobarrito. Now this sounds interesting. Originally a food truck, this brick and mortar will be serving poke bowls, sushi burritos, and various boba flavors (a light and sweet drink with tapioca balls). Though nestled on tourist-trap avenue, it's yet another poke place to try!
3rd St., Santa Monica, CA 90401
bobarrito.com
8oz Poke – Sherman Oaks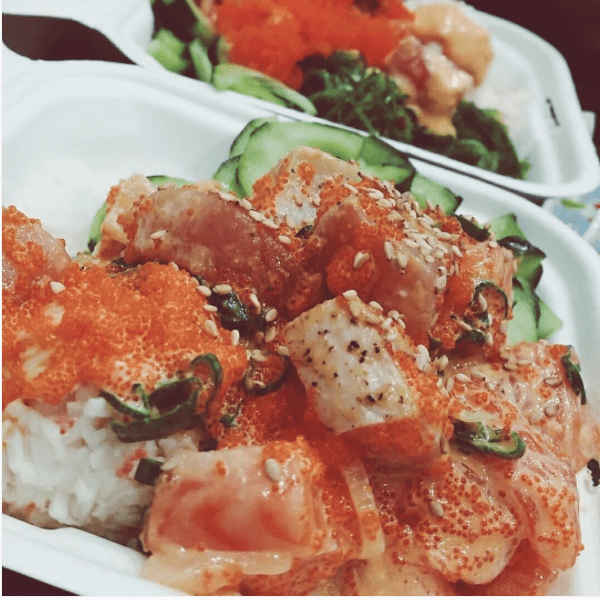 Thank goodness there are poke places popping up in the valley! 8oz Poke has bragging rights to hungry, return patrons who are happy with generous servings of the fresh protein of the sea. Located along the popular Ventura Blvd, be sure to stop by this place on a hot day. Wait, but it's always hot in the valley…
15030 Ventura Blvd. #2
Sherman Oaks, CA 91403
instagram.com/8ozpoke
Pokinometry – Los Angeles

Pokinometry
This one popped up in 2014, in a culinary dead zone. Pokinometry has taken the Hawaiian-style sashimi to the next level offering it in the form of wraps, salads, with chips, or with the classic steamed or brown rice. Vote to try them all!
Hollywood and Highland
6801 Hollywood Blvd Suite 316
Los Angeles, CA 90028
pokinometry.com
Spinfish Poke – Pasedena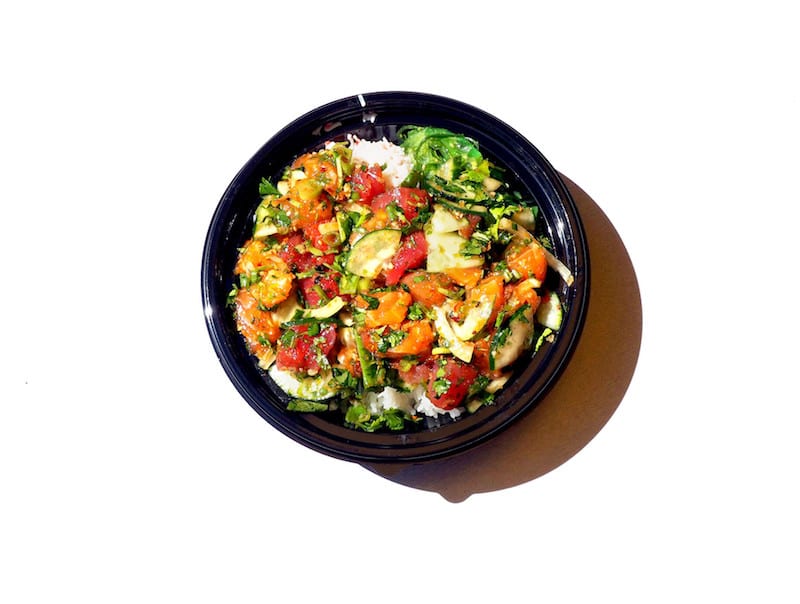 LA Times
Usually poke places are super casual with not much attention to the dining space. Enjoy your poke in a sleek and modern atmosphere with indoor and outdoor patio dining at Spinfish Poke. Originally in Pasedena, this shop wants to add their own flare to the westside beach front in Santa Monica. Spinfish offers nine impressive signature poke bowls and of course the option to create your own with enough options that will make your head spin like a one-eyed cat at a fish market. Get it? Pun intended.
808 Wilshire Blvd Ste 100
Santa Monica, CA 90401
spinfishla.com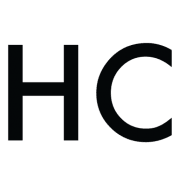 Reena Retuta
As a Culinary Adventurist, getting her hands into food before it gets onto the plate comes naturally to Reena. She spit-roasted her first whole pig at the age of eight, harvested hazelnuts in Italy, butchered a lamb at a ranch in Australia, spent a summer splitting open live lobsters at a traveling pop-up kitchen in Holland, and visits a small vineyard along the central California coast to make wine and olive oil each year. She's determined to find the elusive white truffle in her lifetime. A graduate from the University of Gastronomic Sciences in Italy, Reena holds a deep appreciation for cultural traditions in food, and her favorite simple pleasure is sharing a meal al fresco.