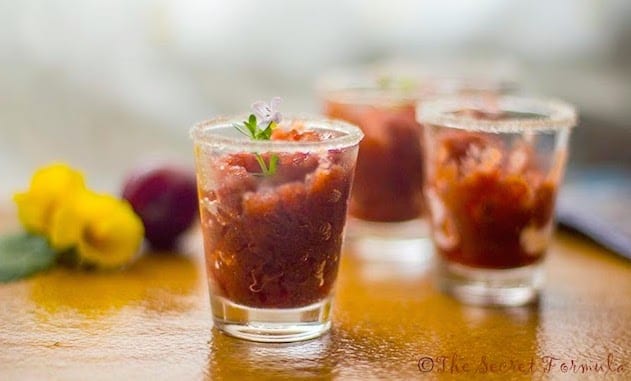 When in season, plums are delicious just as they are, no baking, freezing, or sugar necessary. However, to get in the summer spirit, we challenge you to a simply sweet plum granita.
By Ila Dubey Dhulipala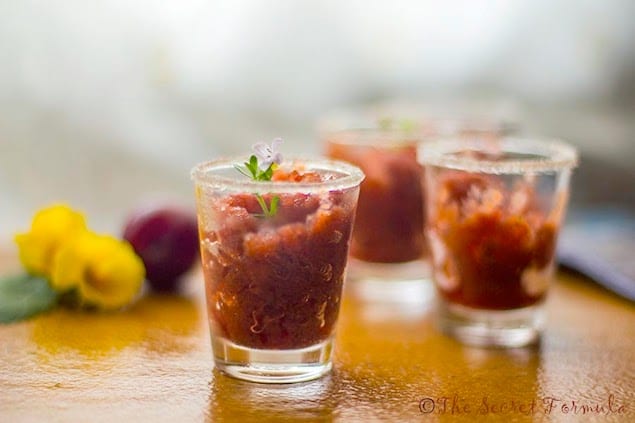 For as long back as I can remember, plums, or "alu bukhara" have been associated with a visit to my grandparents' home in Delhi, along with many other such exotics. Today, they are all freely available right here in the city where I live. With unfailing regularity, every season the plums appear, right from the push-cart vendors to the gourmet stores.
I can never resist the urge to buy some pure, unadulterated nostalgia whenever I see them.
While the imported plums and nectarines are delicious, it is the tart-sweet juiciness of the local varieties that I truly love, where you have to carefully pick out the darkest, yet firmest, specimens to get the perfect mix of texture with the characteristic sweet-sour taste.
As with pretty much every other fruit, I really think the best way to eat them is just as they are, fresh and natural, uncooked, un-processed.
So this granita, is the closest possible to the natural, not-so-subtle taste of those very plums. The fresh, flaky-ice texture only enhances it. Other ingredients are minimal. And no ice-cream maker required!
For sweetening, I used fresh Stevia leaves from my garden (see here for more about this wonderful sugar alternative) so it is suitable for a sugar-free diet.

Plum Granita
When in season, plums are delicious just like the are. However, to get in the summer spirit, we challenge you to a simply sweet plum granita.
Author:
Ila Dubey Dhulipala
Ingredients
Plums/Alu bukhara - 5-6 largish, ripe, juicy ones
Water - 1 cup (200-250 ml)
Fresh Stevia leaves - 12-15 nos (or, to taste) Substitute with stevia powder or extract, but the fresh leaves taste best in my experience. (See here for more)
Black salt - 2 pinches, or to taste.
Himalayan salt - one pinch
Red chili powder - 2-3 pinches, or to taste. (optional)
Bhuna jeera (Roasted cumin seed) powder - 2-3 pinches (optional)
Fresh holy basil/Tulsi - 2-3 tender leaves (optional)
Fresh lemon juice - a squeeze or two (optional; - it will keep the colour brighter, but you might want to increase sweetness if you do).
Instructions
Wash, de-stone and roughly chop the plums. You can see how the smaller variety have a richer colour all the way to the pip.
Add all the other ingredients and blend thoroughly. Adjust seasonings and sweetener to taste, which will be a bit milder after freezing.
Strain at into a metal pan and place in the freezer to set at it's coldest setting.
Once nearly set, take it out and thoroughly beat with a fork to break up the ice crystals into smaller bits.
This process of freeze-till-almost-solid, then beat-with-a-fork, should ideally be repeated at least once or twice, to get the perfect flaky ice crystals.
And that's it. Serve in shot glasses. Tongue tickling too. Garnish used is an edible, medicinal herb from my garden called Jalbrahmi.
Ila Dubey Dhulipala
I'm passionate about good nutrition and maintaining a conscious kitchen and trying to make organic, healthy, and sustainable choices. With home-cooking foodies on both sides of the family, a definitely-gourmet husband, kids with equally strong and very diverse tastes, there's never a dull day, and no shortage of food for the soul, mind, body and blog.