Kalle Bergman spent three days at the iconic Marbella Club and came back with lots of love for the legendary hotel.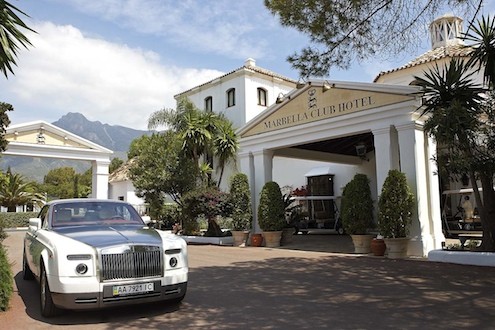 If you're all about the newest, funkiest hotel in the world where you sleep upside down in a red sphere – you should save your eyes and stop reading here. But if you are just slightly like me, a person who has a thing for the classic virtues of luxury hotel living – welcome to cloud nine.
On the (almost) southernmost tip of Spain lies Marbella. Once a small and distant fishing village that nobody else than the locals cared about, it is now considered the most exclusive of the many seaside towns and resorts on the stretch from Malaga to Gibraltar known throughout the world as the Costa del Sol.
When talking about Marbella, there is absolutely no way around the Marbella Club Hotel. In fact, the legend of this town as the place where royalties and celebrities partied during the 50's, 60's and 70's is completely intertwined with the hotel. The story of Marbella and the story of Marbella Club don't go hand in hand. They are the same story.
In the spring of 1947, German Prince Alfonso von Hohenlohe arrived in Marbella for the first time. He was there on a mission from his father, Prince Max von Hohenlohe, who had visited the town the year before and decided that he wanted to purchase a lot where he could get away from the hustle and bustle of Madrid. Prince Alfonso stumbled upon a run down finca on the outskirts of town, and immediately fell in love with the beauty and tranquility of the place. But he also saw something in it not many others did. An opportunity to build a casually elegant refuge for him and his jet set friends on the edge of the Mediterranean. In 1954, Marbella Club opened its doors to the public for the first time.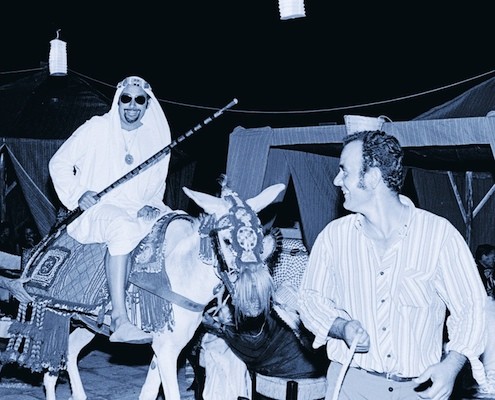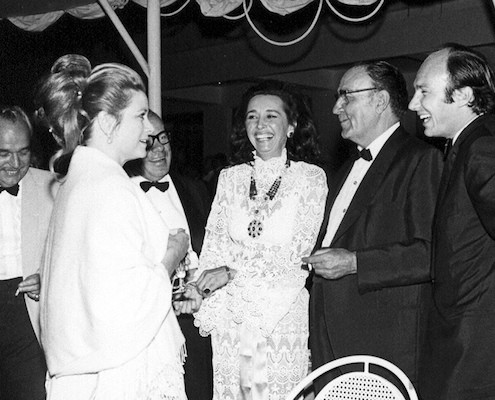 Initial success was built around a telephone line. Marbella Club had the only phone in Marbella, and this usually meant that passers by stopped at the Club to make important calls to Malaga, Madrid and the rest of Europe. But, since a call to Malaga (there were only two phone lines in Andalucia) could take four hours to connect and Madrid could be a whole day, the guests needed a coffee, a meal, some workout on the tennis court and perhaps even a bed to sleep in while they waited. Prince Alfonso kept building services, and soon the phone line was not the main attraction of the Marbella Club. Together with his cousin, the still active and very charming Count Rudolf Graf von Schönburg (known in Marbella simply as Count Rudi) he kept on building on the reputation of Marbella Club, and during the late 50's, 60's and early 70's turned it into the place to be for the European Jet Set. The guest list of those days was pretty much a Who's Who of actors, industrialists, politicians and royalty. The Fürstenbergs and the Bismarcks came. The Duke of Windsor. Edward Kennedy. James Stewart. Brigitte Bardot. Ava Gardner. Audrey Hepburn too. Even bankers like the Rothschilds and Oppenheims and industrialists like Henry Ford, the Krupps, the Agnellis, Onassis and Stavros Niarchos showed up in Marbella. And many many more.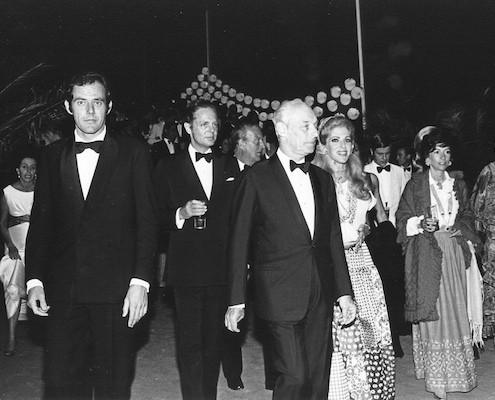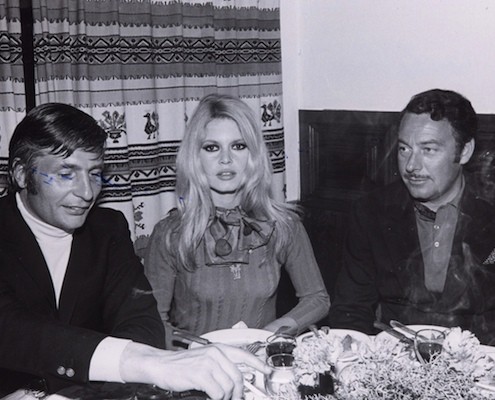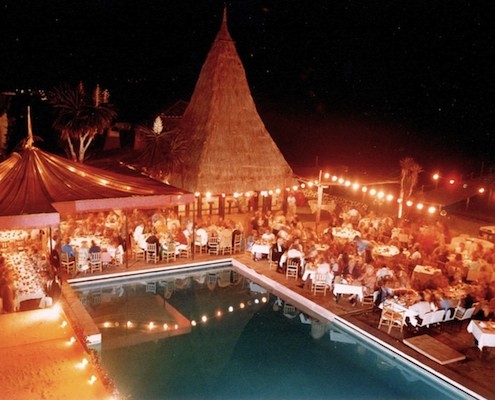 Almost 70 years after opening its doors, Marbella Club is still synonymous with Marbella elegance, and the hotel stands as a beacon of old world wealth and style on the otherwise often overcrowded and overbuilt Costa del Sol. And you can still find the occasional international celebrity or royalty strolling the gardens of the Club.
The keywords at Marbella Club are discretion and classic elegance. We're talking old fashioned service, old fashioned waiters and old fashioned surroundings. But it's old fashioned in a good way. It doesn't feel like a museum, more like a time capsule where ancient virtues have been preserved for future generations.
Now, let's make it clear that Marbella Club isn't a cheap place. This is classic luxury, and classic luxury costs money. Rack rates go from 500-700 EUR / night for a standard double room, and 800-950 EUR for an executive double. If you want to go all in on a suite, calculate around 1.100 EUR per night and upwards.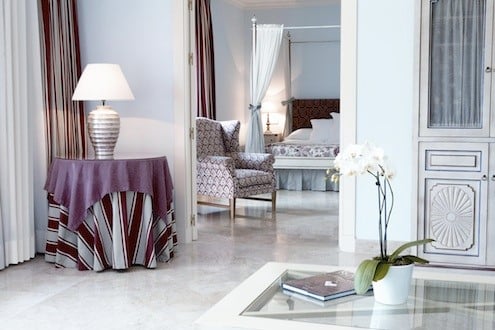 What you get for your money is one of the best locations in Europe and a very romantic environment. Right on Marbella's Golden Mile, on the premier beachside property in Spain, Marbella Club is a resort you really do not have to leave during a prolonged weekend stay. It's not a perfectly laid out gigantic contemporary resort, but more of an intimate maze of gorgeous gardens, restaurants, alleys, pools and gazebos. The vibe is very relaxed, with a scent of bougainvilleas everywhere. You'll meet the occasional golf cart and polite staff rushing from one room to another, but if you don't feel almost instantly unwound at the Marbella Club, you have some serious stress issues.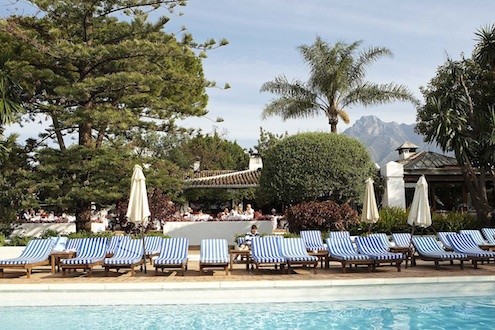 So, what about the food? Well, you have a handful of dining options at the Marbella Club, and they all have their own distinctive characters, ranging from very classic to quite modern.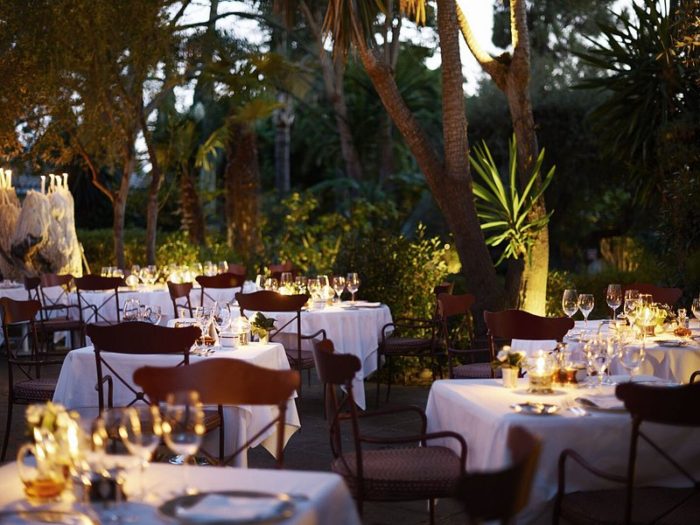 The Grill – the main restaurant of the Marbella Club – serves classic food in textbook classic manner. We're talking serious looking sommeliers with silver tasting cups and equally serious looking silver cloches covering the food. And the food itself isn't exactly taken out of the Modernist Cuisine Cookbook, but instead tips its hat to Escoffier and all the ingredients and styles of classic French cuisine. To some people (like me) both the food and service might seem a little out of touch with current culinary trends, but the fact remains that this is one of the most successful hotel restaurants in Europe. It fills up every single night of the year, and if not for the food – it is absolutely worth a visit just for the setting and ambience.
It is one of the most beautiful restaurants I've ever visited, during late summer, before the restaurant moves indoors for the winter. A warm breeze, hundreds of lit candles in the trees and on the tables. If you're on the fence in regards to proposing to your loved one, the violently romantic Grill will surely push you over the edge and force you down on one knee whether you want to or not. And with a celebrity or two on the table next to you, you can't help but feeling like you are also playing a small part in keeping the legend of Marbella Club alive.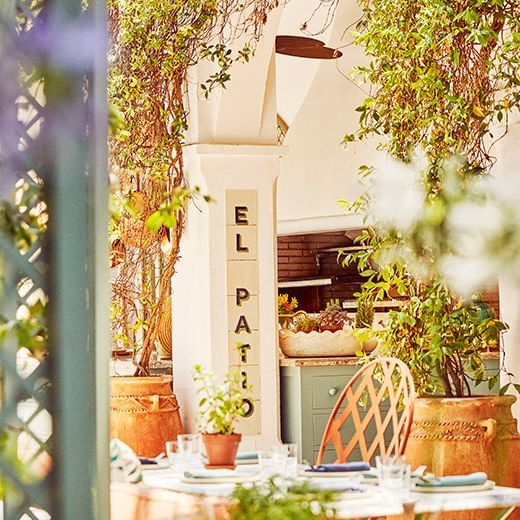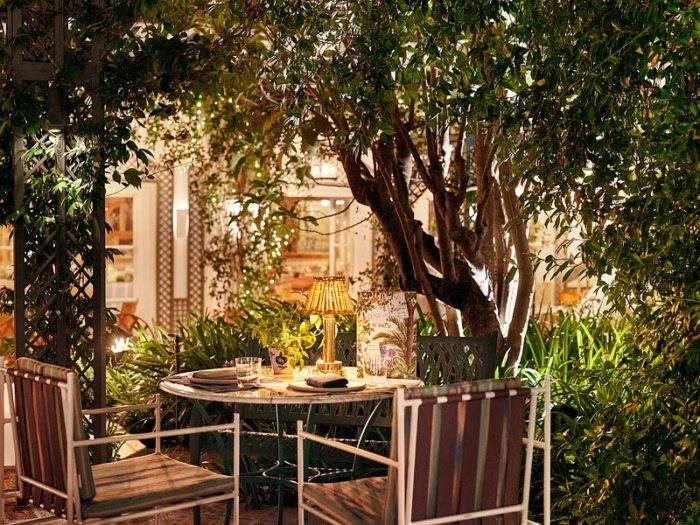 El Patio
As beloved by in-the-know locals as well as seasoned guests, spend time outside all year round in this magical sanctuary. Come for a coffee while you read the paper, meet for lunch, aperitifs, or after-hours cocktails and Galician oysters and dine among the jasmine scented vines. Enjoy fresh Mediterranean cuisine at El Patio restaurant while catching up with friends over a sharing dinner or tempting tipple.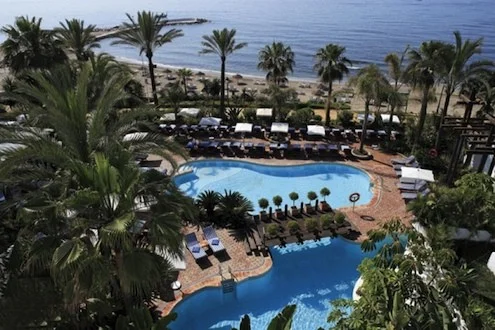 Beach Club
The lunch buffet at the Marbella Club is legendary. Served for as long as anyone can remember at the seaside Beach Club, it has become almost synonymous with Marbella Club. Every day during the summer, the chef serves up a lavish buffet featuring seafood, cold cuts, fruit, salads and a dessert table to kill (or die) for. With the guidance of a seasoned Marbella Club going friend, my focus was completely on the seafood part – you can order ad-libitum amounts of langoustines or lobsters from the grill that the lovely waiters will then bring to your table (so you don't have to walk the 20 feet to the buffet yourself). Top that with a few plates of finely sliced Ibérico de Bellota ham (Pata Negra), and this particular food writer is in heaven.
The a la carte at the Beach Club circles around classic Spanish ingredients, with a fresh streak of seafood and vegetables. You can choose to have just a light gazpacho or go all in on grilled fish or meat if you feel like a more sturdy lunch to prepare for afternoon excursions.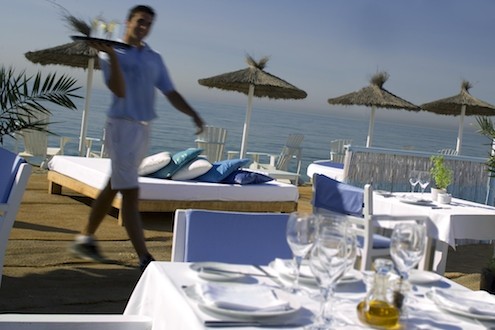 MC Beach
At the MC Beach chiringuito, Marbella Club has created an alternative to those who prefer a more relaxed ambience. MC Beach is something of a mix between a younger chill out style a' la Nikki Beach and the more old fashioned luxury at Marbella Club, and it attracts a stylish 30 something crowd. The food is typical chiringuito cuisine (fried or grilled fish and salads), with the Marbella Club signature to it. It's not open during winter time, but has grown increasingly popular with the summer crowds during the last few years and is now a very important part of the Marbella Club experience.
Rudi's
Celebrate the Marbella Club's enduring sociable spirit with champagne or a cocktail in the hotel's elegant homage to their cherished Count. Pause for tapas, a game of backgammon, and a fireside nightcap over live music in this timeless Bohemian lounge. If's the ultimate escape from the heat and hustle of the Costa.
All in all, Marbella Club is a place you go not to experience the latest experimental culinary trends, but to pause, relax and enjoy the classic virtues that Prince Alfonso founded the hotel on. To me, it's an incredibly exciting mixture of history and future. With one foot perhaps nostalgically looking back in time and dreaming of parties with Brigitte Bardot, the hotel also keeps a keen eye on the horizon. There is modernity in the legend, and there is an understanding of the modern traveler, even if changes are made wearing velvet gloves. It's a sympathetic approach.
Marbella Club Hotel is a keeper and I will definitely be coming back for more.
Marbella Club
Blvd Príncipe Alfonso von Hohenlohe
Ctra. de Cádiz, Km 178
29602 Marbella
Spain
Phone + 34 952 822 211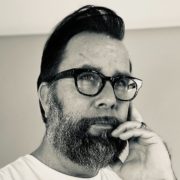 Kalle Bergman
Kalle Bergman is a food writer and media entrepreneur who is the founder of Honest Cooking and PAIR Magazine. As a food writer, his writing has been regularly featured in publications like Gourmet, Los Angeles Times, Huffington Post and Serious Eats. He is obsessed with simple food, more often than not from his native Scandinavia.