Pineapple Mango Coconut Crumble with Candied Ginger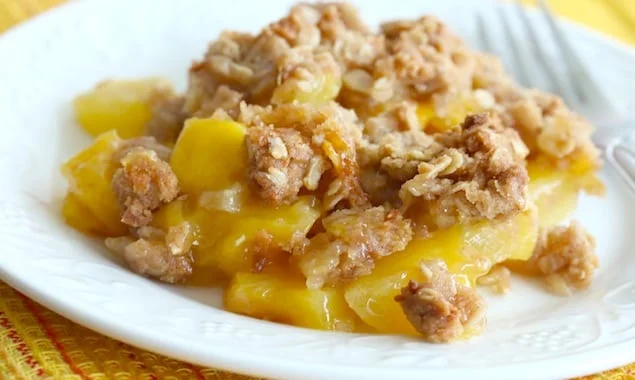 Warm spices and tropical fruits make this crumble so crave-able. It tastes even better cold, the second day with a scoop of ice cream.
By Kimberly Killebrew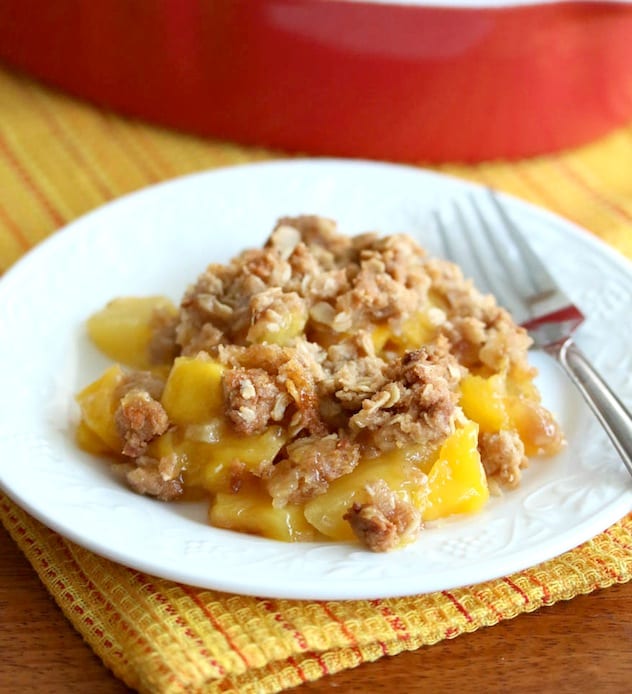 If you like pineapple and mango and coconut and ginger…and crumble….ooh-la-la, prepare to fall in love!

Pineapple Mango Coconut Crumble with Candied Ginger
Warm spices and tropical fruits make this crumble so crave-able. It tastes even better cold, the second day with a scoop of ice cream.
Author:
Kimberly Killebrew
Ingredients
2 cups chopped fresh pineapple,cut into ¼ inch chunks (about 1 small pineapple)
2 cups chopped fresh mango, cut into ¼ inch chunks (about 2 large mangoes)
2 tablespoons finely chopped candied ginger
½ cup white sugar
2 tablespoons all-purpose flour
For the Coconut Crumble:
½ cup old-fashioned rolled oats
½ cup all-purpose flour
⅓ cup packed brown sugar
⅓ cup flaked sweetened coconut
1 teaspoon cinnamon
¼ teaspoon salt
¼ cup melted butter (vegans: coconut oil or vegetable spread)
Instructions
Preheat the oven to 350 degrees F.
Combine the pineapple, mango, ginger, flour and sugar in a mixing bowl. Stir to thoroughly combine.
To make the Coconut Crumble: In a separate bowl, combine the oats, flour, brown sugar, coconut, cinnamon and salt. Pour in the melted butter and stir to combine.
Spoon the fruit mixture into an 8x8 inch baking dish and crumble the dry mixture over the top. Bake uncovered for 45-50 minutes or until the crumble is light brown and the mixture is bubbling.
Serve warm with ice cream or whipped cream.
Kimberly Killebrew
Raised in Western Europe, widely traveled, and currently residing near Seattle with her husband and children, Kimberly loves preparing and experimenting with a large range of flavors and cuisines. This is reflected in her food blog, The Daring Gourmet, where she invites all to "tour the world through your taste buds." Passionate cook, recipe developer and photo enthusiast, her culinary repertoire includes everything from gourmet to simple comfort food, and, as she puts it, "simply downright good eats."