Persimmon and Date Pudding with Ginger and Coconut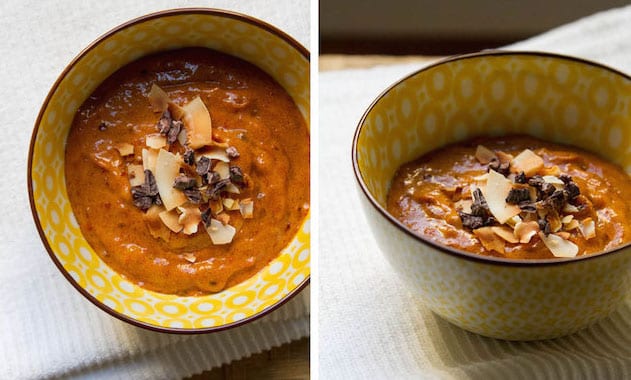 A seasonally sweet snack with great spice and slight bitterness from cocoa. It is simple to execute and can adapted to include your favorite flavors.
By Katherine Sacks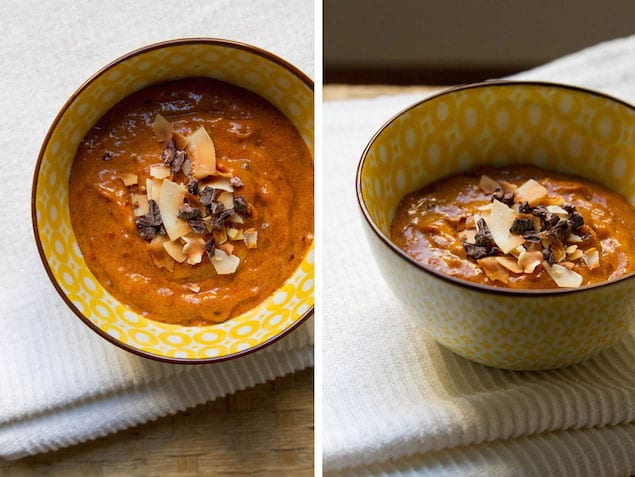 This sweet treat is more of a snack then dessert. I was thinking about that healthy sweetness this week, and how I could adapt the recipe for a seasonal treat. At first I thought to combine roasted pumpkin purée and cocoa, but then remembered one of my favorite fall fruits, persimmons, and how well they pair with dates. As a plus, both are high in fiber and B vitamins.
This is a super simple recipe which can easily be adapted to include other spices and fruit flavors, and it's perfect for a healthier snack during the holidays. The spice of the ginger, sweetness and earthy flavors of the dates and persimmons, and the cocoa combine to create a funky chocolatey mousse. Don't get me wrong, this pudding won't be replacing our pecan and pumpkin pies or desserts during the holiday feasts, but I am happy to have it up my sleeve when a craving hits. For more chocolate flavor, fold in 3 ounces of melted chocolate.

Persimmon and Date Pudding with Ginger and Coconut
A seasonally sweet snack with great spice and a slight bitterness from the cocoa. It is simple to execute and can adapted to include your favorite flavors.
Ingredients
2 very ripe Hachiya persimmons
7 ripe medjool dates
½-inch piece ginger
1 teaspoon cinnamon
2 tablespoons cocoa
Coconut flakes, toasted
Cocoa nibs
Instructions
Remove the stems from the persimmons and place the fruit in a blender. Remove the pits from the dates and add them. Use a fine grater to grate the ginger into the blender.
Add the cinnamon and cocoa.
Turn the blender on medium-low, and mix together until ingredients are well combined. (A handheld blender can also be used.)
Taste, and add additional cocoa or cinnamon, as needed. Pudding can be enjoyed as is, or can be chilled for a firmer texture.
Serve in bowls and garnish with toasted coconut and cocoa nibs.
Katherine Sacks
Katherine Sacks is a Berlin-based freelance writer and recipe developer specializing in travel, food, lifestyle, and health topics. A graduate of Drexel University's culinary arts department and Northwestern University's Medill School of Journalism, Katherine combines seven years of restaurant experience with her reporting and editing background. Her work has appeared in Chicago magazine, the Chicago-Sun Times, and FoodandWine.com, among other publications. She also contributes to culinary trade publication StarChefs.com, Forbes Travel Guide, and Snooth Eats, and blogs at LaVitaCucinare.com.