Sponsored Post: Whether you are hosting a wine party or looking for the perfect pairing for your dinner party menu, we've teamed up with Sonoma-Cutrer to provide wine inspiration for your next gathering.
Stressing over what wine to pair with holiday food? Relax and check out these wines pairing ideas featuring sweet potatoes served with bacon jam and wine that can be shipped to your door.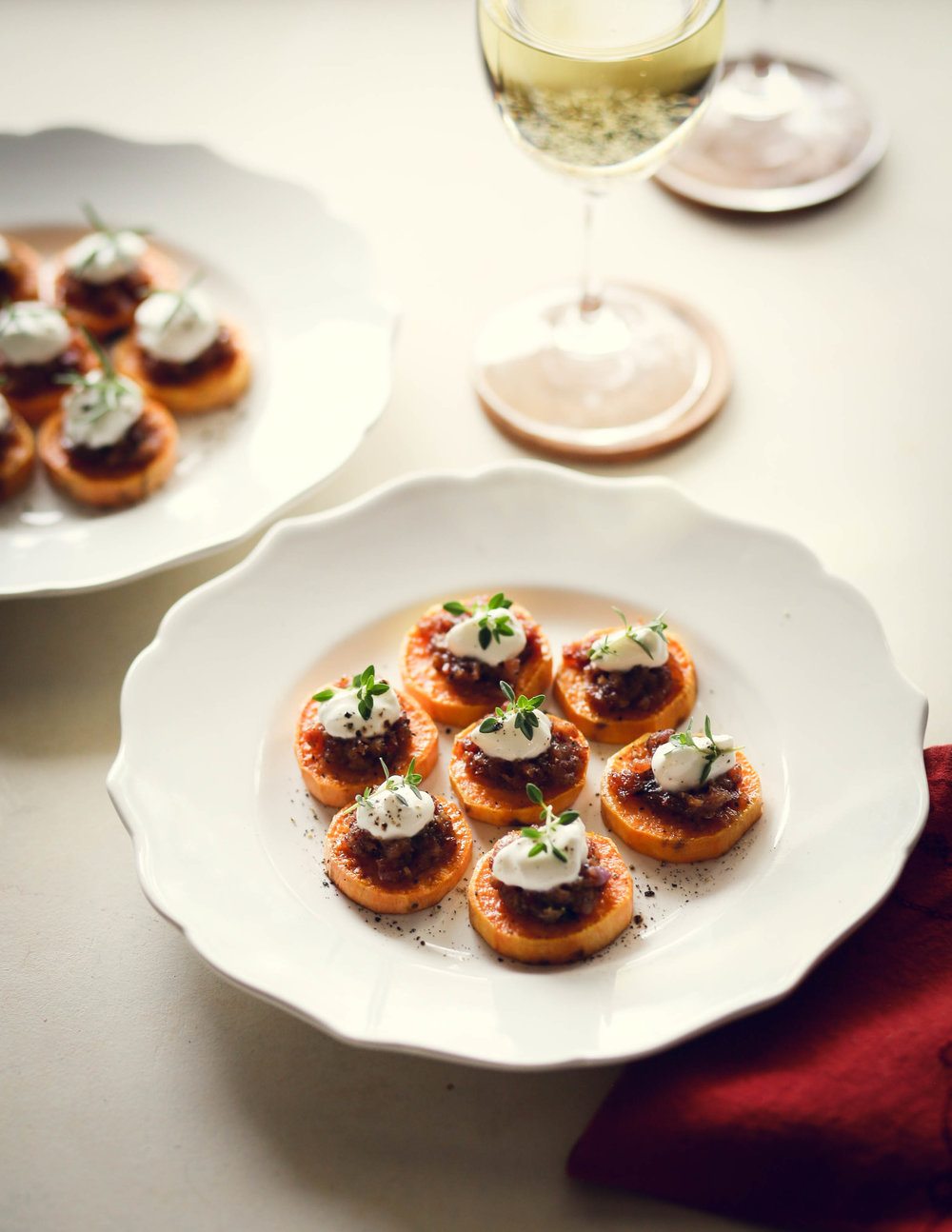 I had my first sip of wine when I started working at a restaurant over a decade ago. I was immediately fascinated with the taste, the process, and the idea of pairing it with food. I learned how to breathe in with wine in my mouth to enhance and help identify the subtle flavors. And I discovered that the world of wine included a much longer list of choices than I ever expected. It can all be very overwhelming, especially when you are in charge of choosing wine for someone else to drink with their meal. Yes, there are many things to consider. In the end, the most important thing is that the food and wine taste good to you. It doesn't always matter how much the wine costs or how many fancy ingredients are in your food. It can be as simple as something being good (or not). So if you're starting to panic a bit about choosing the perfect wine to pair with the most impressive meal this holiday season, take a deep breath and just try a few different combinations. Don't overthink it. Enjoy it. Close your eyes and mindfully taste everything and you are sure to find what you're looking for.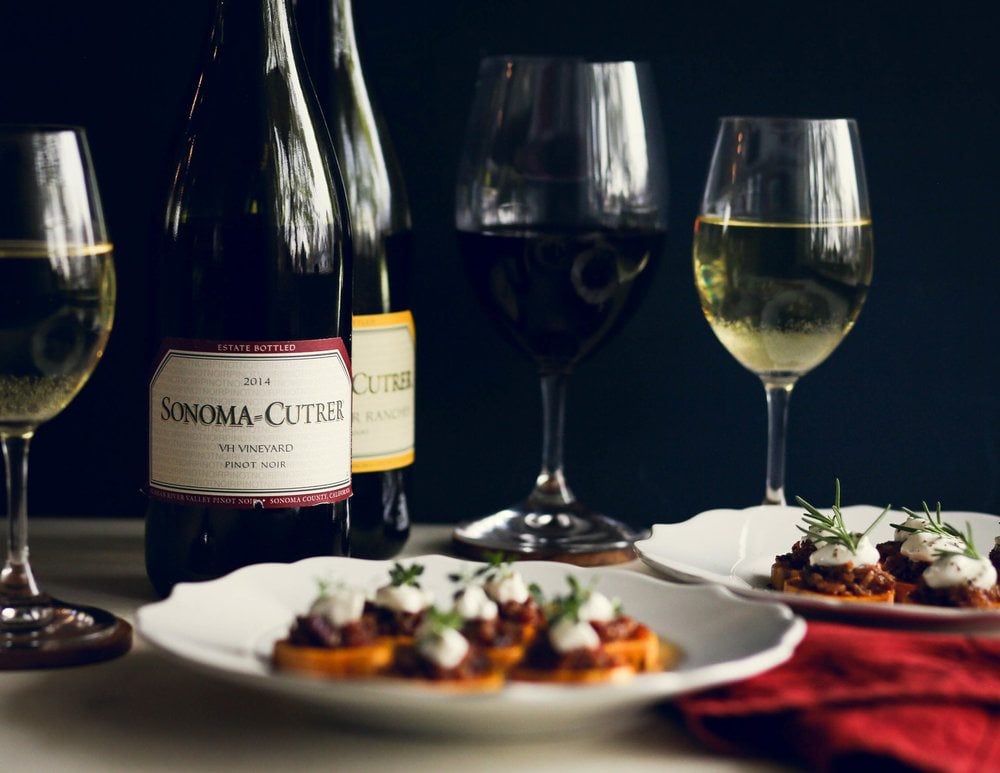 Of course, I have to offer a little assistance in this area so you aren't completely alone. Today I bring you: sweet potato medallions with bacon jam! They are the PERFECT holiday appetizer and are sure to wow your guests. I made them for a rehearsal dinner a few weeks ago for some dear friends who got married and wow, were they a crowd pleaser! Plus, they are gluten free, so you can rest easy serving this to friends with that particular dietary restriction. (Just make sure you purchase gluten free bacon.)
For the wine choices, I am featuring a Chardonnay and a Pinot Noir from Sonoma-Cutrer. They ship their wines, so it is crazy easy to order enough for your holiday parties without setting foot in a liquor store. Wine! I mean…WIN! I'm always happy to have fewer errands to run this time of year.
Lets break this down for a moment: you cannot go wrong with sweet potatoes and bacon. You also cannot go wrong with a good Chardonnay or Pinot Noir. These are my go-to wines for parties because they please most people. The key? Keep the Chardonnay on the bright side rather than the buttery side. Sonoma-Cutrer's Russian River Ranches Chardonnay is a lovely choice that has the substance to stand up to flavorful food, but enough effervescence to be refreshing and drinkable. For Pinot Noir, I like to keep things smooth. Reds can be tough to pair with food (and people) but Pinot Noir tends to be one of the more palatable choices for the widest range of people. The Vine Hill Pinot Noir from Sonoma-Cutrer was the perfect choice for this appetizer. It has a smoothness and depth that is perfect for a chilly night and words beautifully with the smoky flavor of the bacon jam in this particular recipe.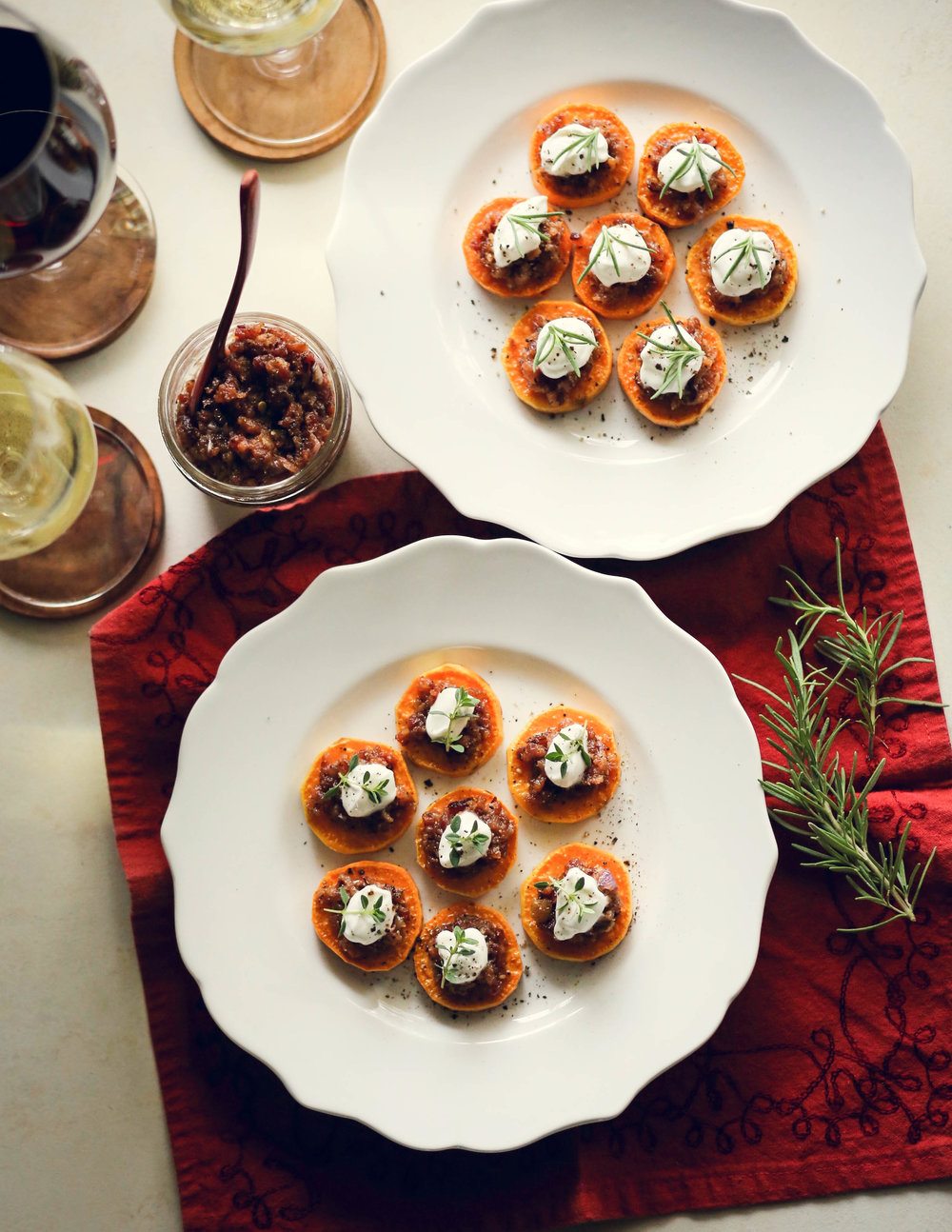 When it comes right down to it, the best thing you can do when you are entertaining is to breathe and enjoy your guests. Regardless of whether you pair this with that or the other thing, you will all have a memorable experience filled with all the warmth the holidays bring. Cheers to that. You got this.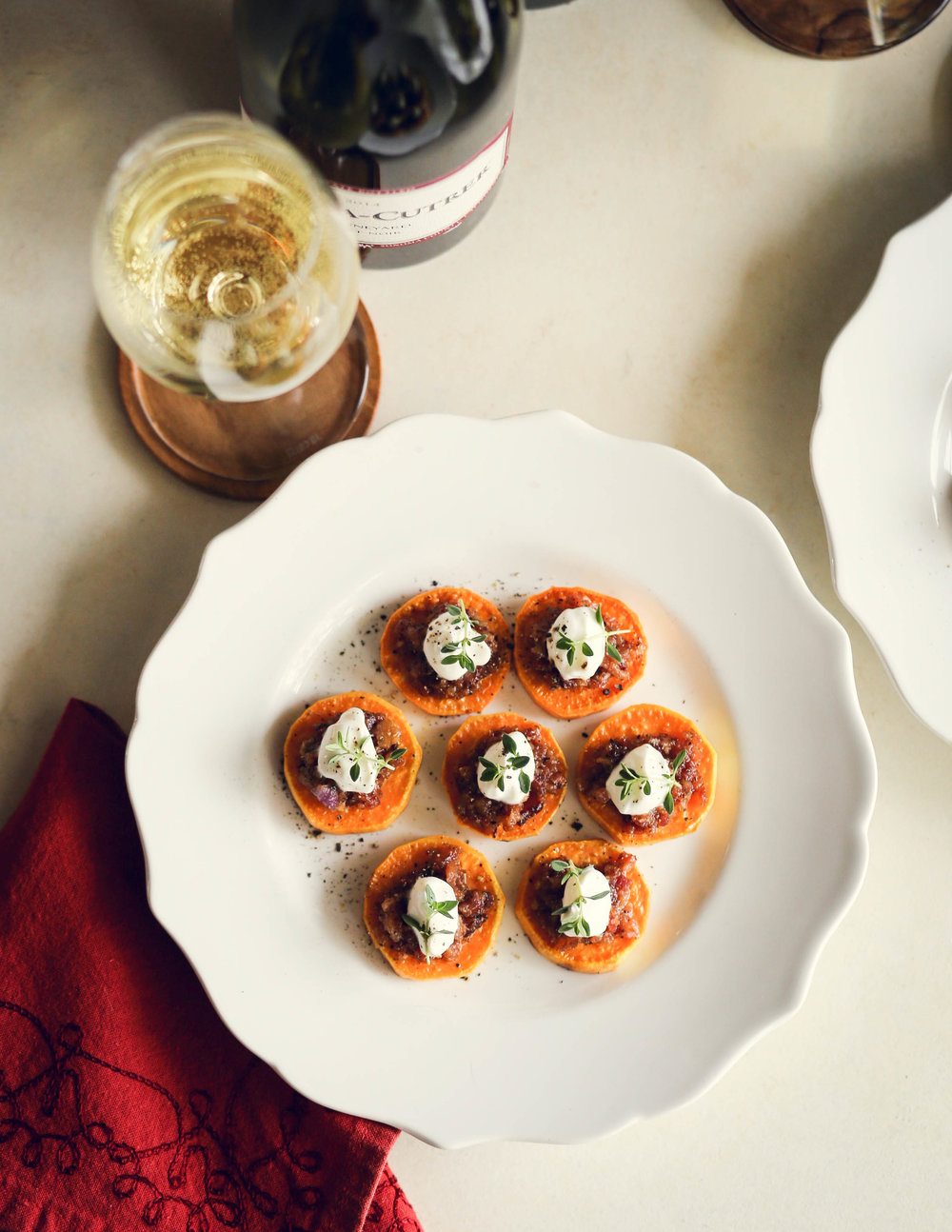 Print

The Perfect Appetizer with Wine: Sweet Potatoes and Bacon Jam
---
Author:

Rachael White

Yield:

30

bites

1

x
Description
Stressing over what wine to pair with holiday food? Relax and check out these wines pairing ideas featuring sweet potatoes served with bacon jam and wine that can be shipped to your door.
---
2

large or 3 medium sweet potatoes (you'll want enough to make

30

medallions)

2 tablespoons

olive oil

1

lb bacon (glu

ten

free if needed, otherwise just look for thick cut, meaty bacon)

1

head of garlic (sliced in half across its equator, drizzled with olive oil and wrapped in foil))

1

medium red onion (sliced)

2 tablespoons

maple syrup

2 tablespoons

wine (Chardonnay or Pinot Noir both taste great)

2 teaspoons

freshly ground black pepper
creme fraîche or sour cream
thyme (rosemary or chives for garnish (thyme is my favorite))
---
Instructions
Preheat the oven to 400 degrees. Peel the sweet potatoes and cut them into medallions about 1/2 inch thick. Arrange them on a baking sheet lined with parchment. Brush the medallions with olive oil on both sides. Bake until just tender, about 20 minutes. Remove from the oven and set aside.
Keep the oven heated to 400. Arrange the bacon on a baking sheet lined with foil. On another baking sheet lined with parchment, arrange the onion slices and the head of garlic. Put the bacon on a rack in the top third of the oven and the onion and garlic on the bottom third. Cook for 25 minutes, switching the pans halfway through. If the onions start to get too browned, remove them from the pan but keep the garlic in until it is soft and the cloves easily pop out of their skin.
Put the cooked bacon and the onions in a blender. Squeeze the garlic cloves into the blender as well. Pulse until everything is about the same size and the mixture is nearly spreadable. Add the black pepper, maple syrup and the wine to the blender and pulse again a couple of times to combine. Taste and adjust seasonings if necessary.
Spoon 1 teaspoon of the jam onto each sweet potato medallion and place on a serving platter. Top with a teaspoon of creme fraîche or sour cream and garnish with your choice of herb. Grind additional black pepper over the medallions if desired.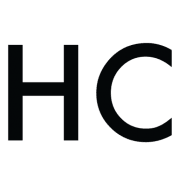 rachaelwhite
Rachael writes recipes for foods that are simple, comforting and delicious. Whether you are cooking for your family or having friends over for dinner and drinks, you'll find recipes here to fit any occasion. From cocktails to appetizers, desserts and entrees, the recipes you will find here incorporate Rachael's desire for Midwestern comfort food, love of International cuisine, and need for dishes that don't take hours to make.