Laura Lewis goes all British this morning. Making classic scones, but adding a few ingredients to make them just a little more interesting.
By Laura Lewis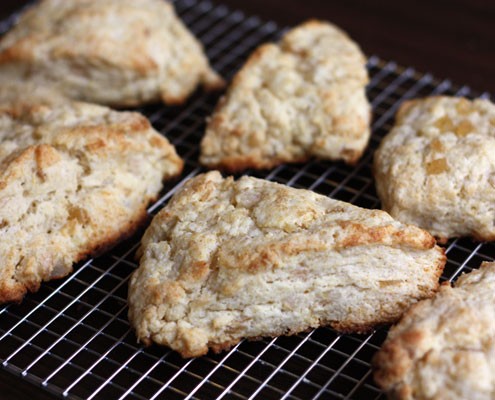 For me, the perfect morning starts with a latte and a scone. I'd like to then continue my perfect day by lying on the beach with a book for several hours, but I have to take what I can get. The goal, then, is perfect scones. Some coffeeshops, without naming names, have put people off scones by serving rock-hard lumps, but that's easily remedied by making them at home. That also allows for a constant stream of different flavour combinations. My current favourite is pear ginger: the buttery pastry is punctuated by juicy fruit and enough ginger to give it a little bite, but still mild enough that it isn't too shocking of a breakfast.
These scones are light, tender, and wonderfully buttery. The key is to work quickly and gently: use very cold butter, and don't work the dough any more than you need to. The perfect texture doesn't hold up for more than a day, but luckily the unbaked dough freezes easily. To make it a weekday breakfast, make a batch on Sunday and pop the unbaked tray in the freezer. Once the scones are frozen solid, you can repackage them in a plastic bag, and take them out individually to bake later in the week. No need to wait for them to defrost: just add a couple minutes to the baking time, and then enjoy your effortless scone.
Pear Ginger Scones:
2 cups (240 g) all-purpose flour
1 tablespoon baking powder
1/4 cup (50 g) sugar
1/2 tsp ground ginger
1/2 teaspoon salt
1/4 cup (60 mL) finely chopped crystallized ginger
3/4 cup (180 mL) diced ripe pear, peeled (a little less than one pear)
5 tablespoons (71 g) cold salted butter, cut into 1/4-inch cubes
1 cup (240 mL) heavy cream
For topping:
1 tablespoon heavy cream
2 tablespoons raw sugar
1. Preheat oven to 425F (220C). In a large bowl, whisk together flour, baking powder, sugar, ground ginger, and salt. Stir in chopped ginger and diced pear.
See Also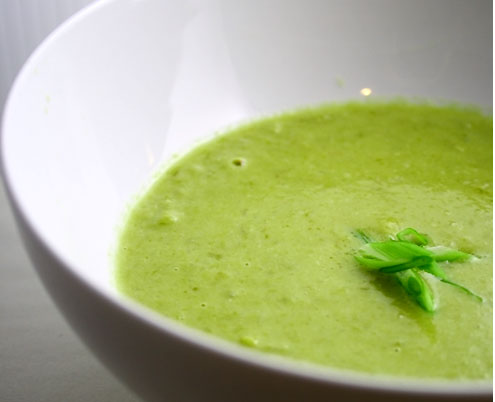 2. Working quickly, cut butter into the dry ingredients using two knives or a pastry blender. Continue cutting butter in until the mixture becomes more coarse, and the butter lumps are pea-sized. Stir in cream. Turn the dough out onto a surface and knead for a few seconds, just until the dough comes together.
3. Gently pat dough into an 8-inch circle, and cut into 8 wedges. Places wedges on an ungreased cookie sheet; brush tops with tablespoon of cream and then sprinkle with raw sugar. Bake until browned, 12-15 minutes. Let cool on a wire rack for 5-10 minutes, then serve.
Laura Lewis
Laura Lewis is a Boston-based contributor to Honest Cooking. She enthusiastic about both cooking and eating, and especially the day's bookends: breakfast and dessert. You can also find her baking at her own website One Cake Two Cake.