Mmmm… Delicious peanut butter brownies, courtesy of Lauren Hardy.
By Lauren Hardy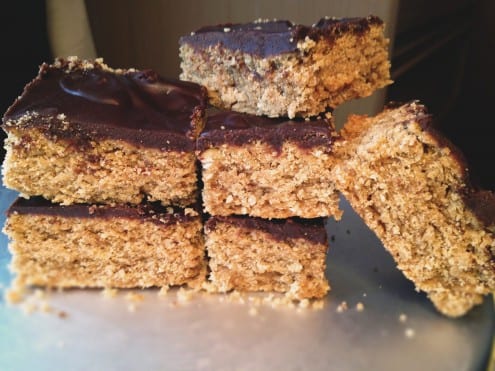 Every so often, I spread peanut butter on my regular brownies. (Sometimes, you just can't have one without the other.) And so, I flipped-flopped the two ingredients. This time, I'm spreading chocolate on peanut butter brownies.

Mmmm... Delicious peanut butter brownies.
Ingredients
1 cup creamy peanut butter
¾ cup crunchy peanut butter
½ cup butter, softened
1 cup brown sugar
¾ cup sugar
2 eggs
½ cup unsweetened applesauce
1½ teaspoons vanilla
2 cups flour
2 cup quick-cooking oats
1 teaspoon baking soda
For the ganache:
1 ½ cups semisweet chocolate chips
½ cup heavy cream
1 tablespoon unsalted butter, softened
Instructions
Preheat the oven to 350? F. Grease a 13 x 9 by 2-inch baking pan and set aside. In a large bowl, beat together peanut butter, butter, brown sugar and sugar with an electric mixer until combined and fluffy. Mix in eggs, applesauce and vanilla.
In a separate bowl, combine flour, oats and baking soda. Gradually add dry ingredients to the creamed mixture and beat until combined.
Bake until brownies are golden and puffed on the top, around 35-40 minutes. Insert a toothpick to test — it should come out dry.
Cool completely on a rack.
Make the ganache:
Place chocolate chips in a heatproof bowl.
In a small saucepan, bring cream to a boil and pour over chocolate chips. Let sit for 1 minute. Whisk in the butter and stir until chocolate is melted and smooth.
Spread ganache over the brownies and let stand until the chocolate has set, about 20 minutes.
Lauren Hardy
Lauren Hardy is a writer, editor and self-taught, experimental foodie. By the time she was 6 years old, she had the Toll House Inn chocolate chip cookie recipe memorized and baked a variety of batches for her family each week. Her passion for cooking flourished during her college years. In addition to her writing aspirations, she hopes to own a bakery someday. You can follow her latest musings on her blog, "Making Life Sweet," at laurenhardy.com, where she blogs weekly about inspiration, food and faith.