If you want to make your own pasta, try using this delightful recipe from Laura Davidson.
By Laura Davidson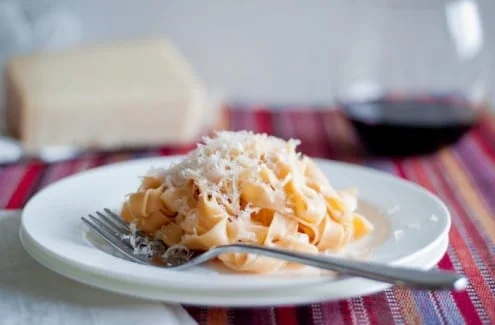 If you want to make your own pasta, try using this delightful recipe.
Author:
Laura Davidson, adapted from Molto Italiano
Ingredients
2⅓ cups all-purpose unbleached flour
½ cup semolina (plus more for dusting)
4 whole large eggs
2 tablespoons tomato paste
Instructions
Making the Pasta Dough:
Combine all-purpose flour and semolina in stand mixer bowl. Using the dough hook attachment, mix over low speed (2) until flours are well incorporated.
In separate bowl or measuring cup, combine eggs and tomato paste. Whisk together until incorporated (it is ok if a few clumps of tomato paste are here and there).
Over low speed, slowly pour in the eggs into the center of the bowl. Continue to mix over low speed until dough begins to come together—occasionally scraping down the sides with a spatula to help the process.
Once dough is mostly incorporated (a shaggy mass), turn off stand mixer and dump the contents of the bowl onto a clean countertop. Don't worry if there is a small amount of dry ingredients not incorporated yet.
Start kneading the dough, using the palms and heels of your hand—the dough should not be sticky to the touch.. Once the dough comes together, discard any dried bits or leftover dry ingredients—depending on humidity and the size of your eggs (even large ones can vary in weight), this can vary from batch to batch. **If for some reason, your dough is very dry, add a teaspoon of water at a time and incorporate. Alternatively, if it seems too tacky, dust your hands and countertop with more all-purpose flour.
Continue to knead the dough for an additional 10-15 minutes, until the dough is very elastic and supple.
Wrap the dough in plastic wrap tightly and allow to rest at room temperature for 45 minutes to an hour. This will allow the gluten in the dough to relax and any excess flour to be absorbed.
Preparing & Rolling the Pasta:
Once dough has rested, divide the dough into six balls. Take one at a time (cover the rest with plastic wrap to prevent from drying out), flatten with palms into a disk and roll (at largest-width setting) using the pasta machine. Fold into an envelope (bring side into center, repeat with other side—open seams facing vertically into machine) and repeat several times at same setting until dough is smooth.
Roll pasta dough into desired thickness. *For thinner, delicate (eg. cream) pasta sauces, roll pasta dough very thin. **If you plan on serving your pasta with a hearty, rougher sauce, roll a slightly thicker pasta. Repeat with remaining pasta dough until all the pasta is rolled out.
Allow rolled dough sheets to dry slightly at room temperature (I hang them on whatever I can find in my kitchen) until no longer tacky (this will ensure that shaped pasta will not stick together). The sheets should feel leathery to the touch.
Shape pasta using pasta machine attachment—I made mine into fettucine. Place the cut pasta onto a baking sheet, coated with a thin layer of semolina. This will keep the pasta from sticking to each other. Store covered with plastic wrap in the fridge or cook immediately.
Cook pasta in large amount of boiling, salted (should taste like the ocean) water until al dente. Prepare as desired.
Laura Davidson
After deciding to take a leap of faith, Laura enrolled in culinary school to pursue her passion for all things food. On her blog, Blogging Over Thyme, she shares her experience as a culinary student, her favorite recipes, stories, and photography!