Peanut Butter and Caramel Cups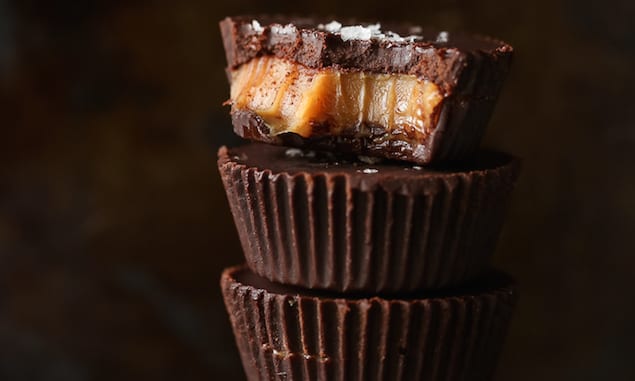 Sink your teeth into these rich chocolate cups filled with a gooey peanut butter caramel and topped with a pinch of sea salt.
By Ashley Melillo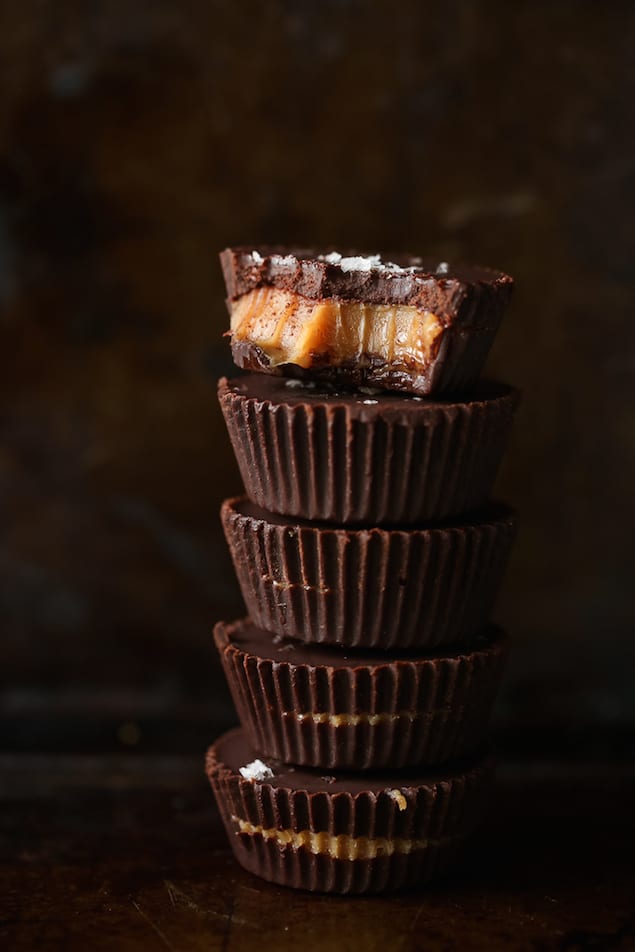 Chocolate, gooey peanut butter caramel, and a sprinkle of sea salt. With only seven ingredients these magical bites can be made.
These peanut butter caramel cups are a mash-up of this, this, and a peanut butter version of this caramel recipe.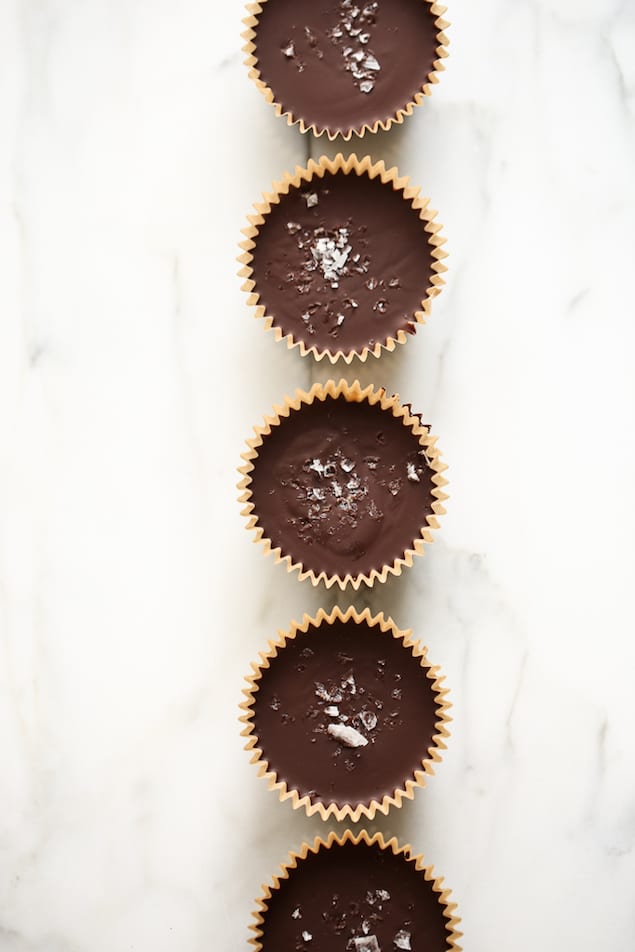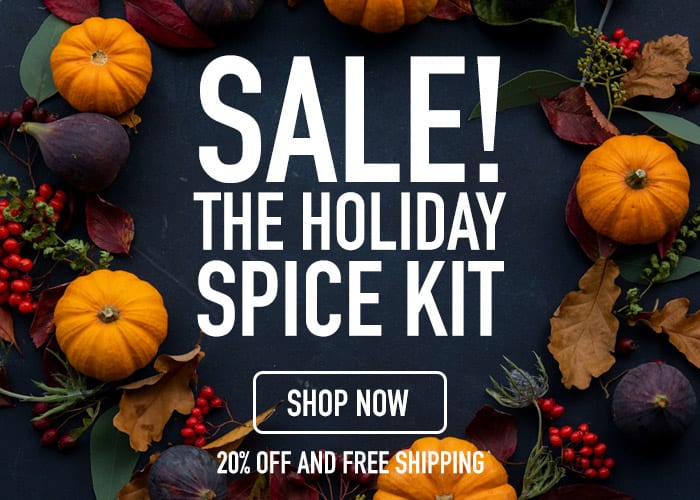 Just like the original almond butter version mentioned above, this peanut butter caramel comes together in 5 minutes. You'll whisk together a bit of peanut butter (sub sunflower butter for a nut-free option), pure maple syrup, coconut oil, vanilla, and sea salt over medium heat until smooth. Chill it for 5 to 10 minutes to thicken, and then dollop a generous tablespoon into each chocolate cup. To finish the cups, simply spoon on another tablespoon or two of chocolate to cover the caramel, sprinkle with sea salt (optional), and chill in the freezer for 10 minutes to set.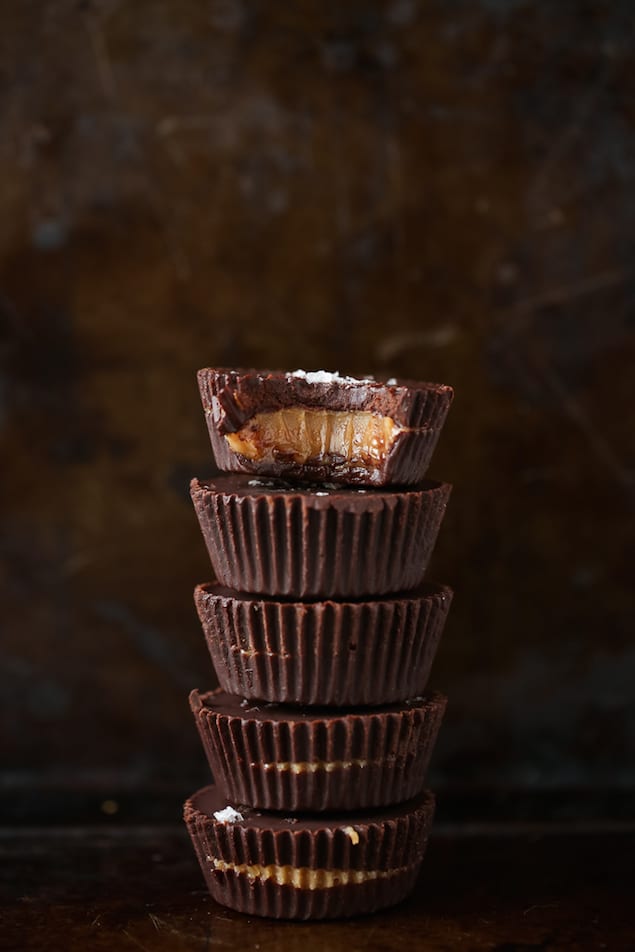 Peanut Butter and Caramel Cups
Sink your teeth into these rich chocolate cups filled with a gooey peanut butter caramel and topped with a pinch of sea salt.
Recipe Type:
Dessert, Chocolate, Baking
Ingredients
Homemade Chocolate*
½ cup cacao butter
½ cup raw cacao powder
¼ cup pure maple syrup
Peanut Butter Caramel
3 tablespoons natural peanut butter**
3 tablespoons pure maple syrup
2 tablespoons virgin coconut oil
1 teaspoon pure vanilla extract
⅛ teaspoon fine sea salt
Garnish
large-flake sea salt (optional)
Instructions
Make the dark chocolate by melting the cacao butter in a double-boiler or bain marie over medium heat. Once it's melted, remove from the heat and whisk in the cacao powder and maple syrup until smooth.
Line a muffin tin with 5 cupcake liners. Pour 1 tablespoon of the dark chocolate into the bottom of each muffin liner and carefully rotate the pan around and around to coat the sides of the muffin liners with the chocolate. You want the chocolate to go up about ½ and inch on all sides of each liner. Place pan in freezer for 10 minutes to set.
Meanwhile, make the peanut butter caramel by combining the peanut butter, maple syrup, coconut oil, vanilla extract, and sea salt in a small saucepan. Whisk together over medium-low heat until completely smooth. Chill in freezer for 10 minutes to thicken.
Drop 1 heaping tablespoon of the peanut butter caramel into the center of the chocolate cups (use up all of the caramel) and carefully spread it out to the sides of each cup. Then, pour heaping tablespoons of the chocolate over the caramel layer, using up all of the chocolate. If needed, drop the pan on a hard surface a few times to smooth out the surface of the chocolate. If desired, sprinkle with large-flake sea salt. Return to freezer for 10 minutes to set. Store in refrigerator.
Notes
*If you don't have cacao butter to make the homemade chocolate, you can simply melt down 1 cup dark chocolate with 1 teaspoon coconut oil for the chocolate layer.
**Use sunflower butter to make this recipe nut-free.
Ashley Melillo
Ashley Melillo is the creator of Blissful Basil, a blog dedicated to unearthing the happiest side of life through wholesome, plant-based foods. Being a school psychologist and food blogger, Ashley incorporates a wide array of health-enhancing ingredients into her recipes with the hope of guiding others on their path towards improved well-being.