Grab some of summer's fresh berries, a touch of sugar, and your favorite yogurt to easily create a festive cool dessert.
By Kellie Van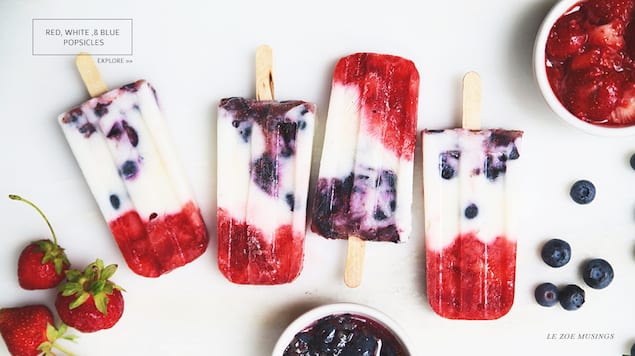 What do you do when you have an overload of summer strawberries? Well, you Red, White, and Blue Popsicles. And just in time for Independence Day.

I'm so obsessed with making popsicles now because not only are they easy but I can make them fairly healthy. Plus, when you only use pure ingredients, you can see and taste the difference.
Here's the scoop. You don't event need a strict recipe to make these cool treats. Just follow these steps:
First, I muddle the berries separately with some raw sugar. Adjust sweetness based on your tastes. The sugar helps break down the berries and release their juices. This creates sort of a 'jam'. Don't muddle too much, you still want chunks of the berries in there.
Next, layer in the popsicle molds in this order: muddled strawberries, yogurt, muddled blueberries. Feel free to use your yogurt of choice. I used Vanilla Greek Yogurt.
And there you have it! Gorgeous looking popsicles for July 4th!!
Kellie Van
A Creative Producer, Kellie is a mom to two totally adorable troublemakers (Zoey + Axel) and the talent behind the lifestyle blog, Le Zoe Musings. The vision for Le Zoe Musings is to provide an inspiring, positive, and beautiful space. There, you'll find gorgeous photography and contents about food, decor, style and plenty of simple DIYs.