I guarantee this healthy, hearty noodle one pot dish will soon become a favorite "flash meal" in your household!
By Pooja Mootl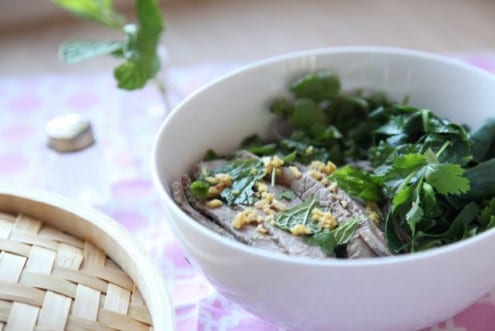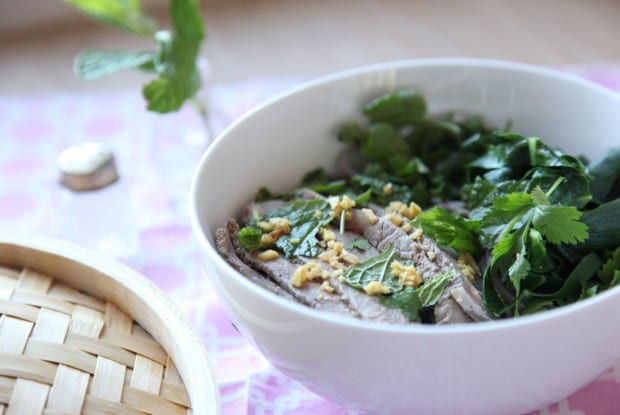 Pasture Beef Ginger Soba Bowl
I guarantee this healthy, hearty noodle one pot dish will soon become a favorite "flash meal" in your household! Pasture-raised meat is full of healthy nutrients like CLA's and you know your meat came from sustainable sources, not factory farms. The combination of fresh mint, spicy cilantro and powerful ginger make the seasonings in this dish to die for!
Ingredients
¾ pound broiled pasture raised ribeye or flank steak*
Olive oil
Fresh ground pepper
Sea salt
4oz soba noodles* (buckwheat and night before)
1 large collard or 2 chard leaves, de-ribbed, and cut into thin strips, about ½ in wide
10 sprigs coriander, rinsed patted dry, chopped
15 (or more, to taste) fresh mint leaves, rinsed, patted dry
Ginger Dressing*
2 tablespoons plus 2 teaspoons very finely minced ginger
2 tablespoons plus 2 teaspoons rice wine vinegar
2 tablespoons organic mirin
2 teaspoons organic shoyu
Instructions
Bring water to a boil in saucepot in order to cook noodles.
While water is coming to a boil, preheat oven to broil setting or 500/450 degrees F. Dress both sides of meat with olive oil, salt and pepper to taste. Lay meat on broiler pan and place in oven. Cook for 3 to 4 minutes on each side or until desired doneness (rare, medium-rare, etc.). Immediately remove meat from pan and let rest for 10 minutes.
Add soba to sauce pot of boiling water, lower heat to a simmer, and cook about 8 minutes, uncovered. Drain soba and rinse gently with cool water, using fingers to keep noodles separated and not clumpy. Transfer 1 cup of noodles to each serving bowl.
Cut steak across the grain into thin slices, about ¼ inch thick. Lay slices over noodles in each bowl.
Place a bamboo or metal steamer into a pan with about 1 inch water and bring to a boil. Steam chard or collard greens. Chard will take just a minute or two, collards longer. Immediately transfer half of greens to each serving bowl.
Garnish with chopped cilantro and tear mint leaves over the top.
Finish by adding all dressing ingredients to a mixing bowl and stir to combine. Pour half contents over each noodle dish and enjoy immediately!
Notes
• I use 100% buckwheat soba noodles from Eden. They are more costly than the wheat/buckwheat soba, but the taste is worth it. Use whatever is easier for you to find. You may make the soba a day or two ahead of time for a cold noodle dish. • You may also cook the steak ahead of time and heat slices over the stovetop if you want them hot, or just add them, cold, with warm noodles! • Make the Ginger Dressing days ahead of time in a larger quantity to save you time!