Pasta with Harissa Roasted Cauliflower, Tomatoes, Carrots and Capers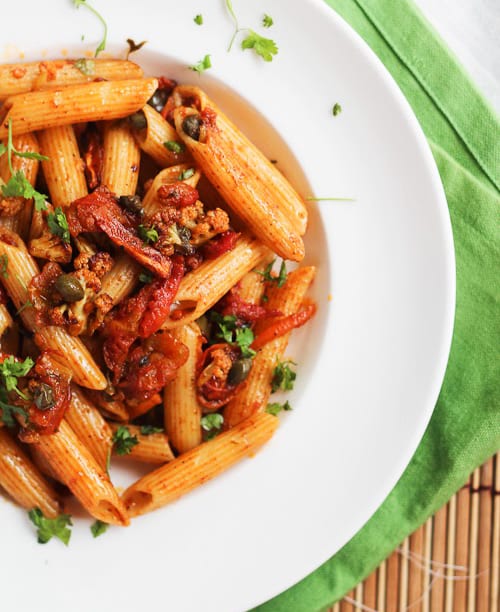 This vegetarian main sacrifices nothing in flavor to cut meat from the meal, utilizing the complex spiciness for Harissa paste.
By Siri Pulipaka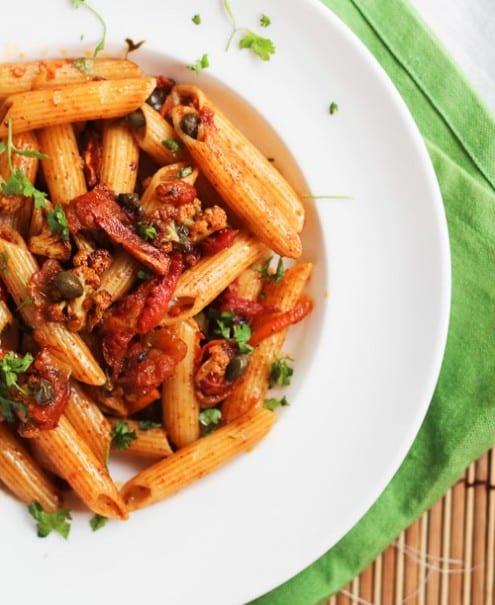 Pasta with Harissa Roasted Cauliflower, Tomatoes, Carrots and Capers
This vegetarian main sacrifices nothing in flavor to cut meat from the meal, utilizing the complex spiciness for Harissa paste.
Ingredients
½ pound dried penne pasta (or any other pasta)
2 tbsp harissa paste
½ cup olive oil
½ tsp black pepper powder
salt - to taste
1-2 tbsp of pickled capers, drained
1 cup cut cauliflower
2 red bell peppers, deseeded and cut into strips
2 tomatoes, chopped
1 carrot, peeled, cut into thin strips
chopped coriander leaves
Instructions
In a small bowl, whisk together harissa paste, ¼ cup of olive oil, salt and black pepper powder. Keep aside.
Preheat oven to 180 C or 400 F. On a baking sheet, spread cauliflower florets, bell peppers, carrot strips, chopped tomatoes and corainder leaves. Top with the harissa dressing and toss so that the veggies are evenly coated. Bake for about 25 to 30 mins until they lightly crispy.
Cook pasta in lots of salted boiling water as per package instructions or until al dente.
Heat few tbsp of olive oil in pan and toss together roasted veggies, capers with penne. Adjust seasoning with salt and pepper. If you want to increase the heat, optionally add little harissa to pasta. Cook for 4 to 5 mins. Serve and garnish with fresh herbs and cheese (if you wish to).
Siri Pulipaka
Siri is an obsessed foodie, an avid blogger, a passionate photographer and one who yearns for simple pleasures of life. She writes about recipes, her culinary adventures and reviews local restaurants & events on her blog - Cooking With Siri, which she started in summer of 2007 during her stint in the US. She believes in farmer's markets, growing her own food and eating responsibly & locally. She also has a photography blog - 365 Days of Siri, where she shares and documents a slice of her daily life through the camera lens. She currently lives in Hyderabad, India along with her food-loving husband.